The concept of using airships is long awaited by the luxury travel industry. The military has worked the most on the concept but the movement has been rather slow. In 2005 Darpa, the Pentagon's experimental branch, initiated Project Walrus. The project was all about identifying a contractor to build a "hybrid ultra-large aircraft" that could transport 500 tons of cargo at least 12,000 nautical miles. Igor Pasternak who grew up near a weather station in Ukraine was involved big time in the project through his company Aeros. He was very clear in his mind about the solution and his capability to deliver it. But unfortunately Pentagon let the contract lapse and did not renew it in 2010. That's the tragedy of all airship projects that they have never been taken to their logical conclusion.
Pasternak is Working on a 400 Foot Long Model
Igor Pasternak is working in a large wood-beamed hangar to put together a 400 foot long "variable buoyancy functional cargo airship". He has named it Aeroscraft. He sees it as his solution for a century old problem. The skeleton has already been made with aluminum and carbon fiber. Pasternak is confident that the prototype will turn out to be a better flying machine than what one has seen so far. Aeroscraft will be capable of carrying large amount of cargo to any place on the earth. It will be a definite improvement on the original concept. Pasternak says that these machines fly with buoyancy. If it is empty, it has to be held down or it will fly off into space. He has found a way of compressing the helium inside a special chamber to control the lift of the flying machine.
Bill Crowder has Been Following Pasternak's Work
The hot-air balloons or dirigibles need ground support with ropes and ballast. But the way Pasternak has visualized his machine it should be capable of moving in all directions vertically and horizontally on its own. It would be capable of flying anywhere and landing anywhere with large cargo. Without this capability the airship will remain a concept and come in use. Large aviation companies like Northrop Grumman, Lockheed and smaller entrepreneurs as Cargolifter and Aeros have worked on this concept but we are yet to get a commercially viable airship. Bill Crowder, a logistics expert has been following the work of Pasternak for years. The logistics industry will love to have airships because as Crowder said that an airship like Aeros could stay in air for a week and deliver a payload like a 50 ton crane in the Arctic.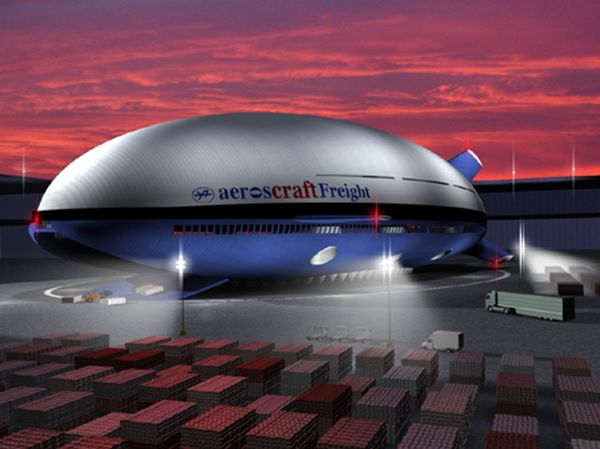 The 800 Foot Long Aeroship Model Would Lift 500 Tons
Pasternak had launched his company in Ukraine in 1987 but shifted his operations to the US after the collapse of Soviet Union. He has since become a lead contractor for Pentagon and supplied them with aerostats and manned blimps. He has been diverting all his profits to the Aerroscraft because the project is both his passion and mission. The logistics industry is also betting on him because his concept of the airship suits them the most. The commonly used cargo planes can carry 75 tons. Soviet AN 225 is the largest and can carry 225 tons. But if Pasternak's plans of making an 800 foot long airship materializes it will be capable of transporting 500 tons at a time from anywhere to anywhere.