The automobile giant Audi has recently opened a digital car showroom in London, known as 'Audi City'. It is a way a new age showroom where one will find a digital display of cars. The cyber store will provide its many customers, and Audi fans with a unique shopping experience.
Just when we were all getting a hang of shopping on the web, this concept of having a digital store has arrived with a bang! Apple has done it before and now Audi is all set to enthral its many enthusiasts around the world and especially in London with this digital store. Once you enter the world, find yourself completely steeped in the fascinating world of Audi and get a virtual experience of the best Audis around. Car buyers can now get a detailed analysis of everything from the technology to the interiors of the Audi they intend to buy. This perhaps may not be possible in a regular Audi store.
Let's also give you a virtual tour of the Audi City.
Welcome to 'Audi City': A Digital Store
A step into the Audi City will give you an entirely different experience. It is obviously unlike any other regular store, where you find automobiles on display and bunch of sales persons helping you around. Audi City will make your automobile shopping a kind of an adventure where you find yourself face to face with your choice of car on that too on a giant screen, looking nothing short of a Hollywood blockbuster.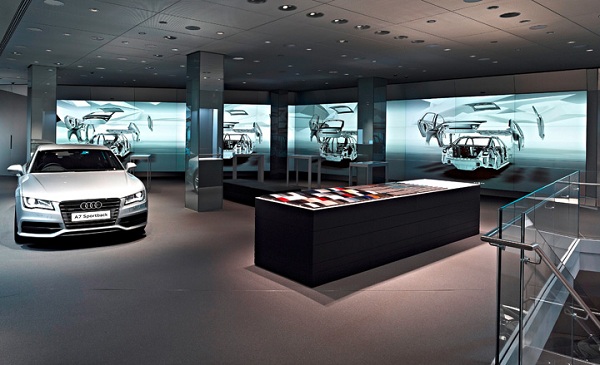 The Audi City was a joint venture of a team of architects, engineers and designers who all came together to create this very unique digital store for Audi fans. Once you enter the store you are welcomed by a plethora of full screens and touch screen technologies. You can almost think of having fun with the choice of your car once you have selected it. while you are standing amidst these power walls covered with thin screens you can make use of the touch screen technology available in plenty, to get a better understanding of the car you have selected. After having done that you can bring down the size of the car to 1:1 scale on an HD screen.
Audi City helps you Understand Your Car
Once you enter step two of this virtual world, you will be guided through the next few minutes not by a sales person but a small man on the screen. With the help of the man you can explore and understand the technical aspect of your can also think of experimenting with the interiors by trying different colours on the seats, something which is not possible in a regular store and you have to make do with the car that is parked in the store. It's also a funs step for this is where you can play around with your choice of Audi by giving it a 360 degrees spin and even driving it through different landscapes. The only shortcoming at the moment is that you cannot drive it virtually, but we are sure that Audi will sort that out soon! One can also hear the sound system of the engine and the opening and shutting of the doors. It has been designed in such a way that it is audible only to the customer operating the screen.
There are no pamphlets in this store for you can just store all the information you gathered on a USB and take it home for a more detailed study. The new and innovative showroom is in London's plush Piccadilly and 20 more will soon be opened in other global cities such as Beijing and Berlin. Audi is expecting to receive a huge impetus in their marketing and sales division through the Audi City stores.