Luxury homes are differentiated by the amenities they feature. The Denver Mansion that boasts of the most luxurious amenities has been listed for $19.5 million. Christie's real estate is handling the sale. The large estate with some of the craziest amenities is the most luxurious amongst the properties for sale in the area. Called the Evans Ridge the mansion sits on a 72 acre lot. The entrance to the home has a covered porch which features glass panels to allow natural light to come in during the day time. The architects have designed the mansion with an Italian flare. The manor with 11 bedrooms boasts of 24 bathrooms. The highlight of the mansion, however is the game room which features a bowling alley, video games that have seats, a dance floor, and a pool table.
The Luxury Home is Ideal for Lavish Entertainment
The regal building is situated on the gentle slopes of a hillside. The lavishly built mansion conveys a sense of space with a total interior built up area of 50,397 sq ft. The 72 acre lot provides the home peaceful and natural surroundings. The estate is conveniently located and easily accessible from both the city airports. The Denver International Airport is 45 minutes away and the Centennial Airport can be reached in just 30 minutes. The mansion which is framed by towering curved bay windows and rotundas has been designed for large family gatherings and lavish entertainments. It is also suited for corporate retreats as a large group can be accommodated luxuriously.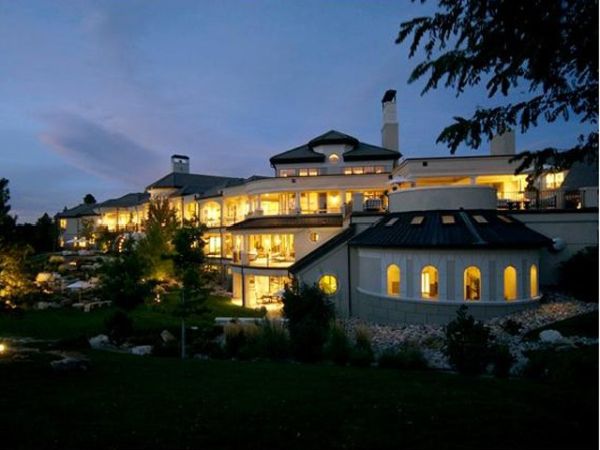 The Property for Sale is Simply Irresistible
The bedrooms are part of two and three bedroom suites. But the mansion becomes ideal for lavish entertainments as there are two entire floors dedicated for the purpose. The entertainment floors feature a theater, exercise room, two-lane bowling alley, dance floors, media room, and arcade. It has a formal dining room and a massive gourmet kitchen. There is a large island with outlets for many additional appliances. The dinner table can seat twelve guests. The ambience in the living room and the parlor is that of a palace. On the outside you have a full barbecue and kitchen area to host a big gathering. The home also features a rock garden and water bodies on the property. You also have a waterfall on the breathtaking grounds. Can you imagine a luxury home without a spa? Evans Ridge also has a spacious spa with all the latest amenities. For the outdoor enthusiasts some world class skiing is accessible on mountains that are just a couple of hours away. Yes, the property is irresistible.