A few years ago, in one of the brainstorming sessions of Visionaire, an old stereoscope was presented which was the main source of news of faraway lands in olden days. This prompted to focus on an issue about Rio de Janeiro among editors of the magazine.  Inspired by the 19th century stereotypes, the Visionaire 62 RIO offers a bird view of diverse city for travel lovers in 3D.
Limited to 2000 copies of slides, they throw a light on  people, nature, architecture, personality and culture of the city including images of Adriana Lima, the Brazilian supermodel who has been snapped in a black bikini on stunning black, white tiles by Richard Phillips with astounding 3D technology, sambadrome by artist MarcoBrambilla, Transgender model LeaT, Super model Gisele Bundchen in nude along with some more images including Karl Lagerfeld, Ell Sudbrack, Adriana Vaarejao, Solve Sundsbo, Marllyn Minter and Vlk Munix. All these images represent multifaceted Rio and they are collaborated to celebrate Brazilian culture on double-image slides with illusion of depth. NYC-based design studio aruliden is collaborated with Visionaire to designs 3-D lenticular case which is designed by Campana brothers (Fernando and Humberto Campana ). Beatriz Milhazes designs mobile lenticular case. Visionaire 62 Rio is available for $375 at its website.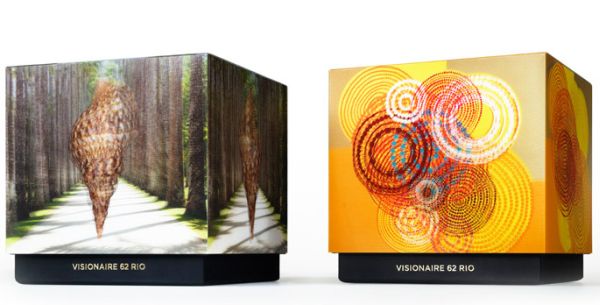 The previous No 61 issue of Visionaire had created a world record as the best magazine ever released. Recent edition # 62, though not larger than life issue as No 61, it brings out all cool contributions about Rio de Janeiro under 'Rio'. The Visionaire 62 Rio was recently introduced at the Biennial building in Sao Paulo, for which Cecilia Dean of Visionaire was host of the event and Carlos Jereissati of Iguatemi   sponsored the latest edition.