Donald Trump, the suave real estate giant inaugurated his very luxurious golf course in Aberdeen, Scotland. Dressed in a white gold shirt and khaki trousers he looked every bit smashing as he struck the first ball along with another legend from the world of golf, Colin Montgomerie. The golf course which is one of its kind (it has to be after all it belongs to the King of realty) was built at a staggering cost of $155 Million! Called the Trump International Golf Links the golf club has a lot to offer to its many elite visitors.
The American business magnate, Donald Trump, is an author as wells as television personality, who also appeared in the popular show The Apprentice, besides being the Mogul of real estate. Popularly known as The Donald, a nickname which was given to him by his first Czech wife Ivana Trump, Donald Trump is also responsible for bringing the Taj Mahal to Atlantic City. Yes, we are talking about the magnificent casino that he built in Atlantic City. Donald Trump is also known for his flamboyant personality since he dates only stunning and young women, especially his juniors. He is also is said to have dated Carla Bruni and is currently married to Melania Knauss Trump.
Well, his personal life is not what we are looking at today for that can be reserved for another story and trust us we will give you tonnes of information. But for now lets' give you a virtual tour of this uber luxurious gold course in Aberdenshire in the East coast of Scotland.
The Donald and his Golf Links
The opening of the golf course was also quite an event. Donald Trump and Colin Montgomerie were led by Scottish bag pipers to their first hole where the ribbon was cut by them and the golf course was officially inaugurated. It will be open to the general public in a few days from now.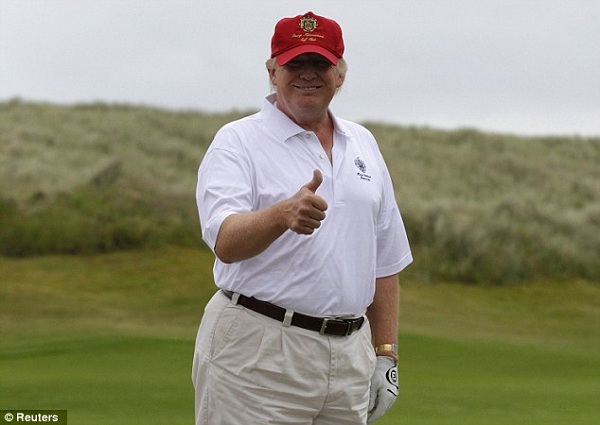 After cutting the ring, the real estate developer cum writer cum television personality took the first swing along with the former Ryder Captain and golfing legend, Montgomerie. It was indeed a very proud moment for the golfer.
Donald Trump believes that Scotland is the home to golfing and therefore it was apt to open a golf course here in Menie, on the east coast of Scotland. He is also confident of the fact that he has indeed built a fine golf course that can easily be slated as the best in the world. It sure is the most expensive with that kind of a price tag.
The golf course was also embroiled in some controversies for Environmentalist claimed that it was being built on a protected sand dune and therefore led a campaign opposing its construction. Trump also was against an offshore wind farm which was being built around the golf course.
After all the controversies have rested, the golf course is now ready to welcome some golf legends and enthusiasts.
The Trump Golf Course is hoping to host some key golfing events claims Sandy Jones, Chief Executive of the Professional Golfers Association and George O'Grady, Chief Executive of the European Tour.