Pinterest is undoubtedly the big new trend on the web circuit of social media. Pinterest is a celebration of images, one that keeps its users pinning photos from dawn to dawn. Where do these sources come from? RJMetrics, a business intelligence software firm, extensively studied Pinterest data to come up with the top 20 Pinterest sites. Mind you, the sites mentioned in this study are not necessarily the most popular pinners on Pinterest. However, they are the biggest sources of images for the visual social networking site. Pinners return again and again to sites like Etsy, Google and Amazon (the top 3 image sources for pinners according to RJMetrics) to find brilliant pictures to display on their Pinterest boards.
RJMetrics did some serious number crunching to come up with the top 20 Pinterest sites. The firm analyzed some 1 million random pins to come up with their top 20. Of late, there has been plenty of talk regarding how Pinterest is successfully driving traffic to websites and generating real revenue for them. Many sites are finding that Pinterest is more useful that Facebook in this respect. However, the top 20 sites on this list may not receive online traffic proportionate to the number of pinned images on Pinterest. This is because many of the pins are really repins (we are looking at 80 percent repins). That means that 80 percent of images are really pinned from other users rather than from the source itself. Nevertheless, it helps to know where all those beautiful images come from. And if you are an addicted pinner, you might find some new and exciting sites from which to scour even more stunning visuals. To make life easier for you we have listed out the number of boards and the best boards of those sites that are on Pinterest. Have fun pinning!
1. Etsy

Focus: Cool Products
Boards: 31
Our Pick: Gift Ideas
The champion of small business and cool products has nudged its way into the list of top 20 Pinterest sites. It is easy to see why this popular online marketplace rules the pins. Content from Etsy generates 3.5 percent of total pins, a percentage higher than even Google. New items being pinned now even feature the price, and link the pinner to the shop page on Etsy.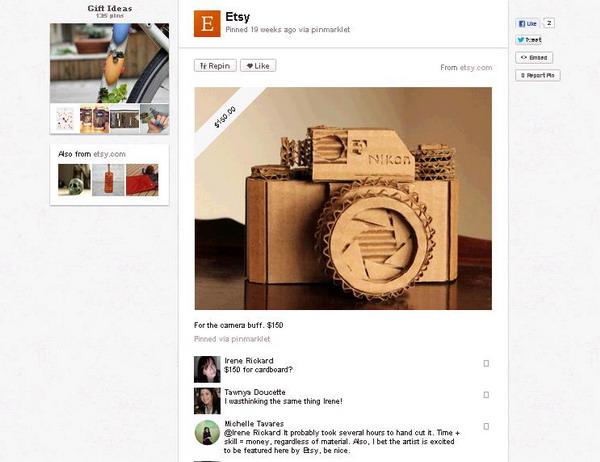 2. Google

Focus: General
Boards: N.A.
From bikes and kittens to well-dressed men and yummy candy, Google has always been the top source for the coolest images. So it is no wonder that Pinterest's image-crazy users scoured Google Search for pin-worthy photos, making the site the second-most pinned image source on Pinterest. In fact, there is even a Google Graveyard page on Pinterest dedicated to various failed Google products over the years.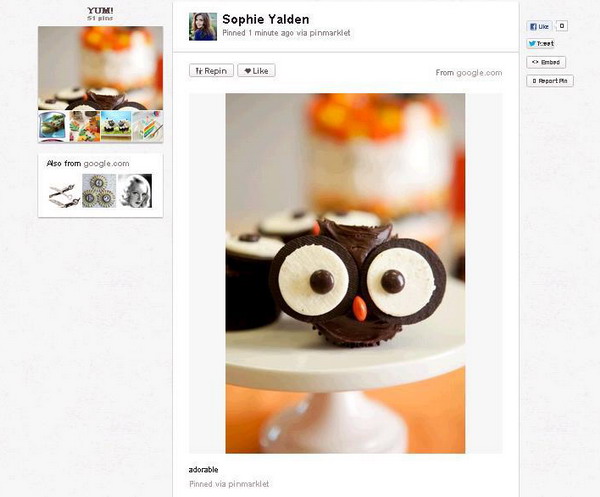 3. Flickr

Focus: Photography
Boards: N.A.
Our Pick: N.A.
Flickr is a natural choice for pinners drawn to exciting visuals. The online photo management and sharing application is a favourite among photographers, both professional and amateur. Initially, there were doubts regarding copyright infringement of photos pinned from Flickr. But now, the photographers will automatically be credited. So all's well in the world of the photography, with Flickr accounting for 2.5 percent of pins.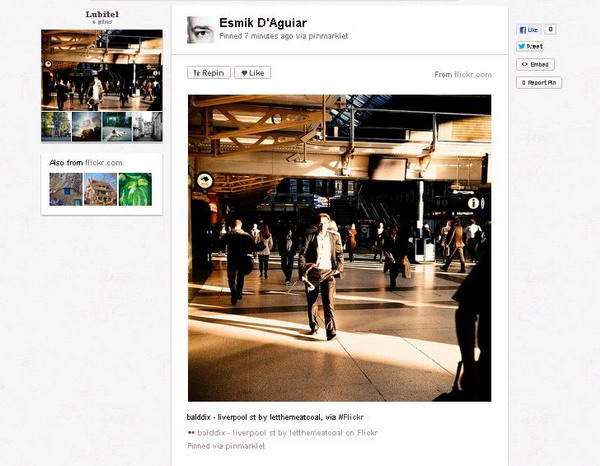 4. Tumblr

Focus: General, Blogs
Boards: N.A.
Our Pick: N.A.
The popular blog platform is a favourite among photographers and photo hounds. Pinners frequently select Tumblr images to post on their Pinterest boards. How frequently? According to RJMetrics, Tumblr is the source of 1.1 percent of all pins on Pinterest. Brands are mulling over whether Tumblr or Pinterest is a better marketing option. The jury is still out on that one.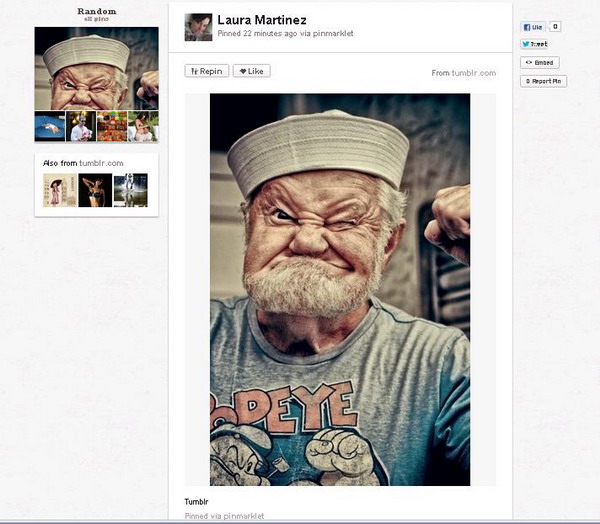 5. WeHeartIt

Focus: Images
Boards: N.A.
WeHeartIt is the immediate predecessor of Pinterest, and hence, direct competition. Like Pinterest (and FFFFound, which appears later on this list), WeHeartIt allows users to bookmark their favourite images. Girliness is rampant throughout the website, which explains why it accounts for close to 1 percent of total pins on Pinterest.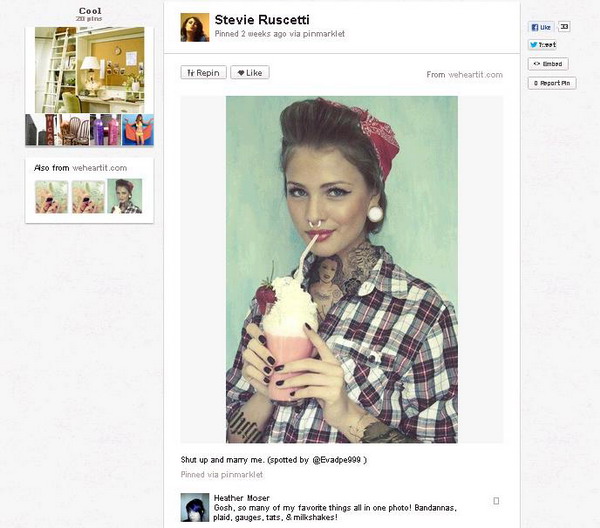 6. Marthastewart.com

Focus: General, Home
Boards: 22
Our Pick: Decor
Martha Stewart is quite the go-to person for women who are looking to set up a new home, cook up a storm or plan a wedding. Given the skewed gender ratio on Pinterest, it follows that Martha Stewart is one of the leading sources of pinned images. Marthastewart.com accounts for some 0.8 percent of total pins.
7. Polyvore

Focus: Fashion Images
Boards: N.A.
Our Pick: N.A.
Polyvore is rather like a Pinterest dedicated to fashion. The online fashion community encourages users to "clip" (not "pin") their favourite outfits, accessories and looks onto their Polyvore pages. Given that Pinterest users have a weakness for fashion photos, Polyvore images show up often enough, accounting for 0.8 percent of all pins.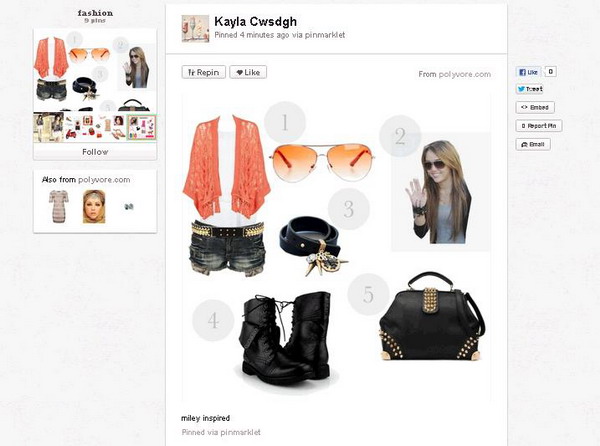 8. Bhg.com

Focus: Home, Gardening, Lifestyle
Boards: 88
Our Pick: Pretty Patios and Porches
Bhg, that is, Better Homes and Gardens is responsible for 0.7 percent of all pins currently on Pinterest. The home and gardening magazine has really been making the most of Pinterest. In March, it even launched a special contest on the visual social network with over $5,000 worth of prizes.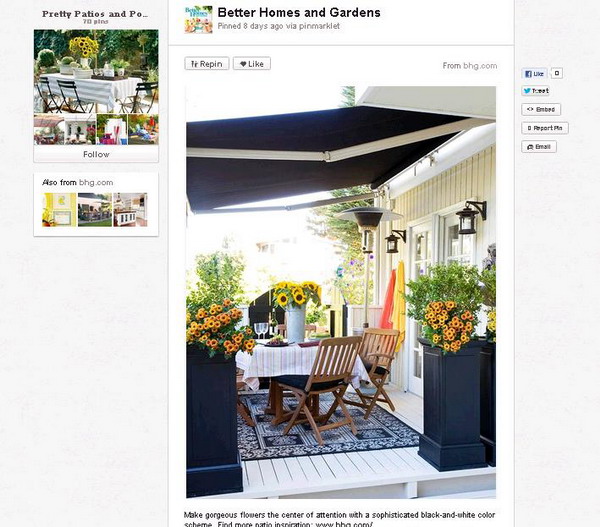 9. Houzz

Focus: Home Remodelling and Design
Boards: N.A.
Houzz is a one-stop online shop for all your home remodelling and design needs. What makes it so Pinterest-friendly is that it uses strong visuals to connect homeowners to home improvement professionals. It is hardly surprising therefore that Houzz currently accounts 0.6 percent of total pins.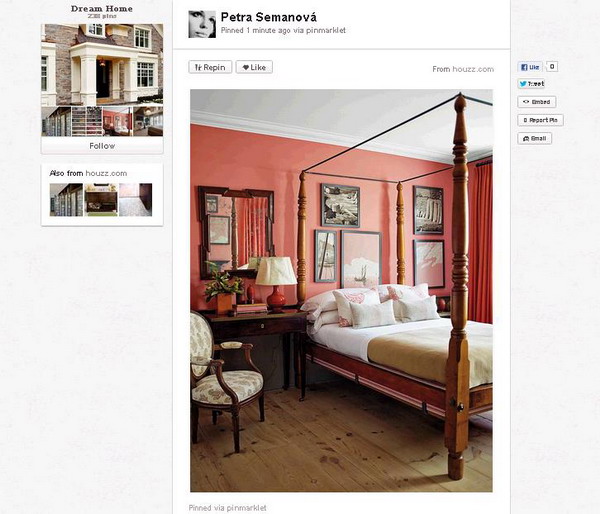 10. Pinterest iPhone App

Focus: General
Boards: N.A.
The Apple iPhone has reached far and wide. The phone that is known for its strong visuals is the perfect fit with Pinterest. Hence, a Pinterest iPhone App was inevitable. Currently, visual social networking site gets 0.6 percent of total pins all thanks to users who have downloaded the app.
11. Imgfave

Focus: Images
Boards: N.A.
Again, another image bookmarking service from which pinners source their photos. It is a clear indication that people who flock to Pinterest also check out other similar websites. If you were wondering, Imgfave is responsible for 0.5 percent of total pins.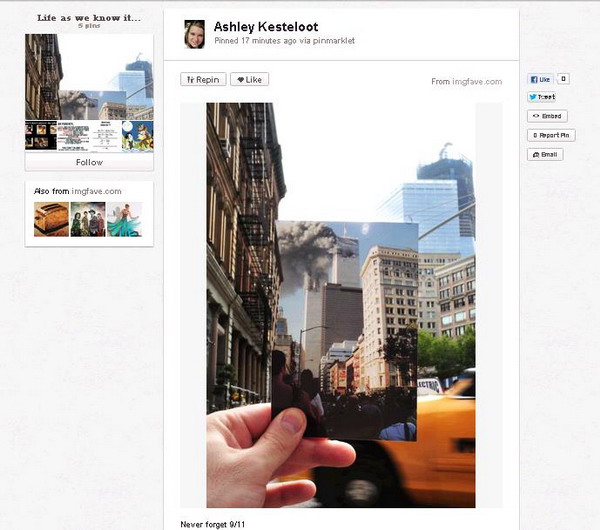 12. Stylemepretty

Focus: Weddings
Boards: 57
Our Pick: Bridal Fashion
Pinterest has become synonymous with women and fashion, particularly wedding fashion. Leading the charge is Stylemepretty, a high-on-style wedding resource site. The group is constantly working to connect brides- and grooms-to-be with wedding industry vendors. Their contribution to the total pins is 0.4 percent.
13. Apartmenttherapy

Focus: Home Decor
Boards: 10
Our Pick: House Tours
Apartmenttherapy's tagline is "Saving the world, one room at a time." The site is dedicated to connecting homeowners with home improvement resources. The ultimate goal is to create beautiful homes suited to users' budgets. 0.3 percent of all pins on Pinterest are of beautiful homes from Apartmenttherapy.
14. Amazon

Focus: Cool Products
Boards: N.A.
Our Pick: N.A.
Amazon is the ultimate online shopping paradise. Whatever you want, the chances are, Amazon has it. Unsurprisingly, Amazon accounts for 0.3 percent of all pins on Pinterest. Everything from hats and gizmos to table lamps and vegetable steamers get pinned on user pages.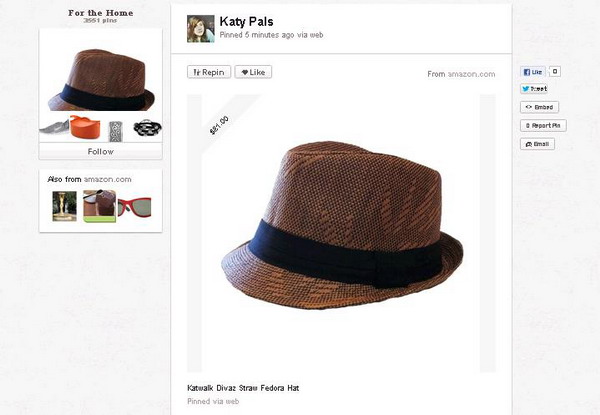 15. Sunsurfer.tumblr.com

Focus: Travel
Boards: N.A.
Our Pick: N.A.
If travel gets your heart pumping, the Sunsurfer is where the action is. Known for the finest travel images, Sunsurfer is a favorite among travel nuts who drool over brilliant visuals. Travel from Finland to Japan with these images. Sunsurfer contributes 0.25 percent of all pins.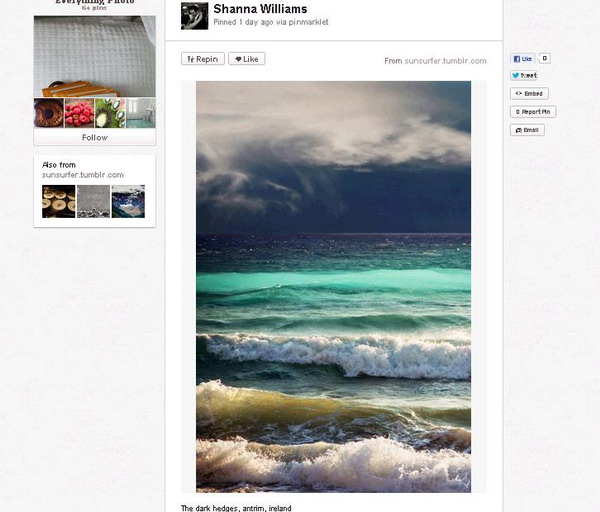 16. Anthropologie

Focus: Apparel, Home
Boards: 18
Our Pick: In the Garden
It is all about fashion and home décor on this shopping site. It helps of course that Anthropologie has so many stunning, almost arty photographs of its wares. How else would it manage to be the source of 0.2 percent pins on Pinterest?
17. Ffffound

Focus: Images
Boards: N.A.
Our Pick: N.A.
What Pinterest is doing today, Ffffound has been doing since June 2007. Designers love the site, for it is invite-only, high on quality. However, it lacks the beautiful interface of Pinterest and the site's massive popular base. Nevertheless, the strong visuals make their way on to Pinterest's mood boards, accounting for 0.2 percent of pins.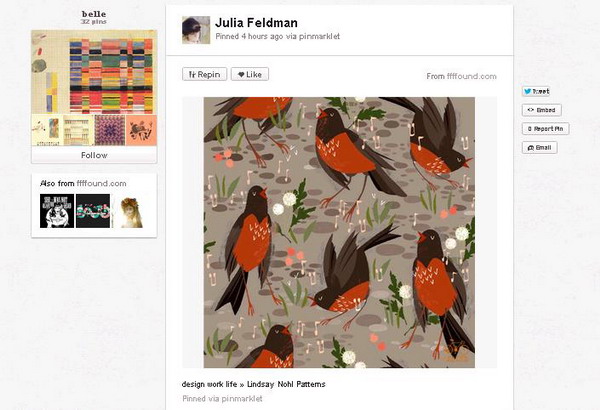 18. Blogs.babble.com

Focus: Parenting
Boards: 25
Our Pick: Playroom
Babble is all about making parenting seem cool. The website has been making waves in recent times. Time Magazine even named it among the 50 Best Websites of 2010. The site has been bringing 0.15 percent of all pins to Pinterest. But the wonderful thing is that there is more on offer than simple cute baby pictures.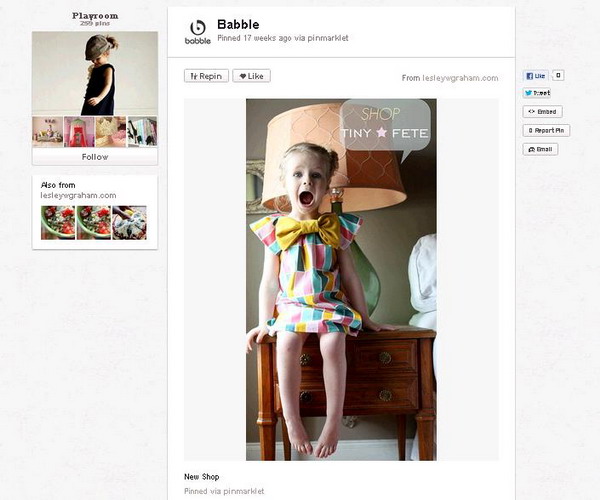 19. Piccsy

Focus: Images
Boards: N.A.
Our Pick: N.A.
More than the other image bookmarking sites that find mention on this list of the top 20 Pinterest sites, Piccsy most resembles Pinterest, at least in terms of look and feel. With its sights set on becoming a new-fangled and more effective Google Images, Piccsy currently accounts for 0.15 percent of total pins.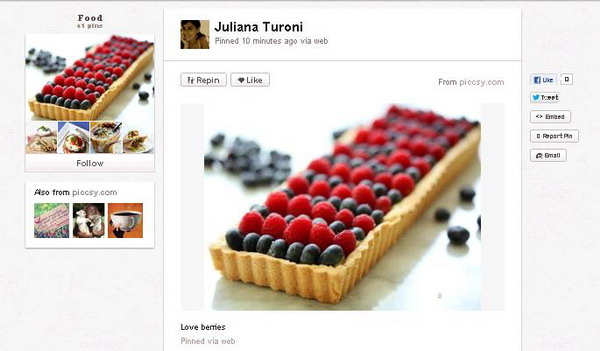 20. Real Simple

Focus: Everyday Solutions
Boards: 68
Our Pick: New Uses For Old Things
Real Simple edges out other rivals by taking the 20th spot on this list of top 20 Pinterest sites. Notably, this is the first print magazine to really make inroads into what is proving to be the biggest interest-generating platform of recent times. Real Simple was one of the earliest players to latch on to Pinterest, and one of the first to realize that the site was drawing more referrals than Facebook.