Kiki de Montparnasse has now introduced granny knickers which are very expensive at £238. Not the best designs in knickers we say, but they are dry clean only and are now synonymous with luxury. Well we think these are knickers only for the elite.
Kiki de Montparnasse is a brand that celebrates romance with luxury. Their collections of luxurious items that will help create a life of intimacy and fantasy for you. It is their belief that a life full of romance is a life well lived and one must seek to explore pleasures and desires in all forms. Thus their collection helps you explore your passions with a lot of sophistication and style. Their products include everything that might entice you. Jewellery and intimacy products, luxury lingerie, bath and body, candles and just about everything that will rekindle the romance in your life. Their home décor and other art collection will entrance you with the right senses. The Beatles said it right when they said All You Need is Love and perhaps Kiki de Montparnasse got that right and thereby all their products and collections spread this rather unique and interesting that message it is indeed an emotion that is intoxicating.
The granny knickers are the latest addition to the Kiki de Montparnasse brand. Available at a very expensive price tag (we wonder how many people would want to pay so much for a pair of knickers) the Heather Frey Boy Shorts, as they are called are made in Italy and are meant only for those who do understanding the true meaning of Kiki de Montparnasse.
The Granny Knickers by Kiki de Montparnasse
Well, it's not just the knickers but the Kiki de Montparnasse latest collection includes many things. The collection also includes Briefs priced at £207. The other products include a chemise, a boyfriend jumper, leggings, seamed socks and a bralette.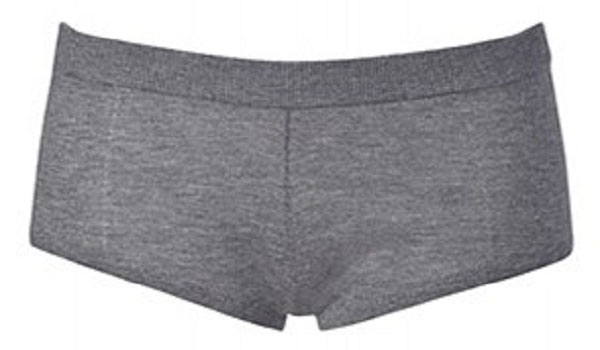 Pure comfort is what was kept in mind when this collection was being manufactured. If you go by the looks of it they are not the typically luxury lingerie that Kiki de Montparnasse will make. If you're spending so much money on a pair of granny knickers then we say it's totally worth it for Kiki de Montparnasse is not just about the style and the oozing luxury but also comfort that will put a smile on every of its happy and satisfied buyer.
However, if you are still looking for some luxurious designs and don't think you would want to buy a Kiki de Montparnasse granny knickers then do have a look at the Voyuer and Ingenue collection which does include some fine laces and satins. The bedroom collection which ia a part of the Instruments of Pleasure Range is also worth having a look.
Kiki de Montparnasse has managed to gather quite a celebrity fan following. Some of the regular Kiki de Montparnasse users include Rihanna, Kim Kardashian, Lady Gaga and Lindsay Lohan. They all frequent the Kiki de Montparnasse stores in Las Vegas, Los Angeles and New York.But we wonder how many of those celebrity Kiki de Montparnasse fans would want to buy the latest Kiki de Montparnasse granny knickers that are simply devoid of any sensuality and 'provocativeness' that Kiki de Montparnasse truly represents.
Via Kikidm