Motorcycle riding is not for everyone, especially when it comes to riding in the rain but the thrill of most expensive bikes cannot be missed. They miss the riding opportunity for slightest possibility of rain forecast. Riding in the rain need not be a nightmare experience which is quite enjoyable with a little wise action. Those who venture in nonstop wet weather in places like Netherlands or Pacific Northwest need to encounter harsh elements with biker apparel which are made from breathable waterproof fabrics. Smart Products Company has created a one piece Bike Suit which narrows down to basic essentials during downpours.
One piece Bike Suit with integrated overshoes and bike hood gives greatest protection for bikers from head-to-toe in all conditions of weather including cold, rain and wind. It is made from lightweight polyester keeps you warm and dry till your destination as it has been designed with mesh material at the waist and ergonomic Air Flow Tunnels at the upper back. Armpit Zippers provides ventilation. The material used here is of breathable water and wind proof, protected with Ykk zippers.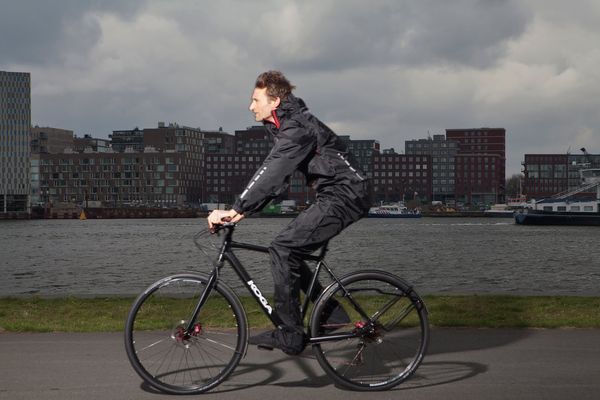 One piece rain suit with two zippers running at sides is easy to wear. Ankle straps reinforce overshoes and straps around the waist make you look as if you are wearing separate rain pants and jacket. Reflective striping is carefully placed on back, chest, legs and arms enhance the visibility in harsh weather. A media pocket of weatherproof with its cable tunnel helps you to listen to music during your riding. The suit has won the Euro bike award for its high level functionality, design and innovation. The suit is available in three sizes. It is priced at approximately $300 which could be bought from the site of The Smart Products.