For all those who spend a good deal of time in Los Angeles we finally have something very exciting for you. AKA hotel will soon open a "services residency" in Beverly Hills. For $12,000 you can buy yourself a hotel room and stay there for as long thirty days.
Fair enough for if you intend to stay for a longer duration in Los Angeles or any city for that matter you wouldn't want to pay through your nose for expensive hotel rooms. Also, after a while you start missing the comfortable environs of your home but leasing out your own house is also not a very feasible idea. It is for this very reason that AKA has attempted to develop this new age living wherein one can lease a hotel room for a month an at the same time enjoy the comforts of home in a different city. Larry Korman, the CEO of AKA stated in a press release that AKA Beverly Hills will be like an experiment in contemporary living.
The room while being a hotel room will provide you with all the amenities that are available at home. This will perhaps be a very expensive hotel room well suited for luxury travellers only. Not long ago we had also reported on the most expensive hotel rooms and the Royal Penthouse Suite at the Hotel President Wilson in Geneva Switzerland came with a hefty price tag of $65,000 a night and was followed by the Raj Presidential Suite at the Hotel Raj Palace Hotel in Jaipur, India which cost around $45,000 a night. Burj Al Arab the seven star hotel also offered some very expensive hotel rooms and suites.
However, AKA Beverly Hills is hotel living with a difference for luxury travellers. Let's give you a virtual tour and some more information about this new age living meant only for the rich and famous.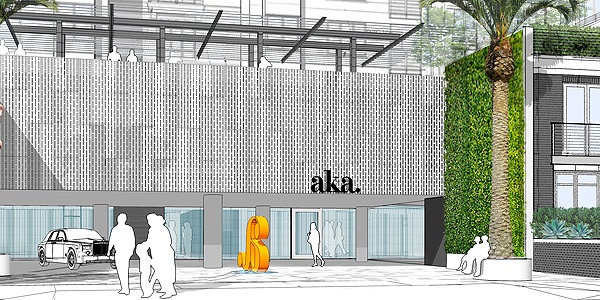 AKA Redefines Contemporary Living
Some very big names are associated with this rather ambitious project. They include Koning Eizenberg, which is a premier architectural firm based in Los Angeles, who have collaborated with Pamela Burton and Company landscape architects and Oculus Ligght studio along with Asfour Guzy Architects.
The property located at Crescent Drive and Wilshire Boulevard is in close proximity to the world famous Rodeo Drive and Robertson Boulevard which is a shopper's paradise and the Golden Triangle.
This makes the AKA Beverly Hills a very sought after home like accommodation in Los Angeles.
The huge rooms almost give you the feel of an apartment.
Amenities such as laundry services, cafés, private balconies and fitness centres and gourmet kitchens will not let you miss your homes.
The AKA Beverly Hills has 88 bedroom residencies both one and two bedroom.
The AKA residencies in Beverly Hills are open to everyone from consultants, visiting physicians, people who have just moved in the city and even international celebrities, entrepreneurs and just about anyone who is in the city for a longer duration and does not think it is wise to lease an apartment.
This is not the first AKA hotel to be opened. Philadelphia, Washington and Arlington all have AKA hotels while New York has four of them.
Via Stayaka