Bonhams auctions Bentley for £5 million
For all those who have been ardent fans of Sir Henry Ralph Stanley 'Tim' Birkin, the historic Motor course racing celebrity, will be delighted to know that the car, a single seat 4.5 litre supercharged "Blower" race car, for which he campaigned became the most expensive car to be auctioned at the GoodWood Festival of Speed held in Engalnd. The car fetched a whopping £4.5 million which will be around $7.05 million. It was also the first ever Bentley to be sold at such an expensive price at an auction. The registration number of the car was UU 5871
It was perhaps Sir Henry Ralph Stanley's Charisma that did wonders for this car. The car was quite a hit in the 1920s and 1930s at the Outer Circuit in Brooklands and Tim Birkins also drove the car at a speed of 137.96 mph, which became quite an achievement in those days. The Bentley Boy did manage to break all records on the Outer Circuits. Motor sports enthusiasts will remember Tim Birkins with his signature style of polka dotted scarf and shades. He was the very epitome of English sophistication and style and probably everyone wanted to impersonate him. It was just not about style for him for he also showed sheer dedication on the tracks and dedicated his life to it.
In 1929 with his friend and later business partner Mike Couper, he established the Birkin and Couper Ltd. And the 4 ½ litre Bentley Blower prototype was produced. Let's give you more insights into this car and how it managed to fetch so much at the Bonhams auction.
The Bentley "Blower"
The prototype car produced by the legends also was driven at the Broolands six hour race in June, 1929. The car however retired in some time after having won no race and also after it suffered from a series of mechanical failures. However, not disheartedned by the series of losses Tim Birkins decided to gain entry again in the BRDC 500 miles race again in Brooklands. The car onace again witnessed a series of failure.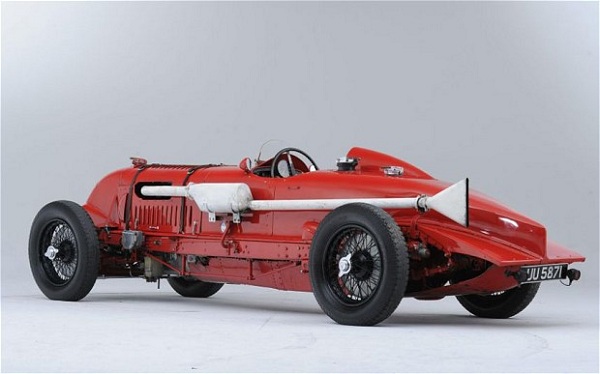 Tim Birkins need for speed did not simmer down one bit as he tried his level best to supercharge the car with the best of technologies. The process did see some ups and downs, however, he did manage to pep up his car and Tiget Tim's did manage to set up some heroic records of 134.60 and finally the record shattering speed of 135.33 mph at the Bedford Long Handicap Race and very easily became the fastest car to have hit the Great Britain outer racing circuit.
It also ran at the Franch Grand Prix but later the downfall period began for this car as it was not able to set any more shattering records. However, it's no wonder that the Bentley Blower did manage to fetch such a huge price at the auction. It is after all a car that symbolises the great period of British race history. The car also represents Tim Birkins unwavering courage and passion for racing. The car is in fact a rare and brilliant piece of History.