Here's your chance to own a luxury home in Sun Valley. Come July 19 and auction houses Concierge and Sun Valley's Sotheby's International Realty will auction off Howard Estate which is a 5,900 square foot luxury home. More of a vacation ski resort where you can think of relaxing and having a good time with your family and friends, the Howard estate luxury home was originally listed at $5.995 million. No minimum bid is required for this luxury home and ski resort bestowed with beauty and grandeur.
Skiing is a great hobby and adventure and is soon developing as a favourite winter sport around the world. Keeping this in mind we had also d reported about the most expensive luxury ski resorts and provided our dear readers with a list of 20 most expensive Ski Resorts. Topping the chart was the Les Suites de la Potinière in Courchevel, France. At $1,958 per night the property was located at some very beautiful slopes of Courchevel and provided its guests with many luxurious amenities such as a suite, spa, post ski relaxation facility and a bar and a lounge. The Les Suites de la Potinière was followed by Aurelio Lech in Austria ($1,423 per night) and Carlton Hotel in Switzerland ($1,256 per night).
If you happen to be a skiing enthusiast and are also loaded with cash and lots of it then don't miss this chance to own your very own luxury home cum ski resort located at the Bald mountain slopes in Sun Valley, Idaho.
Let's give you a virtual tour of this luxury home property.
The Howard Luxury Estate
The Howard luxury home is nestled in the lap of beauty, bliss and opulence. Meant only for the elite this luxury home was built in 2008. The luxury home is located at the Bald Mountains, popularly known as the Baldy, which is a much preferred skiing destination for it is 200 acres and has a vertical drop of 3,400 feet. The mountainous slopes also receive an annual of 100 inches of snowfall.
Just about everything about the Howard luxury home spells style and elegance.After all renowned architects and designers have worked in unison to construct this beautiful structure in the mountains.The very well known Point Architects designed the Howard Luxury home.The interiors of the estate was done up by Charles Stuhlberg Interior's Megan Edwards.
The property is ideal if you intend to treat your family and friends with a ski adventure for the property has been designed in such a way that it can very conveniently accommodate two families. Its proximity to the Bald Montains makes it the perfect Ski getaway believes Katherine Schroder of Sun Valley's Sotheby's International Realty.
The house offers a breathtaking view of the mountains and has everything that a luxury home could provide for. The home boasts of five bedroom and six bathrooms.
If you intend to cook up a storm while vacationing at the luxury home then there is also a huge kitchen. Huge windows, from floor to the ceiling, adorn the living rooms so that you always enjoy the splendid beauty of the Bald Mountains.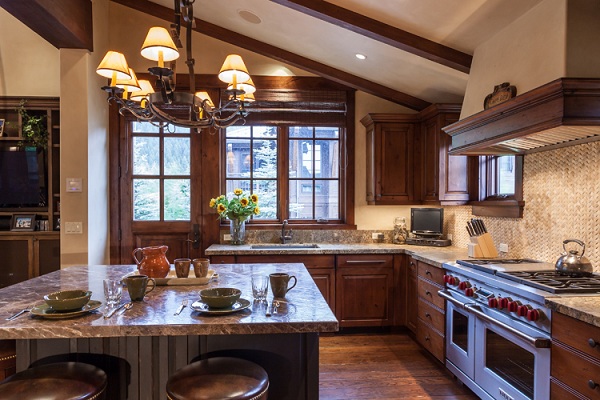 A ski storage mud room, a hot tub and a gas log stone fireplace will keep you warm after a long skiing session.For those who seek more entertainment a media room with a theatre is also available in the Howard Luxury Home.
Besides skiing, Sun Valley also offers various adventurous activities such as mountain biking, horseback riding and even kayaking at the nearby river.We think it's the perfect investment for a skiing enthusiast. And if you want to have a closer look of the house you can also visit the house by appointment between one to four p.m.