We finally have Pinterest for men! A host of websites where you can do things that are best termed manly. These pinterest for men now dominates the web world and is getting very popular with the men.
To pin what you look is the new 'in' thing in the world of social networking. With the launch of Pinterest, a web domain which is actually a board where you can pin up things that you like, social networking has reached an altogether different level. Worth $1.5 billion Pinterest has over a million users around the world who love to flaunt their virtual pin boards and the things and places they love and like so much. However, despite its claims of being a massive success on the web world, Pinterest has unfortunately not garnered the attention of men like other social networking web sites such as face book and twitter and it's definitively not of any (pin)interest for men. Many Pinterest lookalikes have also come up on the web world but none of them have a huge fan following amongst the men.
So what is it that has caused this virtual gender bias on the web? Well, the concept of pinning up things you like was something that most men appreciated and liked. At a time when web dominates almost every aspect of our life to get together a virtual scrapbook is not at all a bad idea. However, it was those things on the pin board that men don't seem to like so much and now carve for a pinterest for men.
Let's face it! Men will and will always want to be macho and even with the advent of the metrosexual male, the whole idea of doing things that are rustic, macho and 'manly', if you want it to be explained in only one word, will never fade out.
The plethora of wedding dresses, cup cakes, boots and bags on Pinterest and other lookalike sites are perhaps in a way responsible for keeping our macho men away from these virtual pin boards. And thus was found a way where they could also get a chance to show off what they like and pin up the latest bikes and other gadgets and gizmos on their virtual scrapbook.
Let's have a look at some of these websites that are gradually making their way into the mens' web world and are the new pinterest for men.
Gentlemint
It is a site that will give you a "mint of manly things". The website will give you a glimpse of what men actually want. It is well adorned with pistols and pictures of mountaineering jackets and elegant looking vests. The founder of the website of Glen Stansberry believes that manliness cannot be described since every individual has his or her own understanding of the concept. A moustache happens to be the chief logo of the website also co-founded by Brian McKinney. The invitation only website intends to keep away all the girlish stuff and is definitely not something that girls would like. However, women can also sign up. The founders who actually work at a software company in Kansas completed this mammoth task of creating Gentlemint in only 12 hours!
Manteresting
It's one of those websites which claims to have "interesting man things"! the website does not believe in invites which they have termed as "lame" and urge people to join right on and "nail it" as soon as they can! Brandon Patchin and Jesse Michelsen, founded the website together since they both intended to do something manly for the web. And yet again you will only find manly things dominating the web site and they include everything from folding cycling back packs to whacky pictures of suicidal trees. Also, they sometimes explain as to why men like literature!
Dudepins
It's one place on the web where you can "man up, sign up and also pin up"! Pictures of beautiful babies and wedding rings is something you will definitely not find on these web sites. The website has a space for "Man Caves" and "Dude Stuff". It was Colin Brown and Kamil Szybalski who once thought that something manly had to be done on the web and thus was born Dudepins a place where only dude things could be pinned. The website is also open to women but thay will have to pin up things that appeal to women and make sure they keep away cup cakes from this web site ehich is dominated by fighter jets and Rambo knives!!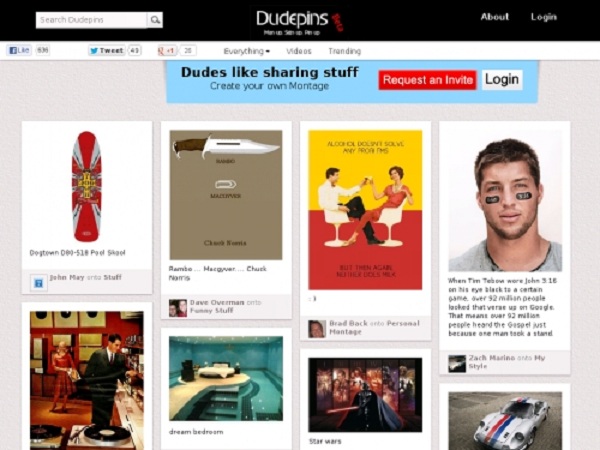 Dartitup
It was after their fiancés got a wee bit obsessed with pinterest that friends Brandon Harris and Michael Byrne created Dartitup. On Dartitup its just not about pinning things but one can also Dart things. The website also has something called as a Challenge Board. Anyone who manages to get the most likes and redarts makes it to the Challenge Hall of Fame. Facebook has also been made a part of the website which enables its users to share their 'darts' on their timeline.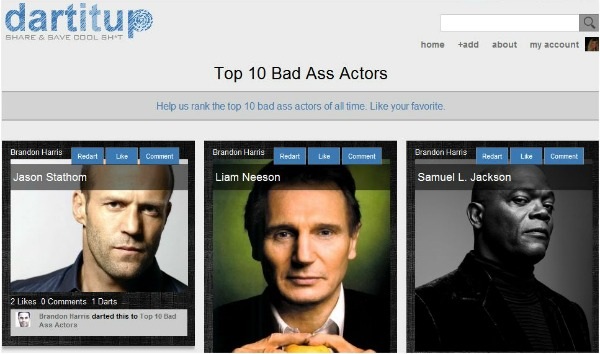 Punchpin
It's a website where "cool guy stuff" can be done. Tim Donahue, started the website along with his wife, Dawn Donahue who also happen to be his business partner. It is a website that enables me to maintain their own virtual scrapbook but in a rather manly way. Fighting, alcohol, explosions and women dominate this website which also has a unique gun kettle pinned to it! It also no invites and is basically a place where men can have fun.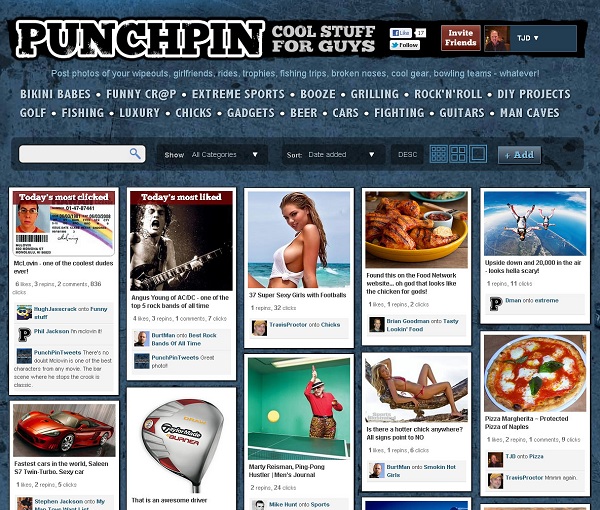 Let's see if these pinterest for men can actually overtake the original Pinterest!