A Floating Barbecue? Sound interesting isn't it? And yes it's also true for we finally have a barbecue grill that floats. So for your next fishing adventure with friends or just for a lazy stroll on the river don't forget this barbeque boat which will cost you a whopping $50,000.
I always think that holding a barbecue party for friends and family is the most ideal way to celebrate just about everything. It's fun and hassle free and also does not require you to spend hours in the kitchen trying to cook up a storm. One can never go wrong with a barbeque party and throw in some music and dancing and rest assured your guests will go back home smiling and with words of appreciation for you in plenty.
It's not difficult to organise a barbeque party. We've seen an array of barbeque grills flooding the market and some of the best brands manufacture the finest of grills. We'have also reported on some barbecue grill designed by O.W. Lee Craftsmanship. Made of a wrought iron body, the barbeque grill weighs around 405 lb. along with a marble top, the grill also includes a cabinet for storing its tools and cooking grid made of stainless steel. We had also reported about a barbeque that served both as grill cum fireplace. Safretti Olympiq was an ideal appliance for cold wintery months when holding a barbeque party out in the deck seems next to impossible. The Safretti Olympiq could be used as fireplace to cosy up your living rooms and when in the mood for a party or some comforting grilled food it could also be turned into a grill by replacing the glass shield with a stainless steel grill and happily barbeque after that.
The floating barbecue is the latest entrant in the world of grilling. If we've managed to grasp your attention so far and if you wish to know more about this grilling machine then read on.
A Barbecue that Floats
It's not just another boat. It's a boat that grills! As you meander through the river with your friends (yes, you can accommodate upto ten people on this boat) you can enjoy anything and everything from grilled chicken to barbecued veggies and not even think about coming to the shore to get your fill of these sumptuous grilled meals. Grilling the fish that you just caught during the course of your boating is also not a bad idea.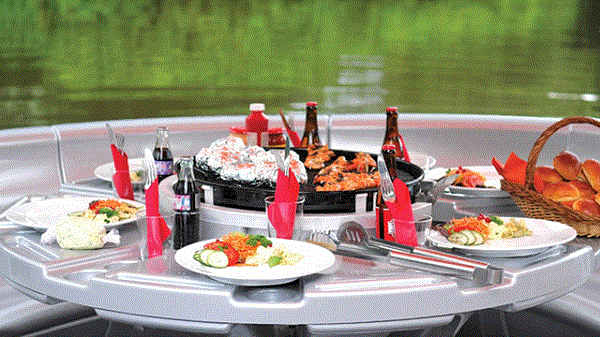 The four recharchable batteries that come with this floating barbecue boat will ensure that you enjoy a river cruise for about eight hours. Enjoy the serenity and the tranquillity of your environs for the boat's 30 watt electronic trolling motor will let you enjoy your ride in peace and without making much noise. Also, it will not scare off the fish which you intend to catch and later grill!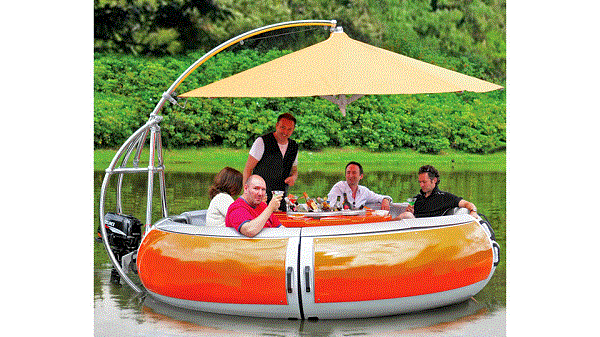 The boat can sail at a speed of 21/2 mph. The key highlight of the boat however remains the 24" steel charcoal grill. The grill is surrounded by an ABS table and ten seats. There's enough storage space concealed beneath the six ABS seats. The other accessories include a silver tray, three beverage holders and a plate holder and each of these are found on every seat.
If that was not enough there's also a retractable 11" nylon umbrella that will prevent you from all the rain or the sun. While grilling you can also think of removing the umbrella.
So, do you think you are game for this unique grilling experience on the river?