Here is your chance to own a piece of Daphne Guinness as the socialite readies herself to auction over a 100 pieces from her wardrobe  on the 27th of June 2012. The auction will be conducted by Christies at 85, Old Brompton Road, London. The proceeds from the auction will go to the Isabella Blow Foundation, an organisation founded by Daphne Guinness that aims to create awareness regarding mental health issues and also to encourage upcoming talent .
The 'Bohemian' fashionista, designer, artist, actress, muse, brewery heiress, Daphne Guinness who loathes it when people label her as an eccentric personality, has served many roles in life. An inspiration to many including Lady Gaga, Daphne Guinness is also a leading philanthropist who has donated her assets to upcoming and struggling artists along with many theatres and libraries in London which were facing financial turmoil and were on the verge of a closure. Daughter of Jonathan Guinness, 3rd Baron Moyne, Daphne always lived a super luxurious life and her childhood was spent largely in 18th century monasteries in Spain and country houses in Britain and Ireland, Daphne has carved a niche for herself and is now an icon on a global scale. She also walked the ramp for Naomi Campbell's 'Fashion for Relief shows' in order to raise funds for victims of a disaster.
Daphne Guinness is also a doyen of the fashion world and was very close to Alexander McQueen, another big name in the fashion industry. She is also is said to have created a wide range of her clothing to be exhibited and this was done at the request of Valerie Steele, Director at the Fashion Institute of Technology. Not long ago she was also in the news for creating the Daphne Guinness Diamond Glove with jewellery designer Shaun Leane.
Let's have a look at what the auction has to offer.
The Daphne Guinness Auction
The Isabella Foundation was founded by Daphne Guinness in memory of her friend, Isabella Blow who committed suicide five years ago. Isabella Blow was also a name to reckon with in the fashion world and is said to have encouraged talents like Alexander McQueen after she bought his collection for £5000 when he was still a graduate student of fashion. It is said that in 2007 she had stalled the auction of Isabella Blow's wardrobe at Christie's as it was in the same year that her friend committed suicide. She paid an undisclosed amount to Christie's to block the auction. The collection can however be viewed by students she insists at the Blow archive.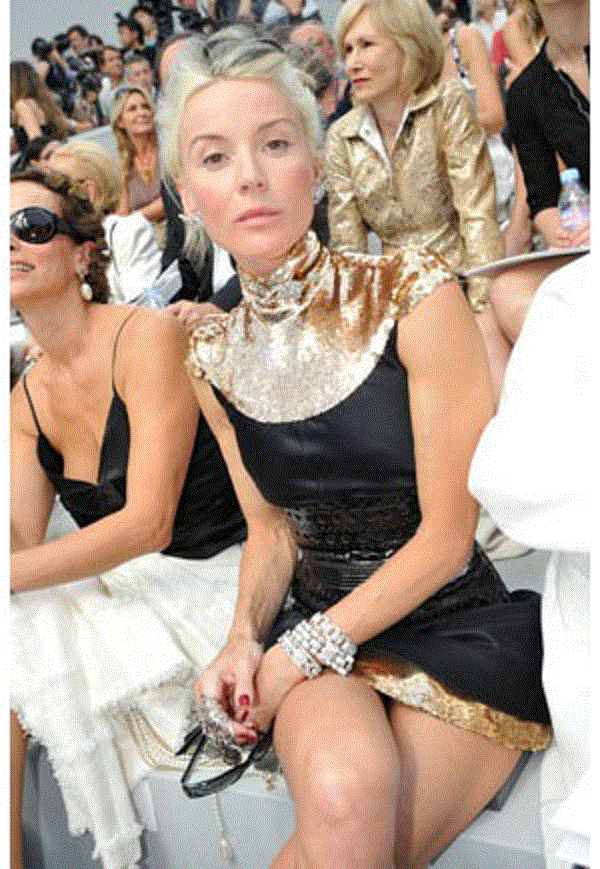 The current auction will be held from, June 23rd to June 27th. Christie's South Kensington Salesroom will conduct the auction and one of the chief items at the auction is a dress that was designed for Daphne Guinness by Alexander McQueen. The dress which is expected to fetch a sum of £15000-£20,000 is actually a silver tulip shaped skirt with a sculptural.  The auction will also include a picture of Daphne McQueen wearing the garment.
Everyone from the world of fashion to aristocrats and the rich and the famous will be at Christie's for the auction. After all it's not always that you get to a chance to own a piece of clothing that was once owned and worn by a Daphne Guinness.
Via Lamodadubai