When it comes to fashion, women are spoilt for choice. There are umpteen brands, designers, styles, sizes, colors, you name it! Men are destined to remain second class citizens, at least in fashion circles. Thankfully, some brands are heeding the demand for luxury fashion for men. One relatively new player in the menswear segment is Myo, a brand that dabbles in resort wear for men. With its sights set on providing luxury resort wear to men who enjoy the finer things in life, Myo has a good thing going.
The Myo Customer
Brothers David and Will have put together a very wearable collection of swimwear for men. A quick visit to the Myo website revealed the resort wear brand's target customer. "The swimwear brand was created with the jet-set lifestyle in mind. Whether lounging by the villa pool or partying at a chic beach club destination, the shorts will ensure you keep one step ahead." Customers of Myo's products are likely to be fairly well-heeled. The prices are not exactly budget. Everything on the website comes with a list price of £135 (about $208). Myo also offers personalization services, which should increase the final bill price to some extent.
Styles On Offer At The Myo Store
Most of shorts that Myo is offering are crafted out of 100 percent Polyamide. However, we spotted a couple of instances (specifically the Fishbone and Roy styles) where the shorts are made using bespoke MYO jacquard fabric woven in Como, Italy. Another style, the Harpoon, boasts of turquoise tone on tone, with the shorts being created in Portuguese workshops. Clearly, no expense has been spared to create these high-end shorts from Myo. The discerning customer will find a range of styles from which to choose. The basic designs – things like Ace of Spades, Azur and Onyx – are sure to sell well. Men who like to sport pops of color can try Pills or Revenna. Plus, there is a host of different patterns to suit varying tastes. The cute black and purple X-Bones with its little skull print stands out, as does the busier Gannet Blue. I also love the little footprints on the aptly named Footprint style. If you are gifting a pair to someone who loves to sail, the Boats style may be just the thing.
Myo Promises Attention To Detail
You will notice little touches like cord ends bearing the engraved Myo logo and an almost hidden back pocket. The brand is willing to send its products to Como, Italy or Portugal, all in the search for a good pair of shorts that the luxury minded customer will appreciate. As you have already noticed – some of the designs are quite tongue in cheek. The colors are largely muted, but certainly not boring. Only high quality Italian fabric is used to create these shorts. Multi-colored stitching adds to the overall look.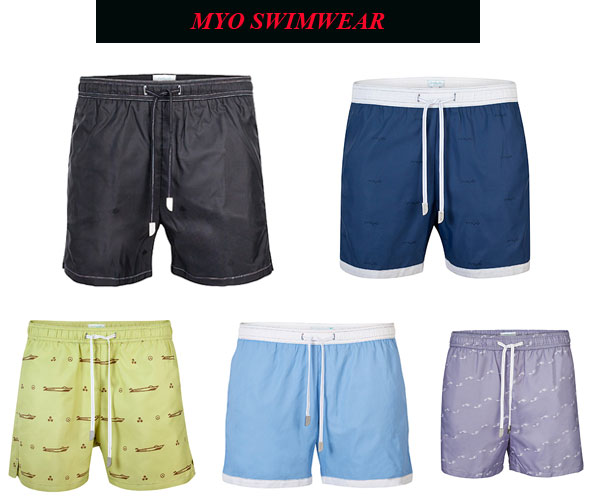 The Promise Of Personalization
One of the coolest things about Myo swimwear is that they can be personalized. You can choose to key in your initials or a word that means something to you (there is a six character limit however). It costs £20 pounds extra per shorts to insert up to six characters. If you want one of the two Myo symbols, the personalization price is £25. You get to choose the color for the initials and the symbol.
(Note: You can either get your initials or the symbol stitched onto the swimsuit; not both!)