In Tomorrow Never Dies, 007 is on a mission to save the world from another massive catastrophe. If Elliot Carver, a devious and ambitious media baron, has his way then another world war cannot be averted. James Bond finds himself competing with Carver who wishes to acquire broadcasting rights over China in order to spread his net of influence over the media world. An Anglo-Chinese confrontation over the waters is what he plans to achieve his duplicitous dreams. What also makes Carver a force to reckon with is his huge catamaran style warship. The stealth ship owned by Elliot Carver makes a dangerous attempt to create a rift between the crew of Devonshire and the Chinese on international waters. Bond infiltrates into the ship and after a long battle with Carver and his men, he succeeds in destroying the stealth boat with a nuclear weapon. Another feather in the hat for Agent Bond.
But not many may know that the inspiration behind Carver's stealth boat was an experimental vessel built by the US navy as a top secret mission in the 1980s. Built at a cost of $190 million, the vessel also known as the Sea Shadow is now up for sale. It's a pity though that a vessel that was built to rule the seas and was the US Navy's most prized possessions can be bought for a very good bargain on e-bay!
Well, if you've watched the Bond movie and are desperate to lay your hands on this mean machine then read on.
The Carver Stealth Ship
Lockheed Martin Missiles and Space Company and the US Defence Advanced Research Project Agency (DARPA) built this massive ship for the US navy in three years. It's surprising that no one noticed the existence of this massive boat which measures 164ft by 70ft, weighs 563 tons and was capable of cruising the seas at a maximum of 14 knots. It was kept a top secret until it was finally revealed in 993. It was discontinued in September 2006. The vessel's torpedo shaped hulls gave it extreme stability in bad weather. This feature was enabled due to the Swath Water Plane Area Twin Hull (SWATH) design.
When out of its veil of secrecy, the vessel was used for conducting several experiments on the use of evaluating new technologies on the seas. After that the vessel has been lying in dry dock in California. The defence agencies were then on the lookout for a museum that can house and preserve this colossal vessel created for the US Navy. However, their attempts proved futile as no museum has so far come forward to restore and preserve the vessel for public viewing.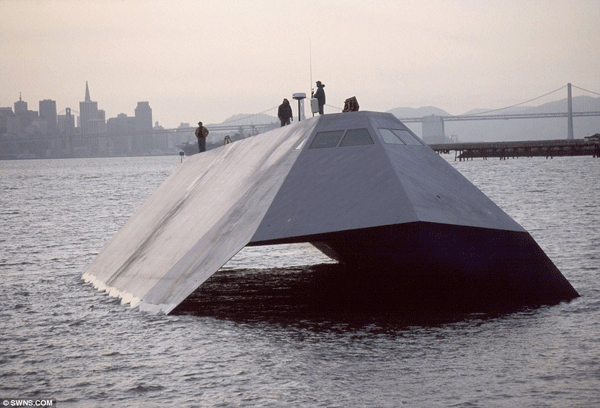 Selling the vessel now considered a mere body of scrap. GS auctions, a website that deals with the sale of defence products has put up the Sea Shadow for sale. One will have to pay a hefty deposit of $6,000. Salvage dealers have already put forward a $100,420 bid for the Sea Shadow.
If you think this is your only chance to live a James Bond moment then lay your hands on Carver's stealth boat for the auction closes on May 4th.