Robb Report magazine is the ultimate authority on luxury, which showcases products and services from the most honoured luxury brands throught the world. Robb Report provides elaborate insight into varied subjects including sports, travel, wine, watches, fine jewelry and art and  more. The Robb Report has chosen Awasi as one of the top 100 world resorts which is a prestigious accolade for Awasi. You may bear in mind that if Robb Report says something is good, it's gotta be good!
While you enjoy the natural grandeur of the Atacama Desert you won't have to compromise your relaxation, personal comfort or privacy in one of 8 dwellings with a room in 550 sq. ft., reading area, outdoor shower and a private patio. There is the blend of outside environment with architecture using the native materials such as wood, adobe and stone. The guest can choose his outings and customize his preference to his interests where each dwelling is assigned to a private guide and a vehicle. Awasi concentrates on very minute details to balance adventure, luxury, relaxation, sophistication and simplicity. In the open air lobby, there are hammocks and sofas for the guests to relax. Awasi comprises of eight adobe bungalows in the midst of an expansive desert.
If you choose Awasi for your Atacama Desert journey the experience would be of a lifetime. The fantastic Hotel Awasi in San Pedro is always recomended by travel agents for its fabulous location near Atacama with hot spots and hotsprings. Amazing Awasi offers every thing perfectly and blends relaxaion and adventure.The gem of the desert lives upto your expectation with impeccable service, stylish decor, delicious food and is genuinely a world class property. After your hiking you would look forward to dinner for its personalised services in the hotel. Of course, if you plan to stay in the sun, you should remember to take hiking boots, hats and sunscreen with you. The guests will be picked up by hotel staff at Calama Airport to Awasi in a private car. The employees of the hotel make you feel as if you are a very important person and the moment you reach the hotel you will be greeted and welcomed warmly. The huge room offers feather pillows and fine linens with a king bed box and a bathroom kit.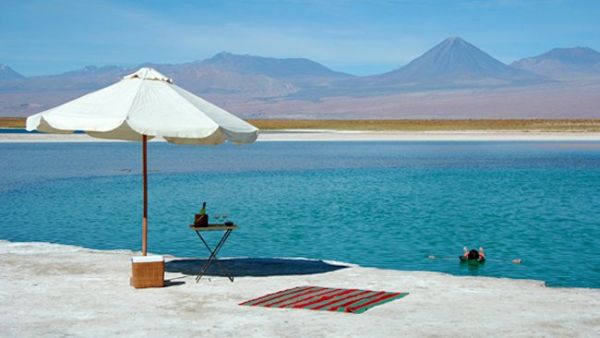 The Awasi is a luxury desert hotel with sophisticated bar, comfortable lounges, fine dining and the limited number of suites which ensure the comfort and privacy of the guests. The outdoor spaces are very relaxing to sit. You can relax in a big comfortable sofa near the large fireplace with cocktails. Awasi sets the standard for refined and appealing accommodation in San Pedro.
The historical town of San Pedro de Atacama can be explored, and for thousands of years, the town has been a relaxing and resting place for desert travelers. Awasi organizes customized desert excursions for Moon Valley, Flamingo Reserves, Tatio Geysers and Puritama Volacanic Hot Springs. It provides a 4WD vehicle and a private guide to go to nearby volcanoes, ponds and dry salt lake. September to December is the best period to visit the desert.