This motorbike is simply a cycle with a motor. It looks like an ordinary bicycle and is actually the harbinger of the motorbike concept. It dates back to the Victorian era and is an attempt to motorize the cycle. The entire mechanism will amaze you when you realize that the bike is more than a hundred years old. The engine is incorporated in the bicycle's rear wheel. A small fuel tank is hanging from the crossbar to supply power to the engine. This Motor Wheel was an innovative concept when it was first fabricated and the concept was patented in 1899. The motor was mounted on a classic Singer bicycle frame. By any standards it is a collector's item and any auto or bike enthusiast will love to own it.
Edwin Perks and Harold Birch were the makers of this innovative vehicle made over a hundred years ago. Along with the bike they also invented the world's first cast alloy wheel. It is a surprise how the bike has survived for so long. It is a piece of classic motoring history and is expected to attract serious bidders if it goes under the hammer. It is valued at £21,000 which would be roughly £63 at the time it was made. More than a motorbike, in the modern sense, it is a motorized bicycle and wasn't considered a comfortable ride when it was made.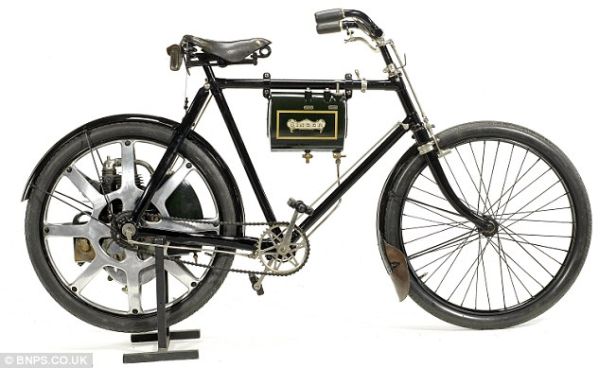 The Motor Wheel provided a bumpy ride and its four stroke engine could provide a speed which was little faster than pace of brisk walk. However the tank was large enough to hold fuel sufficient for 50 miles. The bike was first registered in 1927 by Dan Bradbury from Sheffield, South Yorkshire, and has had only four owners since. It is a fine example of Victorian engineering and represents the dawn of motorcycling. The makers were ahead of their time and must have been an incredible feat to achieve at the time. The Motor Wheel will be auctioned by Bonhams in Stafford on Sunday. Everything in the bike is original except the mudguards which didn't exist when the bike was made. The bike was restored in 1999 and looks as good as new.
Via: dailymail