It's always good to have a mom who the world refers to as Posh. For all said and done she will make sure that her babies are nothing less than sweet little fashionistas! Harper Seven, the youngest Beckham, will now be monitored in style by her mom and former Spice Girl, Victoria Beckham. The very arty and expensive Damien Hirst baby monitor is the latest in string of expensive gifts that the Beckham children have received. Touted as the "most expensive baby monitor in history", the monitor will ensure that Harper Seven is always within the reach of her diva mommy!
Beckham's Passion for Fashion
That the Beckham's love to indulge in style, fashion and extravagance is not breaking news. They have always set the fashion stage on fire and continue to stun people with their grandiose buys.  The £50,000 tree house which they bought for their boys is a fine example of their ostentatious living. When Harper Seven was still on her way her expectant parents busied themselves in getting ready a £150,000 nursery which was designed on a bunny theme. Victoria Beckham, splurged in style, and bought a £1000 French Bunnies round cot with Petit Tresor's hand-carved word work. The nursery also had a table lamp, a rocking chair, a night light and a cashmere robe, also from Petit Tresor. Best friends Tom Cruise and Katie Holmes also offered their valuable advice and recommended Posh to buy blankets from Little Giraffe. When Harper Seven opened her eyes to this world, little did she know that she was in the lap of luxury. David Beckham, who had proudly announced the birth of his baby girl on Facebook, had reportedly spent £1 million on "baby bonding suites". Along with the suites the couple also spent £6,000 on Jo Malone scented candles and bath oils. A Egyptian 1,000 thread count cotton sheet was laid in Harper Seven's crib.
The Beckham's love for Art
David Beckham once claimed that if he had not been a football player he would very well have been an artist, simply because he "loved drawing" so much.  The most flamboyant player of the English Premier League (he now plays for LA Galaxy), David and Victoria Beckham have taken their interest in art to a multi-coloured spotty level!
With his mutli-coloured spotty designs, bling skulls and special edition skateboards, Damien Hirst, also known as the 'King of Modern Art' has easily made his way to the couple's LA mansion. Damien Hirst, the 47 year old contemporary artist who once was in the news for putting sheep in tanks of formaldehyde, is Britain's most loaded artist. Manifold Editions exhibited wood cuts of his spots for a mind boggling price.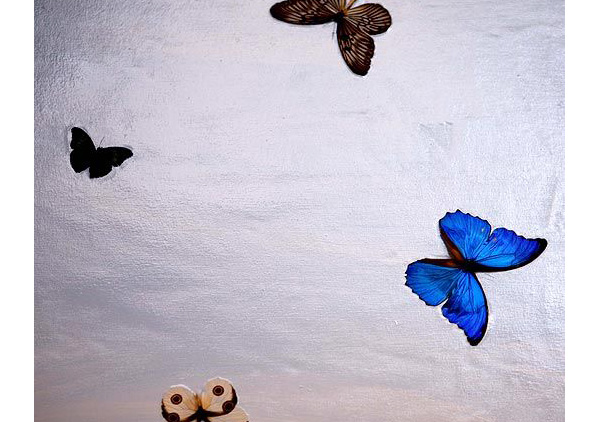 His paintings adorn the walls of Beckham's children's bedrooms. Harper Seven's baby monitor comes with the artists famous butterfly designs. An ardent admirer of the Hirst's coloured spot painting, Victoria Beckham apparently asked the artist to re-create the design on a pair of high heels. Said to be worth, £250,000, the heels have been kept in a glass case since Posh does not wish to "step into any puddles wearing those".
News is, that the artist's other collections which include 'All you need is love', a bright red heart with multi-coloured butterflies on it, and the Bug's Life: Butterfly print will soon become Posh and Beck's next buy.