It was the Pink Panther series that brought Pink Diamonds in the limelight. The expensive pink diamond, a major plot device in the movie, always kept Inspector Clouseau on his heels! The Pink Panther, a flawless diamond which resembled a leaping panther, now has a serious competitor in the expensive pink diamonds that have been created by Birk's Jewellery Store in Edmonton. The diamond, known as the Bubble Gum Diamond, includes 45 precious stones and jewelry pieces. It is being touted as the world's most expensive pink diamond.  A shining star in the world of colored diamonds, this expensive pink diamond can very well send the bumbling Inspector Jacques Closeau and his manic sidekick, Kato in a tizzy.
Coloured diamonds have always enthralled collectors and investors. However, the Bubble Gum diamond worth a staggering $ 2.5 million is a class apart from the other expensive pink diamonds. The diamond is up for sale at Edmonton's most prestigious store but only a chosen few will get a sneak peak.  Potential buyers will first have to fix an appointment in order to catch a glimpse of this rare and exquisite coloured diamond.
About Pink Diamonds
The bubble gum may be making headlines but it surely is not the first expensive pink diamond that the world has seen.  These coloured diamonds are mined in the far north of Western Australia, at the Argyle Diamond mine, where the world's only pink diamonds are found.  What makes the pink diamonds extraordinary is the fact for every million tonnes of rough diamonds produced at the mine only one carat is found suitable for this exclusive jewel. A 12.76 carat rock was recently discovered at the mine. These rare pieces of jewelry have found their way into the collector's coffers. In the past, Christie's have auctioned expensive pink diamonds over ten carats. Circa auctions in Toronto sold a pink diamond for a whopping $2.3 million two years ago.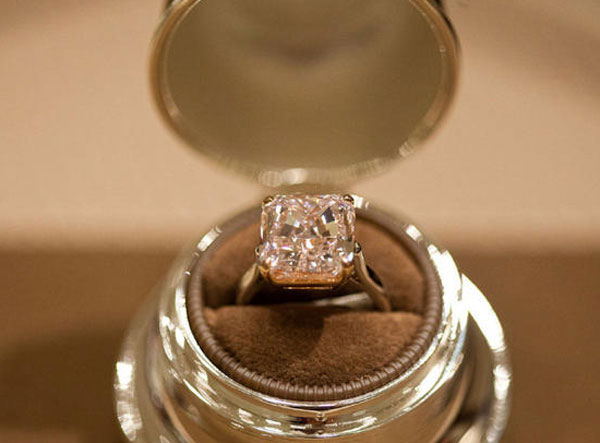 What's so special about the Bubble Gum Diamond?
When Ben Affleck proposed Sandra Bullock with an expensive pink diamond, it was ballyhooed as Hollywood's most romantic proposal. The couple parted ways soon after the proposal made headlines. If only Ben had gone down his knees with the Bubble Gum diamond, Sandra would still be by his side. For this ethereal jewel is actually a 10 carat diamond which was cut and polished from a 21.35 carat stone mined in Africa. The pink and purple hues when combined make for a very distinctive bubble gum shade. The fact that it has been set in a platinum ring imparts an altogether unique look to the diamond.
The Australian Pink Diamond
If you flip through the pages of history you will find that the Australian pink diamonds have always been the most sought after amongst the high and the mighty. Queen Elizabeth II received the Williamson Pink as her wedding gift. The latest diamond to come out of Australia's Argyle mines is the Argyle Pink Jubilee. It has taken gem enthusiastic by storm who is now keenly awaiting its grand auction during the Argyle Pink Diamonds Tender later this year. The exact price of this expensive pink diamond has not been disclosed as yet. However, bookies claim that this coloured diamond may fetch between £20 and £25 million.
However, it is not easy to rate a diamond. Chin Yeow Quek, Head of Jewelry at Sotheby's Asia Department, states that the price of a rock depends on how much it will be polished down to. It is futile to judge a stone when it is still rough. Colored diamonds are a rarity and expensive pink diamonds may not be every girl's best friends!