If you get an invitation from an A-list celebrity, you would definitely you would accept the invitation without much fuss. Such an opportunity won't come repeatedly. You would be in the door step of your favorite power couple Tommy and Dee Hilfiger without taking much time to get a glimpse of their home, if ever you are invited. You would be excited to associate yourself with the worlds most prominent and successful fashion entrepreneurs.
Tommy Hilfiger and Dee Hilfiger, ever since their marriage have been living in a two floor condo at the New York Plaza hotel for the last four years.  The luxury condo is located on the highest floor and is built in a contemporary American style.  The elegant living space features famous portraits by Andy Warhol, including Elizabeth Taylor and Marilyn Manroe hung on the wall.
The art works also include graffiti artist Jean-Michel Basquiat, Keith Haring and Richard Prince. British artist Tracey Emin has designed a blue neon sign 'And I said I love you'. In every corner, art looms at you more than fashion. The doors are painted by Keith Haring. Not only is the home stylish and luxurious, there is also a touch of domestic sweetness.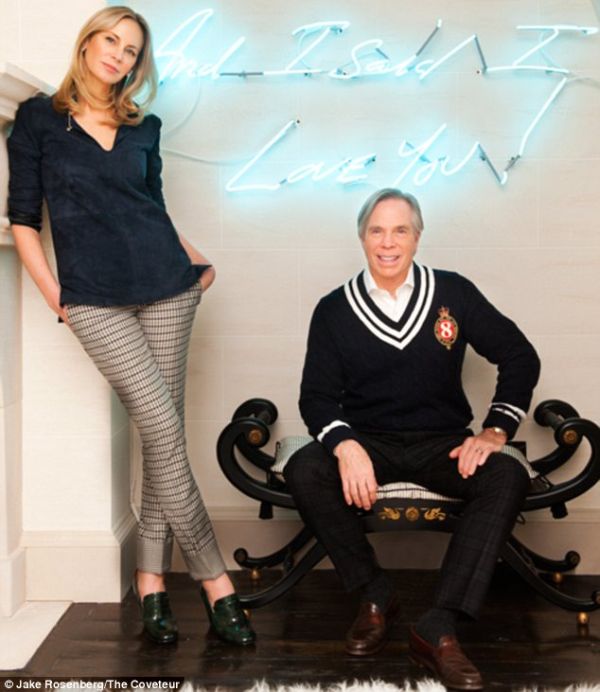 There is a room in the magical tower extending above a building making an awesome play area for their three-year-old son Sebastian.
Mrs Hilfiger invited the Coverteur into their home to get a look at her handbag line and designs and an impressive shoe collection including Miu Miu, Prada and Louboutin. The luxury Manhattan apartment is worth fifty million dollars. With 4 bedrooms and four and a half bathrooms the house also features perfectly organized wardrobe of Mr. Hilfiger, framed family portraits, and a scarlet staircase. It must be amazing to live in a house like this!