When it comes to Christmas gifts, the hardest ones to choose from are the long list of gift ideas for geeks that have been released for this year's holiday shopping season. To appease a geek, one needs to create perfect balance between the recipient's likings and requirements, while ensuring that the looks of the gift are proportional to its performance levels. The tech market for the year 2011 is buzzed with the 'tablet' the touchscreen handheld computers that have revolutionized the tech industry in just over a year. There are a lot many tablets in the markets with varying features and price ranges, hence making it rather difficult for you to buy the best and most suitable of these magnificent machines.
Hence, here at Elite Choice, we decided to present a holiday gift guide that is tablet specific and aims at all kinds of requirements, varying from prices to tech specs. Presenting the best five tablet gift ideas for geeks.
Availability: Amazon Inc.
Price: $199
Designed and developed by one of the foremost online retailers, Amazon Inc., the all new Amazon Kindle Fire has been launched as a high performance, yet low priced tablet. The Kindle Fire is the next evolution of  the world's most cherished e-reader, Amazon Kindle, while being revolutionary in its design and price tag. Powered by a 1Ghz dual core Texas Instruments processor, Kindle Fire is equally complemented by 512MB of RAM  and features microUSB 2.0 connectivity. As far as storage space is considered, Amazon this marvelous tablet with 8GB of internal storage, while users will also be provided with free cloud storage for all content purchased from the online retailer. Kindle Fire runs on a custom designed Google Android OS and instead of Android Market, users will be presented with a variety in online content stores such as Amazon Appstore, Amazon Kindle Store, Amazon MP3 Store, Amazon Prime. The tablet has been provided with a 7 inch Multi-touch display with in-plane switching technology. Kindle Fire is available in a wifi only model and though the tablet does not carry any camera, yet its remarkable price tag makes up for some of the inadequacies.
Availability: HTC Corporation & T-Mobile
Price: $300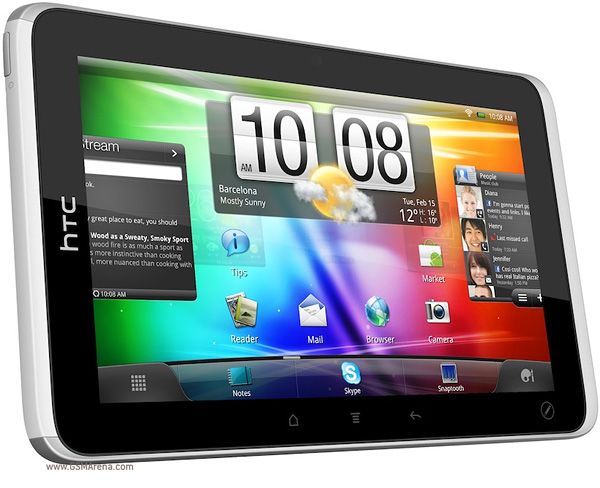 From one of the biggest manufacturers of smartphones, Taiwan based HTC Corporation, comes an all new tablet in the form of HTC Flyer, which can prove to be an ideal Christmas gift this holiday shopping season. The HTC Flyer sports a 7 inch LCD capacitive touchscreen and comes with the popular HTC Sense UI. The tablet is powered by an impressive 1.5GHz Qualcomm processor, while the device runs on the ever popular Google Android 2.3 Gingerbread OS. To ensure a great multimedia experience, HTC has given the Flyer with Dolby Mobile and SRS sound enhancement, along with a 5MP rear camera that is capable of capturing 720p HD videos. There is also present a 1.3MP front facing camera for video calling and VoIP calls. The HTC Flyer comes with 16GB and 332GB storage options, which can be further expanded to an additional 32GB via a microSD card. Among other features, the HTC Flyer comes packed with various Google services, such as Gmail, YouTube, Google Talk and Picassa integration. HTC has provided the tablet with numerous connectivity options such as Bluetooth, wifi and microUSB.
Availability: BlackBerry
Price: $322
From the manufacturer of the immensely famous BlackBerry smartphones, Research in Motion, comes yet another great tablet, in the form of the all new BlackBerry PlayBook. Hailed as definite holiday gift for geeks, the PlayBook is powered by a 1GHz dual-core Cortex-A9 processor and is equally complemented by an impressive 1GB of RAM. This particular model is a BlackBerry Playbook wifi only model with 16GB of onboard storage. However, the high end models of PlayBook comes with 32GB and 64GB storage options, along with even 4G Long Term Evolution (LTE) connectivity. The 16GB model of BlackBerry PlayBook runs the BlackBerry Tablet OS and comes with a 5MP camera that is also capable of taking Full HD 1080p videos. There is also given a generous 3MP front facing camera for video calling, while the display itself is a 7 inch TFT capacitive touchscreen.
Availability: Apple Inc.
Price: $499
Replacing the coveted title of the 'world's most cherished tablet' that had been claimed by Apple iPad, is the all new successor to the iPad, the incredible Apple iPad 2, which since its launch earlier this year has taken the tech world by storm. Powered by the cutting edge 1GHz dual-core Apple A5 processor, the iPad 2 is available in both wifi only as well as wifi+3G models. Apple has given the tablet 512MB of RAM and this magnificent device comes with a 9.7 inch IPS capacitive touchscreen with scratch resistant oleophobic surface. The iPad 2 is available in 16GB, 32GB and 64GB storage variants, while the device operates in the immensely popular Apple iOS 5. The rear camera for iPad 2 is capable of taking still images with 5x zoom, as well as HD 720p video recording. For enhanced social networking, Apple has provided the tablet with Twitter integration as well as with iMessage service. Without a doubt the iPad 2 deserves a mention in every holiday gift guide is the perfect gift for geeks.
Availability: Samsung Electronics
Price: $500
Introduced as a stark competitor to the Apple iPad, the cutting edge Samsung Galaxy Tab 10.1 is by far one of the most striking additions to upscale tablet devices in the markets, as of now. Designed and developed by Samsung Electronics, Tab 10.1 is powered by a Dual-core 1GHz ARM Cortex-A9 processor, along with stunning graphic performance, courtesy Nvidia GeForce GPU.  This marvelous tablet sports a huge 10.1 inch TFT capacitive touchscreen with Gorilla Glass Display and comes with 1GB or RAM as well as 16GB, 32GB and 64GB of storage options. Samsung Galaxy Tab 10.1 operates on the latest Google Android 3.1 Honeycomb and comes packed with several Google services, including Gmail, YouTube. Google Talk etc. Samsung has provided the tablet with a rear facing 3.15MP camera with LED flash and autofocus, along with the capability of recording 720p HD videos. There is also a front facing 2MP camera for crystal clear video calls and VoIP calls. The Tab 10.1 features numerous connectivity options, such as Bluetooth, microUSB as well as wifi with wifi hotspot technology. Furthermore, the Galaxy Tab comes with Adobe Flash 10.2 and deep social networking integration.