One of the most joyous occasions of the year, Christmas, is just around the corner and as always, preceding this merry event, is the every joyful holiday shopping season. With the presence of a torrent of products and services in the markets, it can become rather cumbersome to decide which gift to buy for whom. However, this is where the Internet steps in as a boon, with a plethora of blogs and websites, guiding users to most essential cost effective gifts that you can purchase depending upon the choice of the recipients. For the year 2011, we would like to start our exhaustive holiday gift guide series with the first one dedicated to the worshippers of technology or more commonly referred to as 'Geeks'. Whether it be laptops, smartphones, tablets etc. there is no shortage of tech related gifts in the markets and hence we present to you the best five premium smartphones gift ideas for geeks this holiday season.
1.  Smartphone: Apple iPhone 4S
Availability: Verizon Wireless, AT&T & Apple Inc.
Price: $199 to $849
Powered by the state of the art Apple A5 1Ghz dual core processors, the all new sensational Apple iPhone 4S is definitely is the best possible gift you could give to tech enthusiast or in layman terms 'a geek'. This one a kind smartphone features a remarkable 8MP camera with LED flash and autofocus, while it also carries the ability to record videos at Full HD 1080p. There is also the presence of a secondary front facing camera that can be used Facetime and VoIP calling. The iPhone 4S runs on the incredibly famous Apple iOS 5 and features Siri, an artificial intelligence personal assistant program that has taken the world by storm. Embracing cloud connectivity and social networking, the iPhone 4S comes packed with iCloud service and Twitter integration, while providing accurate navigation via Google Maps Apple iPhone 4S comes with  a 3.5 inch display with Retina Display technology and also carries a Scratch-resistant oleophobic surface. Available in Black as well as White colors, the iPhone 4S is without a doubt the most advanced and alluring premium smartphone in the markets.
2.  Smartphone: HTC Vivid
Availability: AT&T
Price: $169 (On Contract)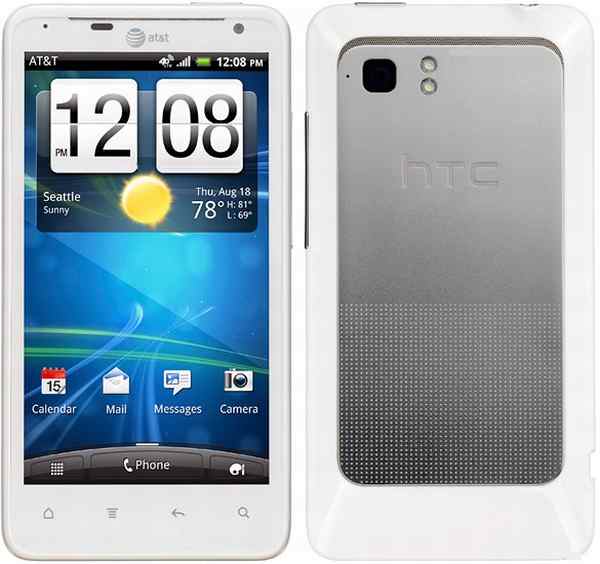 From one of the biggest mobile phone manufacturers in the world, Taiwan based HTC Corporation, comes the all new remarkable handset, HTC Vivid. Packing a 1.2 Ghz dual core Qualcomm processor, this magnificent smartphone is poised to deliver exceptional performance. HTC Vivid sports a huge 4.5 inch screen, which is further given a cosmetic touch with the use of the popular HTC Sense UI. This magnificent handset comes in 16GB and 32GB storage options, while the device has been given 1GB of RAM and microSD card expansion up to an additional 32GB.  HTC has provided the Vivid with an 8MP camera with dual-LED flash and this rear camera is also capable of taking Full HD videos at 1080p. There is also present a front facing 1.3MP camera, ideal for VoIP calls and the device comes with Bluetooth 3.0, wifi as well as microUSB connectivity. HTC Vivid runs on Google Android 2.3.5 OS and the smartphone is integrated with various Google services including Google Maps, YouTube and Gmail.
3.  Smartphone: Samsung Galaxy S II
Availability: AT&T
Price: $149 (On Contract)
Designed and developed by the leading consumer electronics company, Samsung, the Samsung Galaxy S II is widely considered to be one of the most advanced and robust smartphones in the market, while being a stark competitor to Apple iPhone 4.  This magnificent handset sports a massive 4.3 inch screen that is complemented with Gorilla Glass Display and the ever popular TouchWiz UI 4.0. Powered by a Dual-core 1.2GHz ARM Cortex-A9 processor, the Galaxy S II runs on Google Android 2.3 and even sports the cutting near field communication or NFC technology. This remarkable handset has been given 1GB of RAM and the device comes with 16GB, 32GB storage options, while offering microSD card option for an additional 32GB of space. The Samsung Galaxy S II features a stunning 8MP camera with autofocus and LED flash, as well as the capability of recording Full HD videos at 1080p. A very ideal purchase for this year's holiday shopping, the Galaxy S II carries deep social networking integration as well as various Google services, such Google Talk, Gmail, YouTube and even Adobe Flash 10.1.
4. Smartphone: T-Mobile G2X
Availability: T-Mobile
Price: $99
Powered by a 1Ghz dual-core ARM Cortex-A9 processor, the all new T-Mobile G2X smartphone represents the very best of 21st century mobile technology and is an excellent Christmas gift for a geek. This marvelous smartphone comes with a respectable 4 inch IPS LCD touchscreen along with gyro sensors and carries 512MB RAM as well as 8GB of internal storage. The handset's memory can be expanded up to 32GB via microSD card and this remarkable phone operates on Google Android Gingerbread 2.3. One of the most astounding elements of the G2X is the presence of a Nvidia GeForce GPU that provides crisp and stunning visuals, while also providing access to the newly launched Nvidia Tegra Zone. The T-Mobile G2X features an 8MP camera with LED Flash and this camera is even capable of capturing both HD 720p as well as Full HD 1080p videos. There is also present a 1.3 MP front facing camera ideal for video calling and VoIP calls. The G2X is packed with numerous utilities and entertainment services, including T-Mobile TV, social networking, T-Mobile Video Chat, Gmail, Google Maps etc. User can even engage in high profile 3D games such as Need For Speed Shift, N.O.V.A etc. utilizing the full potential of the Nvidia graphics chip.
5.  Smartphone: Samsung Galaxy Nexus
Availability: Verizon Wireless
Price: TBA
Designed and developed by Samsung Electronics for the next generation of Google Nexus smartphones, the Samsung Galaxy Nexus is one of the coolest and high profile smartphones ready to hit the markets. Also known as Google Nexus Prime, this latest installment from Google Inc. offers a huge 4.65 inch Super AMOLED capacitive touchscreen, that has been given a scratch resistant Oleophobic surface and comes with a variety of connectivity options such as Bluetooth 3.0, microUSB, wifi etc. Google Nexus Prime is powered by a respectable dual core 1.2Ghz Cortex-A9 CPU and this handset operates on the latest version of Google mobile OS, Android 4.0 'Ice Cream Sandwich'. Brining enhanced functionalities to the realm of mobile communication, such as near field communication (NFC), Nexus Prime features a 5MP camera with LED Flash and the camera can capture Full HD 1080p videos. There is also present a 1.3MP front facing camera for video calling and VoIP calls, while the device comes with an internal storage of 16GB and 32GB, further expandable to 32GB via the use of a microSD card.  Among other features, Nexus Prime makes use of various Google services such as Gmail, Google Maps, YouTube, Google Talk and is deeply integrated with the modern social networking trend.
So, if you have friend or a love one who is mesmerized by technology, or in short is a 'geek', then do check out these incredible smartphones that are part of our holiday gift guide for this year.