If you really want to make a splash while traveling, let your luggage do the talking. UK-based leather goods designer Sarah Jane Williams should be able to help. The designer creates bespoke luggage under her label Williams British Handmade. I assure you, you have probably never laid eyes on luggage that looks like this.
First up, the unique and unusual shapes might be a worrying factor. Can you really fit them into the overhead lockers during a flight? It seems unlikely at this point. But I am willing to be surprised. What is more important though, is that your luggage will not be confused by anyone else's as it makes its way down the conveyor belt. That is because of Williams' luxury touch.
Each of the luggage pieces to appear in the Williams British Handmade catalogue features bridle leather. The hand-forged metalwork is the handywork of Macneil Metalcraft's Joe Macneil. The bespoke elements shine from these stunning pieces of luxury luggage.
Williams designs are not only spectacular, but each piece of luggage conforms to impeccably high quality standards. Williams incorporates a lot of historic design elements and traditional methods of working, but her luxury luggage designs have a very unique, contemporary appeal. The frames, trim and badging are all made from solid brass. And the leather is completely stitched by hand.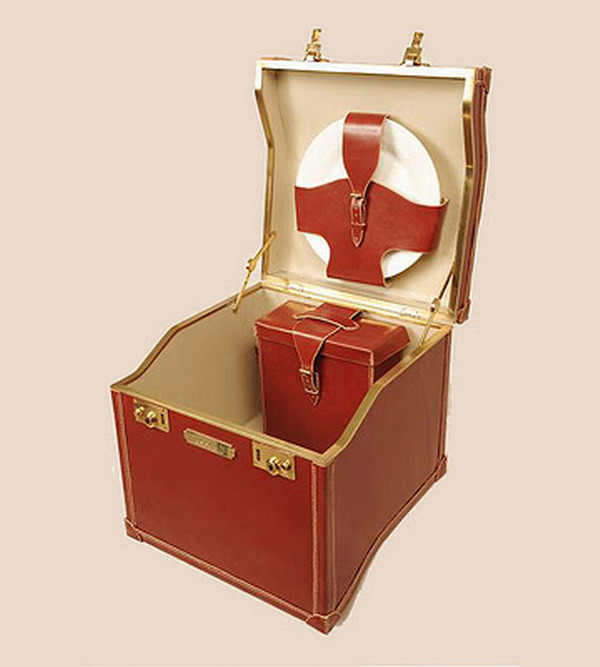 Among my personal favorites is the red, U-shaped day case featuring brass frame, trim and hardware. The intriguing trunks that open up rather like a cabinet are another favorite. And who can ignore the beautiful picnic case that comes with a smaller inner case and features a buckled section for storing plates.