As festival brings joy and peace to the masses in the monotonous life. Usually they are based on legends and myths of popular belief. These events are of commemorative character. Thais celebrate floating festival dedicated to goddess of water. This year not only commoner, on the day of festival called  Loi Krathong  shows his regards, Government of Udonthani province and municipality has authorised to design giant lotus to the Bangkok based Apostrophy's.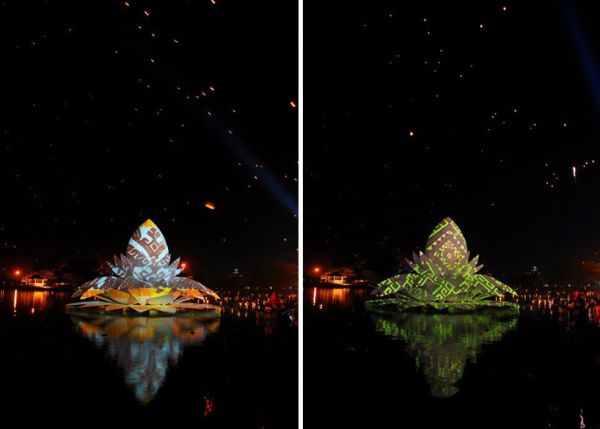 It will be floated on flood waters which had engulfed entire udonthani province and also many other parts of Thailand. The lotus is made of fabric and wire on which there will be projection of kaleidoscopic iconic images. The enchanting colourful project offers a symbolic representation of relief from the harm of terrible flood. The stage is situated on the bank of water.
Thailand mass annually celebrates full moon festival, loi krathong throughout Thailand. The designers apostrophy's have set a stage, and floating structures in the presence of water; 3-D canvas is used on the swamp of nongprajut. They project a series of mapping on its surface, which measures seven meters in height and twelve meter in diameter to create a structure resembling lotus flower with blossomed petals.  Here the fabric is wrapped on iron frame to give crystalline effect and the main screen is formed by the central bud. Through mapping technology the graphic images are projected maintaining shape and volume. These are featured on water related stories which includes Udonthani region and king Bumibol. The materials used appear to you that   the flower can be re-used disassembling. In Schools also student celebrate Loi Krathong .