Artist Damien Hirst is making music these days. The artist who is famous for the Damien Hirst skull recently displayed his penchant for color in the skateboards he designed. His latest collaboration is with Flea, the bassist of Red Hot Chilli Peppers. Together, the duo has created a series of limited edition Spin Bass Guitars. The splash of color that marks so many Damien Hirst designs adds to the appeal of these guitars.
All For A Cause
These limited edition guitars for sale are priced approximately between $16,000 and $80,000. That is considerably lower than some of the most expensive bass guitar models. Some limited edition Gibson guitars have sold at far higher rates. However, the Hirst-Flea guitars have more to recommend them. The proceeds from these special edition guitars go to Flea's charity, the Silverlake Conservatory of Music.
So what are the designs on offer? Have a look:
1. Multi Coloured Deluxe Spin Bass Guitar
Priced at $80,086, these hand-painted guitars feature a splash pattern in a range of glossy colors. Each instrument comes in a hand-spun case and includes a photograph of Hirst and Flea holding the guitar. The canvas also features a 6-inch x 6-inch monochrome butterfly gloss. This is a limited edition series of only 50 guitars.
2. Color Spin Bass Guitar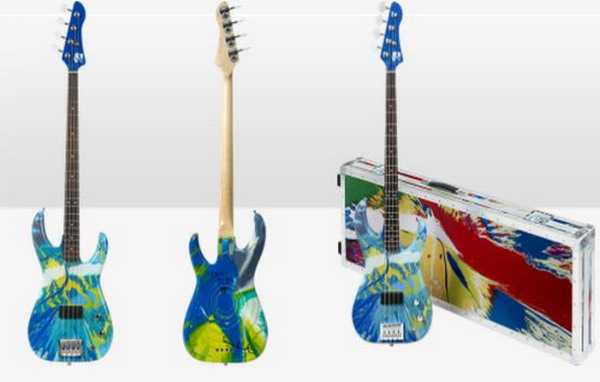 The 125 units of this series features a splash of three colors – blue, green and yellow. Again, each $16,000 instrument is packaged in a unique hand-spun and hand-painted case.
3. Black And White Spin Bass Guitar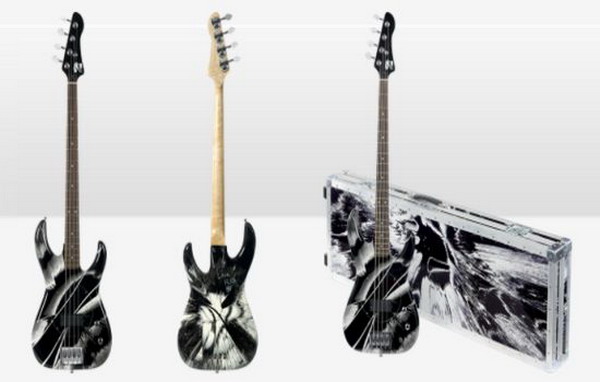 Don't love color? Get a limited edition Hirst-Flea guitar in a splash of black and white. Also priced at $16,000, there are 125 units on offer.
All guitars bear Hirst and Flea's signatures and a unique edition number.
Via: Other Criteria, Complex