The purpose of travel is enrich the traveler with a wide variety of experiences. Everyone has a list of places to see before they die. One of the most recent is CNN's list of "15 Hotels To Stay In Before You Die". We look at each of the unique and striking properties individually. Some of them verge on the bizarre. But you can be the judge of that.
1. The Balancing Barn
Where: England
Price: Starting from $38 per person, for eight-person groups
Built by Living Architecture, The Balancing Barn tests gravity through its unique design. The cantilevered home in Suffolk, England is precariously perched over a slope so that one end is suspended mid-air. The award-winning property accommodates eight people and offers incredible views of the surrounding nature reserve.
2. The Mountain Retreat Inn
Where: China
Price: $62 per room
If you are looking for an eco-friendly getaway in the Orient, look no further. Sustainable local bamboo has been used extensively to make the furniture. The Mountain Retreat Inn is located near Yangshuo in Guanxi province. The hotel offers beautiful views of the nearby Yulong river. The rugged mountains along nearby Li river are the big attraction here.
3. Wild Brown Bear Hotel
Where: Finland
Price: Starting from $213 per person per night at the bear-watching hide
The nature-rich surroundings make Wild Brown Bear Hotel a must-visit location. The forests of the Karelia region are rich in flora and fauna. If you are keen to spot the wolves and bears, the hotel organizes a special hide for guests. Head here if you want to relax amid the great outdoors.
4. Hotel Saratoga
Where: Cuba
Price: Starting from $238 for deluxe patio rooms
In the mood for something more eclectic? Cuba never disappoints. And if you are passing through Cuba, make a stop at the Hotel Saratoga in Havana. It is a vibrant, bustling luxury hotel. The food is average, but the striking rooftop pool, which offers sweeping views of the city, more than makes up for it.
5. Houshi Ryokan
Where: Japan
Price: Starting from $91 per night for a guest room
For an authentic Japanese living experience book a room at the Houshi Ryokan in Hokuriku, Ishikawa. Located to the north-west of Tokyo, this is among the oldest ryokans in Japan. It has been running for the last 1,300 years. The ryokans feature tatami mats, futons and communal hot water spas. You will also get to taste traditional Japanese food.
6. Akkoy Evleri Cave Hotel
Where: Turkey
Price: Prices are between $106 to $284 per room
This interesting hotel was carved out of the face of a massive rock near Cappadocia in Turkey. Run by the Akkoy Evleri family, this luxury hotel offers five boutique rooms. Note that these have been fashioned out of what were formerly cave houses. You will get great food and service. The Byzantine caves, the underground cities of Kaymakli and the nightclubs of Urgup are all nearby.
7. Ngorongoro Crater Lodge
Where: Tanzania
Price: $720 per person per night
This property stands in a UNESCO World Heritage site. Some 40,000 Maasai semi-nomadic pastoralists live here. The region is rich in wildlife like gazelles, wildebeest and zebras. The high-end hotel's suites resemble the homes of the Maasai but boast of colonial touches as well. While here, make sure to set out on a game drive and explore the local volcanic crater.
8. La Residence Phou Vao
Where: Vietnam
Price: $260 for a double room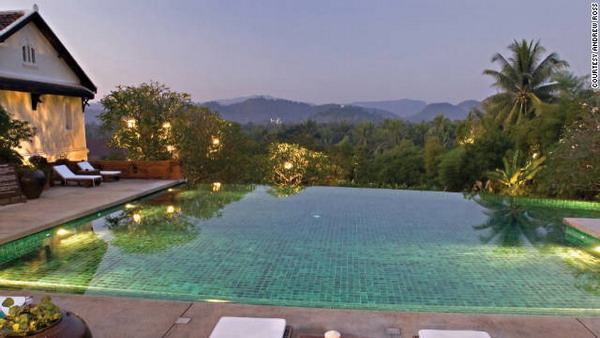 Located in Luang Prabang, this beautiful colonial-style mansion is located in a forest of palm trees. The area is another UNESCO World Heritage site. The furniture is a fine blend of dark wood and white cotton. There are several Buddhist stupas and monasteries located nearby.
9. Adere Amellal Eco Lodge
Where: Egypt
Price: $500 per night
Experience life in the Sahara desert at the Adere Amellal Eco Lodge. Let me warn you, this will be a rugged sort of vacation. The lodge has no electricity and no phone signals, and certainly no Internet. That leaves you with plenty of time to admire the Saharan sands and watch the locals herdsmen at work. Do taste the local cuisine during your stay here.
10. Palacio de Sal
Where: Bolivia
Price: Starting from $100 for a single room
White rock salt forms the building blocks of this unique hotel. It is significant that the property stands near the salt lake of the Great Salar de Uyuni, which is 3,650 meters above sea level. Carry your camera with you for this incredible scene.
11. Albergo Il Monastero
Where: Italy
Price: Starting from $142 for a room. Discounts available.
Treat yourself to an intimate holiday on the island of Ishchia. You will not find the Capri crowds, and you can stay at this 16th-century Aragon Castle. The castle stands on a jutting piece of rock. While here, make a visit to the thermal hot springs of Ischia. The hotel offers massage treatments to guests booking rooms for two nights and above.
12. Alila Ubud
Where: Indonesia
Price: Starting from $148 per room

The brightest spot here is the infinity pool that offers sweeping views of the local green rice terraces. Located in central Bali, Alila Ubud is a Green Globe certified eco-friendly hotel. The property is chic and well-designed. And travelers here will enjoy the four-star treatment.
13. Great Orme Lighthouse
Where: Wales
Price: $129 per person per night
How would you want to live in a lighthouse? Wales is home to a historic lighthouse that doubles up as a unique hotel. Built in 1862, this lighthouse was fully functioning until 1985. It offers a 180-degree view of the north Wales and the Irish Sea.
14. Riad L'Ayel d'Essaouira
Where: Morocco
Price: Starting from $71 per room
If you want live in Moroccan style, the Riad L'Ayel d'Essaouira is the perfect location. This traditional Moroccan home is located in the older part of Essaouira. Carved wood, silks, ceramic tiles and tadlakt-coated walls make this Moroccan destination a feast for the eyes.
15. The Oberoi Udaivilas
Where: India
Price: Starting from $760
Live like Indian royalty at The Oberoi Udaivilas. The luxury palace resort at Udaipur stands on the banks of Lake Pichola. This former Indian palace features gold-leaf domes, marble interiors, hand-painted frescoes and sand-colored walls. This was voted the best resort in Asia by Travel + Leisure's 2011 readers' poll.
Via: CNN