Marchi Mobile Presents The Luxurious & Hi-Tech Marchi eleMMent Luxury Caravan
There is no better way of taking in the beauty of nature other than to drive your way to a scenic vacation spot. The thrill of mountain peaks and lush green vegetation zipping past as you head towards your destination is by far one of the most memorable moments of all. However, when you are with your family or friends, you need something more than your average sedan or SUV to have a luxury filled drive. This is where the all new Marchi Mobile eleMMent comes in to play. Designed and developed by Marchi Mobile takes the concept of a luxury caravan to an entirely new level as this recreation vehicle or RV packs some serious power under the hood and opulent luxury inside the cabin. The Marchi eleMMent has been designed and developed to be a highly flexible RV that can be turned into a bed room, lounge or a conference room as and when required, while sporting retractable furniture.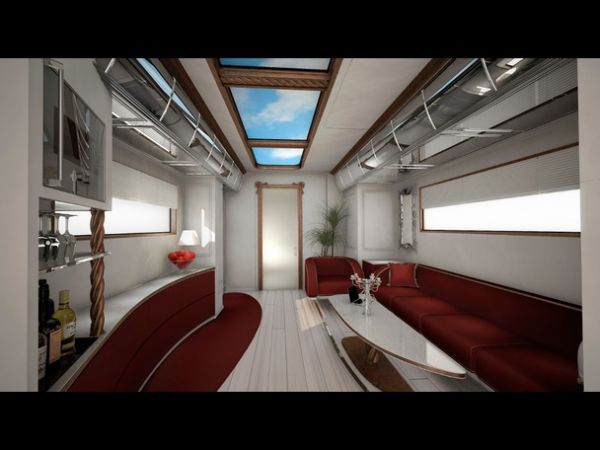 The Marchi eleMMent is powered by a 510HP engine and comes with automatic transmission along with a dual-sport exhaust system with carbon diffuser. On the outside, this magnificent luxury camper features 28-inch alloy wheels, a large single arm windshield wiper along with a stunning light coating on the front body. On the inside, the eleMMent is a palace on wheels that offers unmatched luxury to the occupants. The interiors are packed with six business class lounge chairs that come with in built massage systems and this RV carries eight LCD screens, multi-media system, bar as well adjustable lighting controls. The chassis of the eleMMent can be expanded to up to 80%, offering more space for your needs. Furthermore, this remarkable vehicles comes with a fully equipped mini-kitchen and to ensure seamless connectivity and entertainment, the occupants are presented with satellite television, Internet, integrated communications and a state of the art navigation system.
Via AutoBlog