Designblok, the annual week long exhibition of new pieces from the world of design brings together some stunning new ideas and concepts that have instant appeal across all sections of the people. The 13th edition of the creative exhibition was held at Prague between 4th and 9th of October. The exhibition was spread over selected showrooms, boutiques and galleries situated all over Prague. The exhibition had attracted several presentations from designer, design studios and prestigious projects. One design which could almost be called cute and had mass appeal was the glasshouse or a mini greenhouse that functions as a hanging lamp.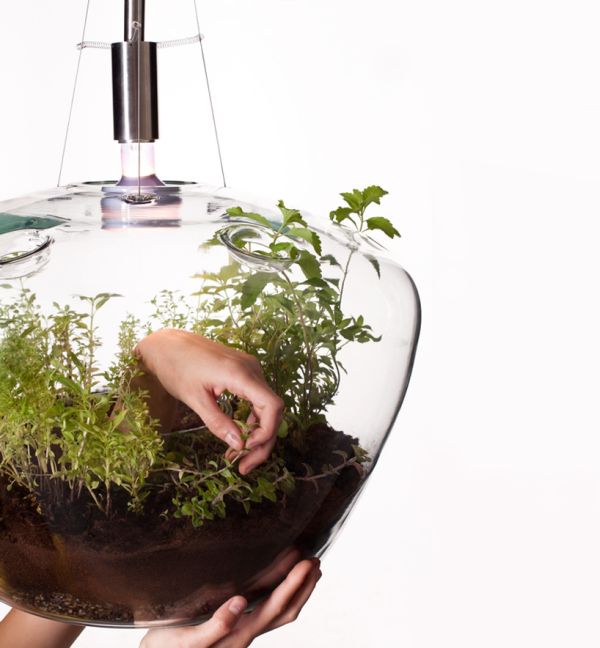 The glasshouse has been designed by Czech designer Kristyna Pojerova. There is a natural and universal desire with all of us to grow our own food. It must have been the first human instinct when man started evolving towards the modern civilization. The design serves the purpose for the urban population who have to live in apartments and don't have access to cultivable land. The lamp has been created to satisfy the desire to grow fresh herbs within an urban kitchen.
The glasshouse is shaped something like a doughnut. There is an opening in the centre that allows the user to reach inside the glass in order to plant or take out the small herbs. The opening also allows the light of the bulb to pass and provides adequate ventilation to the greenery in the glasshouse. The larger version of the glasshouse has holes on the top as well to provide access to all the areas inside. Some people might find the price tag of $1,900 a bit steep for a lamp but the design will definitely inspire them to experiment with empty bottles to create a glasshouse.
Via: thisiscolossal, krikri