Living on the move gets so much cooler with The Great American Woody Caravan Bar. This custom trailer bar is just the thing for long trips on the road. The Great American Woody is compact, yet fully-equipped, and can be a great addition to road trips. Just hitch it to along, and the rest is history.
Designed by designer Brad Ford and mixologist Jim Meehan, this mobile bar is so much more than just another mobile bar. The Great American Woody has great amenities to ensure that your road trip is a comfortable one. Inside you will find a cozy little bedroom that has all the necessaries. You can catch your share of movies and music thanks to the Sony blu-ray disk player and the Golden Ear speakers.
Designed like a caravan from the 1930s, The Great American Woody also houses a fully-equipped kitchen. The kitchen houses all the necessary modern appliances and is located within the bonnet of this trailer-cum-bar. The bar itself is situated at the rear of the caravan. According to reports, users can stock the bar with up to 30 bottles at a time. Of course, that is in addition to all the other required bar supplies. Ford and Meehan have used polished wood and leather in keeping with the retro appeal of this portable caravan-bar.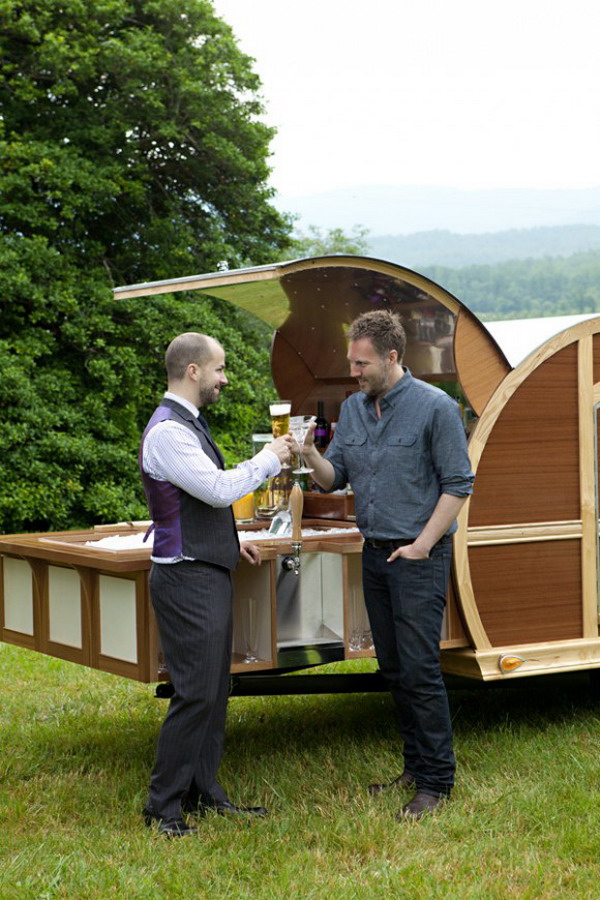 The Great American Woody is currently touring through America. It is not up for sale yet, but talk is that Sotheby's will be auctioning it later this year. According to sources, proceeds from the sale of this unique set of wheels will be donated to AIDS research.