Benjamin Hubert, a Btitish designer has created a collection of new marble pendant lamps called Quarry for La Espada, a Spanish brand of furniture, debuted at a Design Festival of London. The collaboration between Benjamin Hubert and De La Espada has given an opportunity to present and develop a range of interior products, employing the knowledge and skills of craftsmen and artisans.
The designer has presented his solo exhibition Materiality, in Berlin.  After his entry into international scene, at kermesse  he displayed his whole collection for De La Espada. Among the designed new objects, the lamp series Quarry made an impact with light's pleasant effects through marble veins which has perfect finesse. They are thin-walled, hand-turned marble pendant lights suitable for roughly finished interior.
Quarry with marble's translucent properties spreads out the light and make visible its veining. The traditional material makes use of an LED, which is hand turned cavity remain open. You could enjoy lighting with a beautiful lamp design. The lamps are made of very thin sheets of marble which is polished repeatedly to get a translucent effect, when illuminated by LED bulb from within. Since Benjamin Hubert founded his studio in 2007, he has been designing items for brands such as Casamania, Decode, Zero, De Vorm, Heals, Viaduct and more, but this time he has designed a complete collection.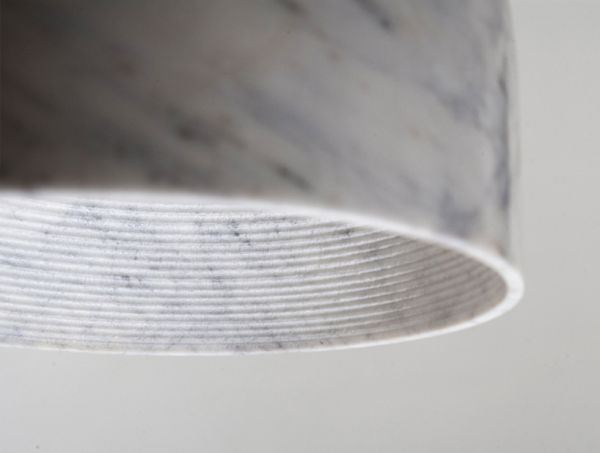 It would be spectacular,  to watch the lining up of Quarry lamps from raw material to finished forms, with details of smooth exterior and rough interior having range of sizes and shapes .The stylish lamp shade adds glamour to the interior designing if it is matched with fabric shade. Though it is simple in design it adds texture and gives an account of stone production.