Impressing the geeky woman is a whole other ball game. She may not be swayed by current fashion trends. She may not care about spending on fine jewelry. Or handbags. Or shoes. However, she is not terribly hard to please either. Appeal to her sense of humor and to her love for gadgets, video games and Lego, and that should be all you need.
1. Space Invaders Tights
Geeky can be cute. Many got a taste of this first hand on purchasing a pair of Space Invaders tights. Designed by James Lillis, these video game inspired tights are adorable. The brightly colored characters from the popular video game multiply the cool quotient of this basic pair of tights. The $80 price tag may be a deterrent for some. But most Space Invaders fans will be happy to buy this super-cute pair, no matter what the price is.
2. Crystal Lipstick Mouse
The Crystal Lipstick Mouse is the girly answer to all things tech. It looks like a lipstick, but it isn't a lipstick at all. The Crystal Lipstick Mouse is a pretty-looking computer mouse. The crystal part is true though. The mouse is studded with authentic Swarovski crystals. Available in black, white, grey and pink, the Crystal Lipstick Mouse is portable. It fits into the smallest purse and comes with a lithium battery that powers on for hours. Priced at $19, this is a cool yet feminine geek magnet.
3. Follow Me Twitter Stockings
This one is for Twitter geeks, especially those planning a night on the town. The "Follow Me Twitter Stockings" are sure to attract plenty of glances to well-shaped legs. These flirtatious stockings are a fun way to increase the number of followers on your Twitter page. Literally! This pair of thigh-high stockings is best paired with a short dress or skirt. The tattooed feel of the bird motif and the words "Follow Me" add to the geek chic appeal of this product. This pair of $18 stockings is designed to turn heads wherever you go.
4. Lego Purse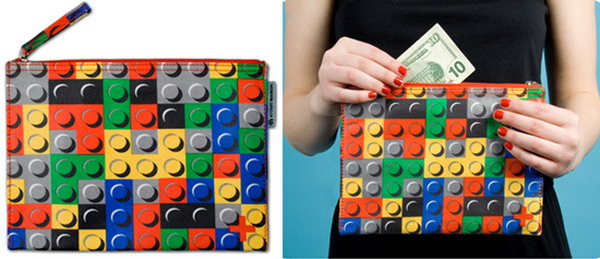 It is colorful. It is cute. It is ultra-quirky. It is a dream come true for the geeky chick. The Lego purse is everything you could want it to be. It takes you back to the good old days when you could spend hours building and taking apart Lego constructions. The colorful blocks added a whole other dimension to those hours of play. However, the Lego purse goes one up on that. This is not just another toy pouch. It is a stylish, kitschy bag that can pep up any outfit. And for all that, it costs only $14.
5. iPhone Earrings
Apple iPhone fanatics should have a look at these iPhone earrings. These studs don't just resemble the "home" button on the iPhone; they are the "home" button. If you are a girl who cannot live without her iPhone, this cool new range of geek jewelry allows you to express your fan feelings in a whole other way. With a price tag of $14.95, these cool techie earrings are affordable, geeky, yet scoring big points for style.
6. Bluetooth Bracelet
Bluetooth has never been so cute. My Transformer Toys has developed a cool Bluetooth bracelet that sits prettily on your wrist, and keeps tabs on your mobile phone. Given that many women keep their phones in either their handbags, the Bluetooth bracelet offers timely heads-ups, letting you know about incoming calls (complete with caller ID). When nobody is calling, the bracelet does its time as a wristwatch. Available in five colors – red, pink, blue, gold and white – the Bluetooth bracelet costs $65.99 apiece.