Elegant, sophisticated jewelry can often be conventional and dull. But the geeky wearer of jewelry can find several cool goodies that pump up the style, yet never lose out on sense of humor. Most of the geeky jewelry covered in this article are good-looking and young; but most importantly, they are loads of fun.
Sometimes, geek jewelry feature recycled components from laptops, PCs, smart phones and more. These baubles are ideal for showcasing your unique personality, without hurting Mother Nature. Eco-friendliness is a key feature of most geek jewelry available these days. If you love to make a splash wherever you go, geek trinkets ensure that it is a memorable one.
One of the best bits about geek jewelry is its do-it-yourself character. All you need is some computer scraps or other scientific junk – turn them into cool danglers or pendants, and you will be sure to turn heads wherever you go.
I admit, geeky jewelry can appear a tad to whacky at times. However, it is a growing trend these days. Even designers are biting bait. Being geeky is cool in the era of smart phones and  hi-tech gadgets. So why should jewelry be spared the influence of the geek world? Geeks are much-admired folk these days, and geeky wearable tech is fast becoming all the rage.
1. Jewelry Torch
Italian jewelry designer Osvaldo Marzo took tech to a new level by designing this jewelry torch for Eluxio. The standard edition of this beautiful torch features 925 cubic zirconia and sterling silver studs. Priced at $1,392 per piece, only twelve units will be available for sale each month. This exclusive luxury torch doubles up as a necklace or a key chain, and features a powerful and eco-friendly LED flashlight. It took Marzo four years to perfect this piece. Moreover, there is a more high-end version as well – a yellow gold torch studded with 585 diamonds.
2. iNecklace
Ever heard of open source jewelry? Adafruit is offering an iNecklace that features open source technology. This unique necklace is classy and smart with a pulsating pendant that resembles the on/off button on your computer. Made from CNC machined aluminum, the pendant has LED inside, and it pulsates for up to 72 hours at a time. The chain is a sterling silver 1.6mm diamond-cut curb chain. If you are hoping to gift your geeky girlfriend a cool gift, this $75 iNecklace from Gizmine is just the thing.
3. Computer Key Jewelry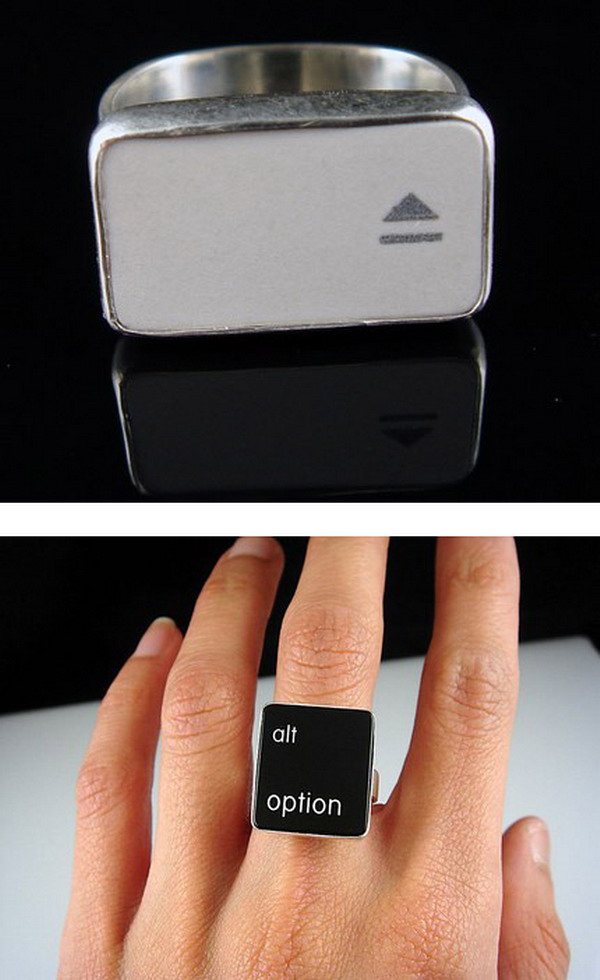 Wearable tech is a great geek gift. A firm named Etsy is offering a range of cool jewelry using keyboard tiles. All those loose keys from your Mac can actually look quite pretty. The Alt button and the Enter key vie for attention as Etsy creates chic typewriter jewelry with a generous dose of humor. There is a happy range of rings, earrings, pendants and even cufflinks from which to choose. Prices start from $30 and go up to about $275.
4. Touch Pad Necklace
Geek jewelry does not necessarily cry "elegant". However, that probably is an indication of one's limited exposure to geek baubles. Take the case of the touch pad necklace by DandyFlorence. Available at the Etsy store, the touch pad neckpiece is minimalist chic geek at its very best. This handmade necklace is the perfect gift for the geeky chick. Moreover, it is sustainable jewelry, made from recycled laptop touch pads. The pendant measures 2.75 inches x 1.5 inches and comes with an 18-inch black coated steel choker. The necklace retails for $9.90. Shipping costs are $1.5 within the European Union, and $2.5 everywhere else.
5. LED Circuit Pendant
Geeky folk love do-it-yourself gifts. And wearable tech is always a hit. The flashing LED pendant is easy to make and oh-so-affordable. You do not have to be a rocket scientist to impress your geeky friends with your jewelry-making skills. All you will need is to build a basic circuit and fit it with LED lights. Once that is complete, turn it into a pendant. Loop it on to an 18-gauge aluminum wire and voila! Your LED circuit pendant is ready.
6. Keyboard Ring
Can't get enough of keyboard rings? Designer Manuel Bozzi has a cool range of chic keyboard tile rings. Instead of a precious stone, you get a cool keyboard key. Moreover, this is not some cheap trinket. Bozzi's designs feature a band of pure sterling silver, remaining true to the tagline, "technology for daily luxury". The price hovers around $255, never too much for stylish wearable tech.
7. Smart Phone Earrings
Smart phones for your ears? Well, even as the world flocks to the best smart phones, some designers are turning the gadgets into trinkets. A Toronto-based designer named Barb Friedman has come with a range of really cute smart phone earrings. These little baubles are inspired by and modeled after the Apple iPhone 3G the Blackberry. They may not be entirely faithful renditions. However, that does not take away from the cute quotient. If your girl is forever hooked on to her smart phone, you can get her hooked even more. Crafted from Fimo polymer clay, these dangly earrings are priced at $22 a pair for the iPhone version and $19 a pair for the Blackberry and available at Etsy.
8. Portrait Projecting Ring
The wedding ring now has a dual purpose. Not only does it tell the world that you are married, but it also offers proof of the same. A miniature projector on the surface of the ring ensures that the next time there are doubts about your marital status, you can simply raise the ring and show off your perfect wedding. Designed by artist Luke Jerram and developed by jeweler Tamrakar, the wedding ring works like a slide projector. Inspired by Stanhopes (optical devices that allowed users to view very small photographs measuring 3 sq. mm.) of the nineteenth century, the wedding ring took cues from Stanhopes inventor Rene Dragon who used the Stanhopes lens in cheap novelty items like toys and trinkets. Jerram's ring is somewhat geeky, but you can store romantic couple moments. The sweet personal touch remains the selling point here.