You might have seen expensive workstations but they do not necessary qualify as a luxury workstation. Price is only one of the factor for luxury but definitely not the only one or the decisive one. We have done some looking around to find some luxury workstation that might appeal to you for their exclusivity. We have brought here five of the best ones we found.
Emperor Workstation
Emperor Workstation, as the name suggests, is the boss of all workstations. And naturally it has a matching price. The workstation that looks like the time machines described in science fiction costs as much as $40,000. The emperor is not designed and made for everyone and everyone can't even afford it. But if you can, you should go fir this three headed beast. The system comes with THX 5.1 surround sound, air filtering, light therapy and touch screen controls. It is a unique experience to sit in it and use the Emperor Workstation.
iClubby Ergonomic Workstation
iClubby Design claims to have made the most advanced and comfortable ergonomic workstation. They have managed to incorporate breakthrough innovations in the hand built all-inclusive ergonomic Workstation. It allows you to set the most ergonomically optimized position during long gaming or working hours. The custom tailored ergonomic seat provides you maximum comfort. The workstation with triple display screens offers a highly interactive motorized gaming/working experience. All iClubby features and options are engineered in order to better meet your computing needs. At the same time it has a host of performance and comfort enhancing features to give you unprecedented comfort, intense gaming and ultimate performance.
Vision One Computer Workstation
The house of Vision One Chair has created a revolutionary new product. The Vision One Computer Workstation has been designed to enhance your music, gaming, home theater, and working experience. The V1 computer desk is perhaps the most versatile computer desk that can be used as a computer gaming chair, flight simulator, racing simulator, cad workstation, video editing workstation, sound editing workstation, personal movie theater, surround sound music environment and more. It comes with 2.1 speaker support. There is the flat screen monitor support that is height-adjustable in three different positions. The base price for Corner V1 Computer Desk is US $1,700.
Young Explorer Workstation
Little Tikes, as the name suggests makes things for the little ones. So they have gone ahead and made a workstation also that's supposed to be used by kids. They have very appropriately named it the Young Explorer Workstation. To make it appealing to the little ones it has been made with colorful plastic. It's got a 160GB hard drive that your kid will find hard to fill up till he is grown up. It has a 19-inch screen and even an Internet connection. Side wings have been provided to make it into some sort of a tiny cubicle. Aiming at the kids the workstation has a special keyboard and mouse and a bunch of learning software pre-loaded. At $2,600 it is definitely more expensive than your personal computer.
The MILK Desk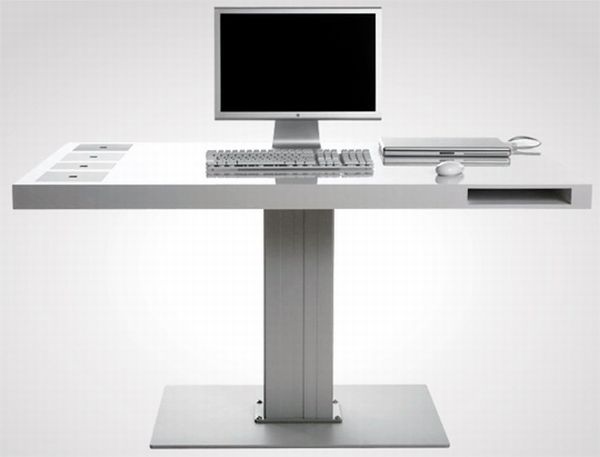 The Milk Desk is the ultimate sleek shrine for your Mac. The open drawers hide clutter and a separate compartment holds all the unsightly cords. All plugs and wires run into a central channel that hides them from sight. You also have the option of going for a built-in fish tank to keep you relaxed while you work. The price of the desk is sleek as well at $5,000.