Long hours at work and impossible deadlines make it difficult to follow a disciplined fitness routine. Spending hours at the desk spells bad news for your back and overall fitness. So how do you bring fitness into your daily routine? A range of ergonomic workstations and fitness workstations appear to have your health and well-being at heart. While some provide ideal ergonomics, others help you stick to your exercise regime even as you battle deadlines. Looking to replace your conventional workstation? Here is a list of fitness workstations and ergonomic workstations that you could use.
1. TrekDesk Workstation
Price: $589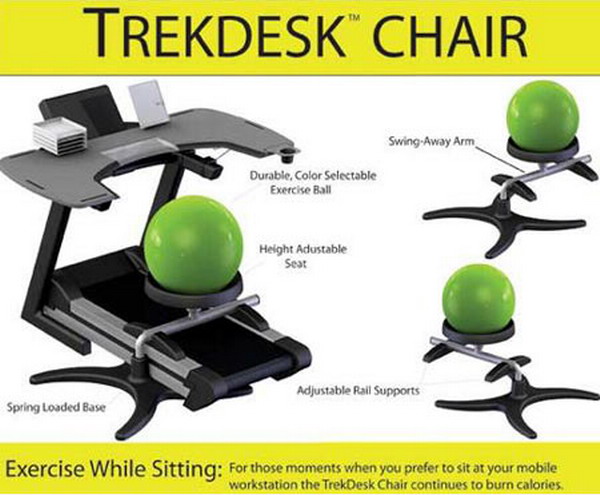 Sitting for hours at a desk is no good for your physical well-being. Taking out time for an early morning jog or an afternoon trip to the gym may not be an option. The TrekDesk Workstation can help ease your exercise woes. As you sit at the desk, the TrekDesk Workstation gets to work, and starts exercising your muscles. It simulates a fitness walk, thereby helping you burn calories and stay fit. It doubles up as a treadmill and includes a portable chair. Currently, the TrekDesk store is offering the TrekDesk Workstation at a special price of $479 – a discount of $110 over the regular list price.
2. Signature Treadmill Desk Workstation
Price: $1,995
A welcome change from the usual metal look of most fitness workstations, the Signature Treadmill Desk Workstation features a maple wood desk with a glossy premium finish. This new-fangled treadmill desk has a treadbelt measuring 16 in. x 50 in. The treadmill features three incline positions, plus an integrated display console. The aluminum legs can be adjusted to suit different users, and the silent motor is a bonus for hardworking users. The fitness workstation tracks pulse, calories, distance, time and speed during workouts.
3. Sit-to-Walkstation
Price: Starting from $4,799
If you cannot find time to exercise, the Sit-to-Walkstation from Steelcase may be just what the doctor ordered. This fitness workstation is specially designed for professionals who spend most of their waking hours at the desk. This fitness workstation features an electrical height adjuster and enables users to walk, sit or stand while completing projects. A display console reveals calories burned and tracks the speed, time and distance of your workstation workouts. The treadbelt has a maximum speed of 2mph.
4. Elliptical Machine Office Desk
Price: $8,000
The Elliptical Machine Office Desk from Hammacher Schlemmer is an improvement over your regular treadmill workstation. This fitness workstation features a semi-recumbent elliptical trainer. So even as you work on your breakthrough project, you can keep pedaling slowly and end up burning up to 4,000 calories in a week. The elliptical machine scores high on ergonomics. It is adjustable, can accommodate users of various heights and has an adjustable backrest. Plus, it swivels to enable easier entry and exit. The performance monitor tracks you workout and displays results (for up to 30 separate users) on a 4 in. x 6 in. LED screen. There is also space to bring in an extra chair. The desk itself is height adjustable.
5. Gravitonus iClubby Workstation
Price: $7,000
The Gravitonus iClubby may be the ideal option for gamers. But even regular Joes can benefit from this ergonomic workstation. This is not a fitness workstation, so you cannot expect to burn calories. Nevertheless, you will be able to complete your work in ultimate comfort. The unit features three screens as well as sound system, illumination and temperature controls. If you are looking to increase productivity and control back pain, the iClubby Workstation is a great choice.