The world of luxury hospitality has greatly evolved in the past 100 years and with new emerging technologies, hotels across the globe are now able to provide lavish services along with technology driven amenities to make their guests' stays as memorable as possible. However, as with every other element in life, even hospitality came to a stagnation point where travelers were confined to the limits of land based hotels, resorts and spas that though provide impeccable services, yet aren't able to reach the potential what a traveler is most looking forward to, a 'Difference'. As the global landscape got assaulted by the threat of global warming that would lead to the eventual rise in ocean levels, designers across the globe began to envision a time when humanity will be able to find housing, hospitality and other land based architectures on and under water that make up for nearly 70% of earth's surface. Thus began the futuristic trend of floating architecture concept, wherein designers have come up with and continue to conceive breakthrough concepts of futuristic floating architecture.
These projects, some of which we have covered in our exclusive coverage of floating hotels, golf courses and spas have already been put into construction, while others give a more comprehensive insight into what the future holds for us in terms of conservation of environment, as well as effective use of water as a means of human habitat. Hence, we decided to cover some of the most extraordinary floating architecture that has been proposed by world renowned designers for the years to come.
1.  The Aircruise:
Designer: Seymourpowell
Taking the luxury hospitality to new heights in the very literal sense is the highly creative concept of a floating luxury hotel called, Aircruise. Designed to provide the guests with  spectacular views of the city or anyplace where the hotel might be, Aircuise measures some 265 meters in height and this futuristic floating hotel will be powered by helium gas. The entire concept of the Aircruise is focused on an airborne luxury zeppelin that is powered by both helium and solar energy. This remarkable concept was conceived by London based, Seymourpowell and has already sponsorship from Samsung Construction & Trading, while stating that this one of a kind concept floating hotel could come into existence by the year 2015. As per the design specifications, the Aircuise will be able to cruise at an impressive 12,000 feet, while the structure can even be lowered to a few hundred feet to take a close look at interesting monuments, fields etc. The Aircruise will be fitted with hydrogen fuel cells for on-board power and the interiors will feature four duplex apartments, five conventional apartments and one luxurious penthouse. Furthermore, the Aircruise will also come with an open-view kitchen in all rooms, along with a moon pool in the common area of the ship.
2.  Harvest City:
Designer: Tangram 3DS & E. Kevin Schopfer
The 7.0 magnitude earthquake that hit the Haitian coast in the month of January last year was indeed one of the most disastrous natural calamities in the recent years and caused incomprehensible damage to life and property. With more than 1 million Haitians left homeless, the world united in its efforts to ease their suffering and held them rebuild what they have lost. Now, one of the most renowned design studios, Tangram 3DS has collaborated with Boston based architect/designer, E Kevin Schopfer to come up with a future architecture focusing on the rehabilitation of the devastated Haitians. Known as the Harvest City, this concept calls for a floating city that will primarily be providing agricultural facilities to the residents along with infrastructure for light industry. The entire city will be composed of connected modules and will span across 2 miles, along with a canal system. The exterior of the Harvest City will provide room for crop circles constantly being irrigated via feeder canals, while the interior will feature schools, offices, and public space. This remarkable structure is envisioned to be hurricanes and typhoon proof, while the rubble from the earthquake will be used in the construction of a breakwater.
3.  Ark Hotel:
Designer: Remistudio, Russia.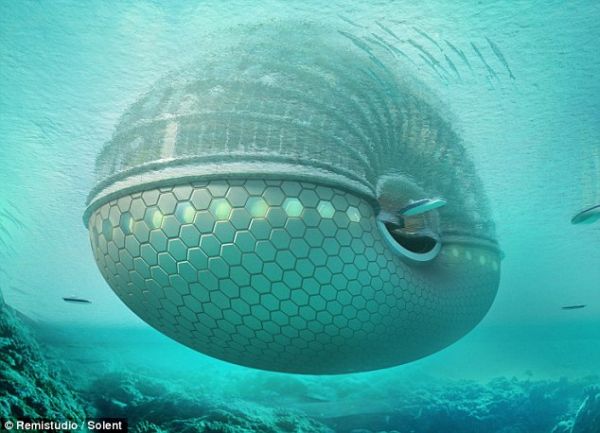 Designed and conceived by the popular Russian design firm, Remistudio, the Ark Hotel will serve as a luxury hotel for the uber rich as well as a doomsday safe haven in the event that sea levels rise and cause a massive flood as depicted in 'The Day After Tomorrow." This remarkable structure will boast of complete self-sustenance and the project has been designed in collaboration with the International Union of Architects' program Architecture For Disaster Relief. This luxury floating hotel will not only provide the best of hospitality, but will also act as a lifesaving venue, where the rich and the famous can live long after the rest of the world is submerged under water. Its unique structure will provide the Ark Hotel with the capability of surviving tidal waves and other natural disasters, including earthquakes.  The Ark Hotel will feature solar panels and rainwater collection system, while the shell shaped structure will also be able to grow its own vegetation, while purifying the air.
4.  Water-Scraper:
Designer: Sarly Adre Bin Sarkum
As the global warming leads to the rising levels in our oceans, some visionary designers have quickly warmed up to the concept of underwater cities that are completely self-sustained. One  such designer, Sarly Adre Bin Sarkum has come up with concept of underwater skyscrapers called, Water-Scraper that calls for the construction of futuristic self-sufficient floating city. This remarkable vision also states that the Water-Scraper will be able to harvest renewable energy and even manage to grow its own food. The Water-Scraper is designed to meet its own power requirements by harnessing the elements of wind, waves and solar power, while providing the residents with ample food supply through farming, aquaculture, and hydroponic techniques. The entire structure will be maintained in an upright position by employing ballast tanks as well as with the use of kinetic energy generated via squid-like tentacles.
5.  The Last Resort:
Designer: RAFAA Architecture & Designs
Contrary to the name, this futuristic architecture is not a hotel or a resort, but has been envisioned as a floating home that could soon become a reality as the project has already received funding to be turned into a practical product. This remarkable floating structure is some 5 meters wide and 15 meters long and is comprised two floors. The upper level consists of living space, a kitchen, a bathroom as well as two bedrooms, while the lower levels feature sleeping bunks and space for mechanical equipment etc. The Last Resort will feature up to six beds and all the enclosures will offer adequate privacy via sliding panels. The power for the household will be generated by solar panels, deeply integrated into the structure's roof and the electricity generated will also be used for propelling the floating home.
6.  Physalia:
Designer: Vincent Callebaut
From one of the most celebrated designers, Vincent Callebaut, comes the all new magnificent and highly futuristic concept of a floating structure that will not only grace the water bodies of our planet but will also purify their waters. The Physalia has been envisioned to be a large floating garden that draws its operating power from the sun and reduce water pollution by employing bio-filtration systems. This one of a kind floating environment will feature a roof dotted by all sorts of flora as well as thin solar panels. The remarkable floating concept will be powered by hydro-turbines and all the necessary on-board energy requirements will be met using renewable sources of energy.  On the outside this astounding floating structure will be composed of a layer of TiO2 that is known to react with ultraviolet rays, thereby purifying the water as Physalia cruises over it. Inside, the Physalia will be feature four distinctly themed gardens namely, "Earth", "Wind", "Fire", and "Water, inspired heavily from the four vital elements of nature.
7.  The Waterpod:
Designer: Mary Mattingly & Mira Hunter
The current predicament that nearly every scientist is battling through is the alarming increase of global warming that will eventually lead to a significant rise in the ocean level, effectively drowning much of the earths' landscape. For this eventuality, numerous designers have already come up with a host of futuristic and many of them being quite practical housing concepts. One such floating housing concept is called, The Waterpod, an experimental self-sustaining community that will provide the future generations with a means of survival via an eco-habitat. This remarkable concept shifts the focus of humanity that sees land as the only means of sustenance, to that of oceans. The Waterpod is essentially resembles the form of an island that consists of three domes and is made entirely from reclaimed wood, metal and plastic, while a massive barge works as the structure's foundation. The Waterpod will be able to generate its own power by using passive and active solar energy harvesting techniques along with a huge wind turbine.
8.  + Pool:
Designers: Dong-Ping Wong, Archie Lee Coates IV & Jeffrey Franklin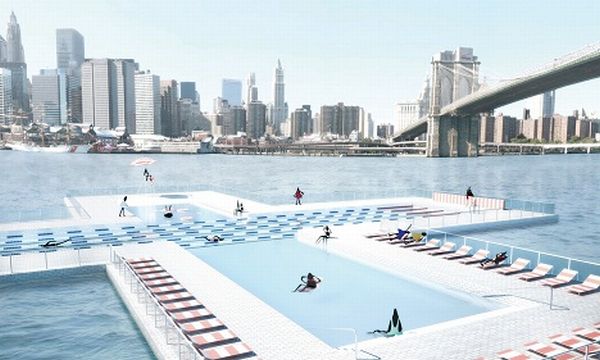 The thought and creation of floating architectures doesn't necessarily need to be for the 'end of the world' situations, then can even be conceived for public awareness, family fun and other recreational activities as has been proven with the design and development of the amazing +Pool. This remarkable concept that is now being turned into a reality calls for a floating pool that will be make use of raw river water and treat via the pool's walls before delivering it into the swimming pool area. This filtration system will eradicate all traces of bacteria, viruses, sediments and other pollutants, while the idea behind this incredible project is to bring the New Yorkers closer to water. The +Pool is stated to float on the East River in New York City and attract numerous residents to have great time in a pool in the middle of the river. The +Pool will be composed of four different sections namely, Children's Pool, Sports Pool, Lap Pool and Lounge Pool.
9.  AeroHotel:
Designer: Asadov Architectural Studio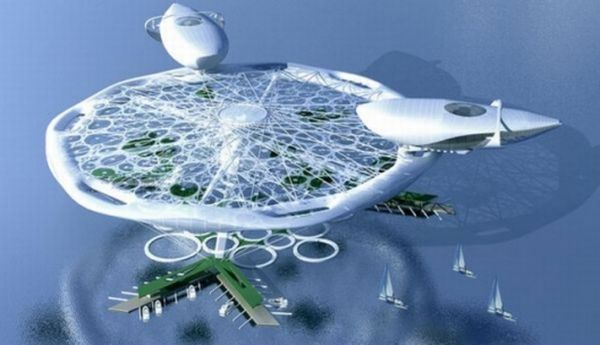 Accentuating the concept of floating hotels, one of the foremost architectural firms in the Russia, Asadov Architectural Studio has come out with a phenomenal concept for a floating hotel in the form of AeroHotel. The entire will be spread across 200 meters and will consist of bicycles spoke type support arms to keep it tethered to the ground. The base of the AeroHotel will be given hanging gardens, while the interiors of this concept floating hotel is envisioned to be comprised of hotel and cafes, restaurants and winter gardens offering the very best if luxury hospitality. The guests will be able to board the AeroHotel via escalators in the support arms of by using airsides located on the decks.
10.  Commercial Space Station:
Designer: Orbital Technologies
One of the premier aerospace companies in Russia, Orbital Technologies has now unveiled its plans of constructing a floating hotel that though will not be on water, but will provide its guests with an once in a lifetime opportunity of seeing the Earth in all its glory from space. This new space hotel called, Commercial Space Station will be orbiting some 217 miles into the earth's orbit and will be composed of luxury accommodations as per space standards. The Commercial Space Station will have an occupancy for seven tourists housed in four cabins where they can enjoy the effects of zero gravity. This remarkable space hotel will feature sealed showers with running water as well as offering authentic earth cooked food that will be heated in microwave ovens. The menu will include veal cheeks with wild mushrooms, white bean puree, potato soup and plum compote along with  mineral water and fruit juices.