Rising sea levels, flooding wetlands and the desire to attract more tourists is giving rise to numerous examples of floating architecture. Floating hotels, resorts, apartment complexes, spas and even golf courses are being built at different places around the world, from London, Amsterdam and Qatar to the Maldives and Cambodia. Elitechoice lists out some of the most luxurious floating marvels from around the world.
1. Type: Floating Hotel
Where: London
As the London 2012 Summer Olympics approaches, we hear that floating hotels along the Thames River could be the answer to upcoming lodging issues as visitors stream in for the sporting gala. According to reports, at least three cruise liners docked on the Thames will offer lodging options to visitors during the three weeks of the Summer Olympics. These floating hotels will dock at a distance of three miles from Olympic Park in Stratford. So getting around should not be a problem for guests onboard these hotels.
2. Type: Floating Resort
Where: Qatar
Construction cost: $500 million
The Amphibious 1000 project is Qatar's attempt to create a floating resort that will feature underwater rooms. Italian architecture firm Giancarlo Zema Design Group has offered a giant octopus-like design with four large luxury hotels, and among other things, an interactive marine life museum. The venue for this unique and ambitious project is a marine reserve. Among the striking design elements of this piece of floating architecture are the numerous four-floored jellyfish pods that house a lounge and an underwater observatory.
3. Type: Floating Apartment Complex
Where: Netherlands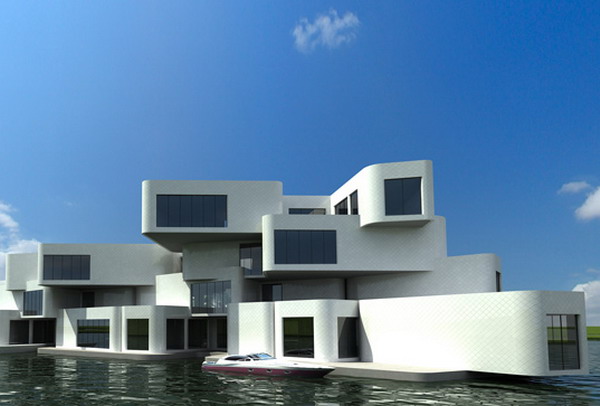 Koen Olthius of Waterstudio in the Netherlands has come up with The Citadel, the first-ever floating apartment complex. This sustainable project saves 25 percent more energy than buildings on land thanks to water cooling technology. The Citadel project is an attempt to utilize the many wetlands of the country as space suitable for housing. With 60 luxury apartments, a car park and a floating road to dry land, The Citadel provides an interesting solution to the Netherlands flooding woes.
4. Type: Floating Golf Course
Where: Maldives
Construction cost: Estimated at $500 million
Rising sea levels are a constant threat to the tiny island paradise of the Maldives. However, this popular tourist destination is looking at innovative solutions to the problem. One ingenious idea is the zero-footprint, solar-powered floating golf course. Developed by Dutch Docklands and designed by Troon Golf and Waterstudio, NL, the upcoming 18-hole golf course housing luxury living accommodations, will be located close to the airport. Intended to be a prime tourist attraction, the floating golf course will combine the joys of golf with the fabulous Malidives reef experience.
5. Type: Houseboat/Water Villa
Where: De Omvel, Amsterdam
Dutch firm +31 Architects has come up with the elegant Watervilla de Omval. This beautiful, modern houseboat on De Omval is a 2-bedroom home that features two levels in a 200-square-foot space. The lower level sits underwater, but the designers have ensured that daylight enters, thanks to a cuckoo window near the fireplace on the upper level. This little water villa features a bedroom on each floor. The lower floor also houses a study and a bathroom, while the kitchen, dining and living spaces are located on the upper level.
6. Type: Floating Garden Spa
Where: Amsterdam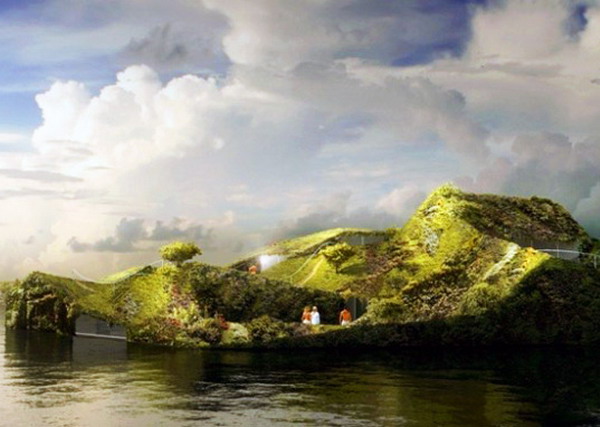 Another group of Dutch architects, Studio Noach and Anne Holtrop, have come up with a luxurious floating island. This piece of floating architecture features vertical gardens (designed by vertical garden expert Patrick Blanc), a beautiful green landscape and a luxury spa. This floating garden spa is equipped with a hydroponic growing system that enables it to grow beautiful crops using the surrounding watery environment. The foundations of this floating garden spa were to have been created using GreenRexwall, a buoyant material that is composed of recycled polystyrene. The surrounding water is also put to use to regulate the temperatures on this little artificial island.
7. Type: Floating Lodge
Where: Cambodia
We wrote about the Four Rivers Floating Lodge in Cambodia in February this year. The entire property floats on water. The dozen South African-style safari tents bring a holiday feel to this luxury lodge. Last we heard, Romanian owner Valentin Pawlik was adding half a dozen more safari tents to this unique holiday resort. The rooms in these tents feature suite bathrooms, TVs and DVD players as well as private sundeck loungers. Treat your taste buds to local seafood, and admire the beautiful natural scenery. The Four Rivers Floating Lodge is also eco-friendly – much of its energy comes from solar power.
8. Type: Floating Pleasure Islands
Where: Finland
The floating pleasure island developed by Espoo-based Marina Housing in Switzerland is specially designed for wealthy vacationers. While some are rich enough to buy their own island, or at least their own private island holiday home, the floating pleasure island offers a great opportunity to holiday on a private island without having to go through the headache of buying and maintaining new property. The Marina Housing islands rise and fall with the tides, and are kept in place by anchors made of seaflex rubber cable. There is nothing flimsy about these islands that feature a platform made from eps-filled concrete. The island can accommodate up to six small boats. Some designs for this kind of floating architecture would make space for a 60-foot yacht as well.
9. Type: Floating Yacht Hotel
Where: London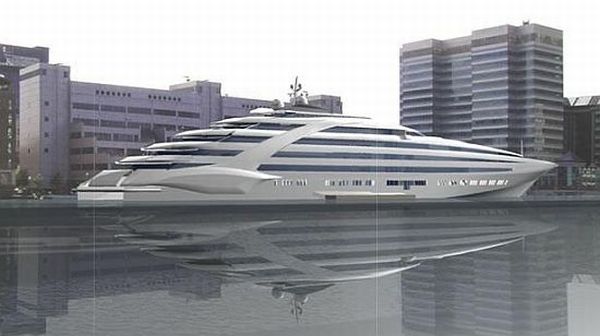 Before the recession, Aquiva was one of the largest floating hotels in the world. Two years ago, Aquiva was supposed to open for business in time for the London 2012 Olympics. The floating yacht hotel's launch was delayed because of the economic crisis. But it would be interesting to see if Aquiva is one of the ships that offers lodging during the upcoming London 2012 Summer Olympics. The floating hotel features 158 rooms and suites. Plus, it has a spa, a gym, a pool, a ballroom and several restaurants. The seven-deck yacht can accommodate up to 300 guests.
10. Type: Floating Luxury Hotel
Where: Great Chobe River, Africa
Last September, we wrote about the Zambezi Queen, a floating luxury hotel that plies the waters of the Chobe River that separates Namibia and Botswana. The Zambezi Queen is a luxury cruise ship measuring 135 feet. This luxury floating hotel houses 14 luxury rooms and suites, and takes guests on a wonderful African safari. The eco-friendly suite features elegant interiors with African detailing.