Whether you own a luxury sports car or even a villa, the moment you step out it's your personality accentuated by your attire that makes all the difference, especially if you are going to a gathering where style, elegance and panache are everything. Long gone are those days when a man's class was judged merely by the shoes he wore. In the 21st century modern, where nearly all aspects of your lives have now been digitized to a great extent, the gadget you carry in the pocket of your Armani suit also speaks volumes in regards to your taste. In today's world of corporate meetings, fancy parties, embassy dinners etc. luxury has taken a pivotal role in making your impact on the crowds. Gadgets and more importantly the mobile phones we carry have fast evolved from simple tools of communication to status symbols.
Numerous companies such as the likes of Vertu, Gresso along with globally renowned designers are now coming with extremely elegant luxury phones that are not only feature packed but they also carry with them a class that stands outs among the rest. Some of these handsets may have been given less features as compared to today's smartphones such as Sony Ericsson Xperia Arc, however, the flamboyance that these luxury phones represent are beyond comparison.
Hence, were decided to compile an uber list of luxury phones that not only carry some of the most precious metals and stones on the planet, but also a pretty heavy price tag.
1.  Apple iPhone 3GS Supreme Edition:
Price: $3.5 Million
Designer: Stuart Hughes
Deemed as the world's most expensive mobile phone, the remarkably stunning Apple iPhone 3GS Supreme Edition is a combination of Apple's state of the art engineering and in infusion of the immensely elegant style. Designed by the most renowned designer, Stuart Hughes of Liverpool the magnificent iPhone 3GS Supreme Edition carries a mind boggling price tag of $3.5 million, while sporting an assortment of precious metals and stones. Mr. Hughes has incorporated this majestic phone with 271 grams of 22 carat high grade gold, while the front panel is encrusted with 136 flawless diamonds. The navigation key on the iPhone 3GS Supreme Edition is made from a single rare 7.1 carat diamond and the device's carry box has been fashioned from solid granite featuring Kashmir Gold and leather fabrication.
2.  Gresso Luxor Las Vegas Jackpot:
Price: $1 Million
A name highly regarded in the field of luxury phones, Gresso, has designed and developed a marvelous new handset that goes by the name of Gresso Luxor Las Vegas Jackpot and carries a staggering price of $1 million. Gresso that has always been synonymous with bespoke luxury has given the Luxor Las Vegas a body that has been manufactured from 180 grams of pure gold, while studding this luxury handset with 45.5 karat black diamonds. What makes the Luxor Las Vegas uniquely expensive is the use of Black diamonds that are considered to be some of the most expensive stones in the world. The back panel of the handset is crafted from exotic African Blackwood, while the keys are designed from a laser engraved crystal sapphire. The Luxor Las Vegas is a GSM handset that comes with 30MB of internal memory, along with a microSD expansion slot. It also features Bluetooth, GPRS, EDGE and a subtle 2MP rear camera.
3.  Porsche P'9522 Gold Edition:
Price: Undisclosed
German sports cars behemoth Porsche is well known for its high performance vehicles, however, Porsche also runs a separate unit that is focused on providing the customers with the utmost luxury when it comes to fashion electronics etc. This is where the  Porsche P'9522 Gold Edition luxury phones comes into play. Designed and developed to be a truly remarkable handset, the P'9522 Gold Edition is a limited edition handset that comes with  Gold plated 5 microns casing and the handset itself is covered with exquisite 18 carat gold. The P'9522 Gold Edition features a 5MP camera with video recording, 2.8" touch screen AMOLED display and state of the art biometric fingerprint sensor. Porsche has boasted the exclusivity of the handset by laser engraving the words 'Porsche Design P9522 Limited Edition' on the back of the handset.
Price: Undisclosed
Vertu, the luxury phone division of Nokia, which is globally renowned for some of the most stunning luxury mobile phones paid its tribute to the Italian sports car giant Ferrari with the introduction of the magnificent Vertu Ascent Ferrari GT. The one of a kind luxury phone has been designed and developed entirely from forged titanium and contours of the handset are inspired from a generation of high performance Ferrari cars. The collaboration between Vertu and Ferrari made it possible for the use of authentic Ferrari leather to be used in the Ascent Ferrari GT. The sides of the phone are reminiscent of engine grills found on Ferrari vehicles while this luxury handset also carries a matte black PVD finish. The Vertu Ascent Ferrari GT features a 5 MP camera, along with 2 inch QVGA display, Assisted GPS, 3G connectivity as well as Bluetooth.
Price: $50,000 (Top End Model)
One of the most renowned Swiss watchmakers, Ulysse Nardin, collaborated with SCI Innovations to bring forth a remarkable new luxury phone that is not only studded with expensive gems, but also carries a unique power system. The Ulysse Nardin Chairman has been designed and developed using the company's cutting edge Ulysse Nardin Rotor kinetic power system that add extra juice to the handset's battery.  The phenomenal luxury phone features a fingerprint reader along with 18 carat gold for the handset's body. The physical buttons are designed to resemble those present in the legendary Ulysse Nardin watches. This bespoke luxury phone comes with a 3.2 inch capacitive touch screen along with physical numeric keys. Furthermore, the handset is 3G compatible and also features an 8MP camera with HD video recording, 32GB internal memory, integrated Facebook application and runs on Google Android 2.1 OS.
6.  TAG Heuer MERIDIIST Automobili Lamborghini:
Price: Undisclosed
Tag Heuer, one of the world's foremost manufacturers of luxury watches for men joined hands with Italian auto behemoth, Lamborghini to bring the all new sensational TAG Heuer MERIDIIST Automobili Lamborghini, a luxury handset that comes with stunning features and a magnificent style that is unparalleled. This truly remarkable luxury handset carries a 316L stainless steel case that has been hand polished to perfection, along with a Titanium carbide or Black PVD coating. However, the crown jewel of the MERIDIIST Automobili Lamborghini is a 60.5 carat sapphire crystal glass that makes up the dual displays of the handset, one of the front and other at the top. This extremely luxurious mobile phones carries generous touches of calfskin leather as well as genuine alligator back plates. The MERIDIIST Automobili Lamborghini features a 2.0 inch TFT display along with Bluetooth connectivity among other goodies. The most stunning aspect of this handset is its back over that has been a signature taken from the V12 engine block of Lamborghini Murciélago LP640.
7.  Gresso iPhone 4 Time Machine Lady Blanche Edition:
Price $7,000 (Swarovski Crystal Edition) & $30,000 (Diamond Edition)
From the creative visions of the renowned luxury mobile phone manufacturer, Gresso, comes the stunning Gresso iPhone 4 Time Machine Lady Blanche Edition. This exquisitely designed custom Apple iPhone 4 has been developed specifically for women and features an alluring design. The iPhone 4 Time Machine Lady Blanche  that comes in two variations features white diamonds as well as Swarovski, pertaining to the chosen model. Furthermore, Gresso has dressed this magnificent handset with three independent Swiss clocks that have pearl dials featured at the back panel of the handset. The back panel consisting of the Swiss clock is made from solid diamond-coated mineral glass. The watches display time for three of the most important cities in the world namely, New York, London and Moscow.
Price: $10,000 (Stainless Steel) & $30,000 (Yellow Gold)
Vertu, the incredibly famous luxury phone brand  it seems took a shining to the extremely popular Nokia QWERTY handset, E72 and E63 as based heavily on the aspects of these two handsets, Vertu came out with the Vertu Constellation Quest. This extremely elegant handset is available in two models, one featuring a stainless steel case, while the other sports a case made from shining yellow gold. The first variant of the Constellation Quest comes in polished stainless steel that accentuated by the presence of sparkling sapphire keys and the handset is available in black as well as striking pink colors. The second model of the Quest is clad in majestic yellow gold and will also features sapphire keys. The Vertu Constellation Quest sports a 2.46 inch VGA display and also comes with various connectivity options such as the likes of wifi, Bluetooth and USB. Furthermore, the Quest has been given a 5MP camera with LED flash and is a social network intensive device along with 8GB of internal memory that can be expanded to 32GB via microSD cards.
Price: $156,821 (Approx.)
One of the leading names in the field of luxury personal communication, Goldvish Luxury Communications has now introduced a stylish new luxury phone in the form of the all new Goldvish Equilibrium. This magnificent handset provides the users with the ease dual SIM slots and Goldvish has incorporated a 115 CT grade-A scratch resistant natural Sapphire just above the display of the handset. The Equilibrium is forged from 16L Stainless Steel, Titanium or space grade Aluminum and the luxury phone has even been given generous amounts of 18 carat gold as well as Platinum. Goldvish Equilibrium features a subtle 2.4 inch display along with an impressive 8GB of internal memory. Also this luxury handset comes with various other goodies such as Bluetooth, camera, Stereo FM and a music player.
10.  Nokia Oro:
Price: $1,126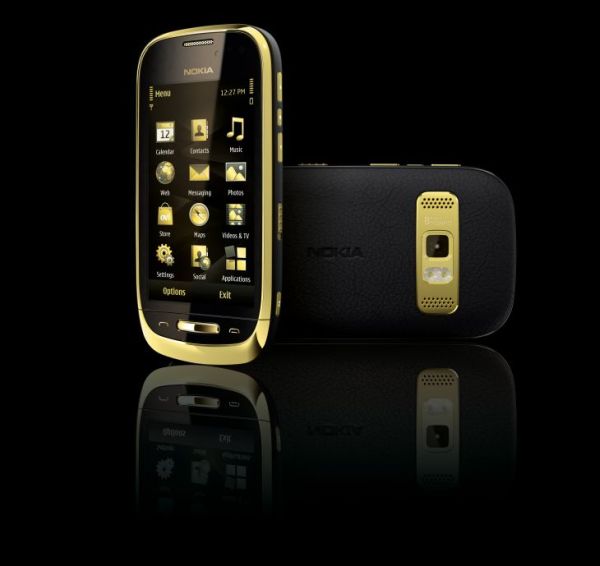 The Finnish handset manufacturer, Nokia, which also known to be one of the biggest names in mobile communications has now brought yet another magnificent handset that can be deemed as a low budget luxury phone. The all new Nokia Oro is essentially a Nokia C7 revamped with striking 18 carat gold finish, while the rear panel of this remarkable handset is made from authentic leather. The 'Home' key or the Oro has been replaced with a gorgeous sapphire crystal and the is claimed to be scratch  resistant. Nokia Oro features an 8MP camera with HD video recording and runs on the latest Symbian Anna OS. This remarkable handset also carries 8GB of internal storage that can be further expanded via a microSD card. The Oro sports a 3.5 inch AMOLED capacitive touchscreen display and the device also boats of a Nokia Bluetooth headset that has also been given an 18 carat gold finish.