Political instability may deter other groups of travelers, but honeymooners remain blissfully unaware of such things. They continue to travel to violence-ridden honeymoon destinations, booking themselves into luxury hotels for memorable romantic getaways. Moreover, this appears to be a recession-proof area. Each year, 1.4 million couples from the United States head out for their honeymoons. According to statistics, newlyweds spent an average of $4,466 on their honeymoons in 2010. The destination wedding concept has gained popularity in recent times. And wedding packages, coupled with honeymoon deals are all the rage these days. Here is a look at some luxury hotels that provide wonderful honeymoon packages.
1. Mirror Lake Inn Resort, Adirondak Mountains, New York
Cost per couple: $1,350 including tax and gratuity for two evenings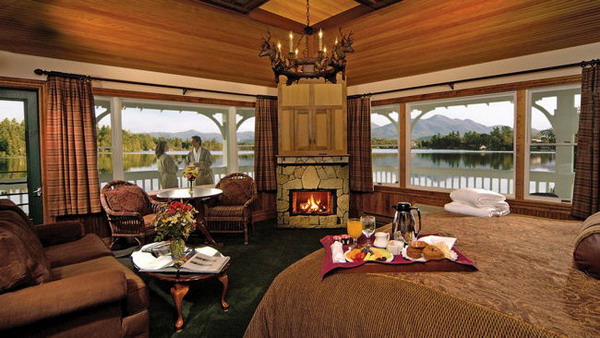 Honeymoon by the Mirror Lake in full view of the Adirondack Mountains. The Mirror Lake Inn Resort's two-night honeymoon package is inclusive of breakfast, one dinner, a spa treatment and complimentary suite robes. Also on offer is free access to the luxury resort's rowboats, paddle boats, canoes and kayaks, the private beach on Mirror Lake, the indoor pool and the tennis court. The honeymoon package also  includes a complimentary afternoon tea and live music at The Cottage and Taste Bistro on Friday and Saturday nights.
2. Villa Rolandi, Isla Mujeres, Mexico
Cost per couple: Starting from $2,290 for five nights inclusive of breakfast and dinner
The blue waters of the waters around Isla Mujeres are the perfect setting for a romantic honeymoon. Marine enthusiasts can swim with the dolphins. History lovers can explore the Mayan ruins. The beaches are perfect for sunbathing. Villa Rolandi's "Celebrate Love" honeymoon package covers five nights inclusive of in-room breakfasts and gourmet dinners. Also included are a candlelit beachfront dinner, a first-night service with rose petals and scented candles, a 50-minute couples' massage and a welcome gift of wine and strawberries. Also on offer is a 20 percent discount on spa treatments.
3. Qualia Resort, Hamilton Island, Australia
Cost per couple: $6,270 for a seven-night stay
You could save up to $1,810 on availing of Qualia Resort's honeymoon package. Luxury hotels are rarely as romantic as this remote hotel at the northern end of Hamilton Island that offers picture-perfect views of the Coral Sea. The luxury property houses a yacht club, a golf club and two spas. The seven-night package includes a bottle of French Champagne, a romantic dinner for two, a sunset cruise (cocktails and hors d'oeuvres included) and complimentary a la carte breakfast. Among other things, guests also get free VIP return airport/marina transfers and VIP chauffeur service around the island.
4. St. Regis Bali Resort, Bali
Among the top luxury hotels for honeymoon deals is the St. Regis Bali Resort. This romantic luxury property often plays host to charming destination weddings. And the Cloud Nine Honeymoon Villa is the perfect spot for a post-wedding getaway. There are several other suites and villas also, that overlook the ocean and the luxury resort's golf course. The Strand Villas open directly on to the white sand beaches and most of the luxury suites have private balconies and indulgent bathtubs. The Remede Spa has numerous treatments including a full-body underwater massage. The spa here houses twelve private treatment rooms, two spa suites and a yoga studio. Guests get 24-hour butler service and access to a lagoon, a sports center, a sauna and more.