The year 2050 could really transform the way we travel. Coming up at the mid-point of the 21st century is a jet that runs on seaweed biofuel and a car that runs on liquid hydrogen. Also in the offing is a transparent plane that offers panoramic views of the sky and the world beneath. And frequent fliers would be happy to hear that a more efficient airport of the future is also in the works. Here is a closer look.
1. The Transparent Plane
Luxury airline company Airbus has a beautiful new plan for airplanes of the future. The company is working on a transparent concept plane that could make the window seat a lot less attractive. This new concept plane is set to have a glass-paneled cabin and roof. Flying like a bird gets whole new meaning with this kind of a journey.
But apart from offering panoramic views, the new concept plane will also score high on its tech quotient. Watch out for interactive games like holographic golf available at the relaxation areas onboard. Passengers will also be able to do video conferencing while on board. This new plane is being designed to intelligently respond to the needs of passengers. The seats on this plane will automatically mold themselves according to the body shape of the passenger. Plus, there will be an automatic bag loading system to ensure that hand luggage is stowed above the respective passengers' seats.
2. The Efficient Airport
Aerospace company EADS is working to ease our air travel woes. The aerospace giant has teamed up with European tech consultants Altran. Together, they will be working on developing a more efficient airport to deal with the growing number of flyers. According to recent data, the number of flyers could increase from the current daily rate of 6.5 million to 44 million by 2050. And we all know that our current airports cannot deal with that sort of traffic.
EADS and Altran are working on a new design that combines train stations with the airport. The confusion of multiple gates could become a thing of the past thanks to miniature pods that transport passengers to the required gates. In time, there could even be pods coming to pick up passengers from their homes. Also on offer are personalized schedules on mobile devices. Named the "friend-lean" system, this efficient airport could be the solution to our flying woes.
3. Liquid Hydrogen-Powered Car
Named the Citroen Samadhi, this new futuristic luxury car runs on liquid hydrogen. The hydrogen tank sits between the trunk and the interiors. This spacious sedan from Gurmukh Sagoo is being targeted at families. The steering wheel is inspired by a Maurice Lacroix watch. It is split three-ways into the steering, the rev-counter and a chronograph-style dial.
The vehicle boasts of hi-tech mood lighting. Buttons have given way to heat sensitive touch screen displays. Moreover, users can simply turn their seats around to transform the car into a cozy sitting space. A three handle system ensures easy exit, regardless of the direction of the seat.
The vehicle also has an autonomous driving system which allows the driver to relax and go websurfing even while at the wheel.
4. Seaweed Biofuel-Powered Jet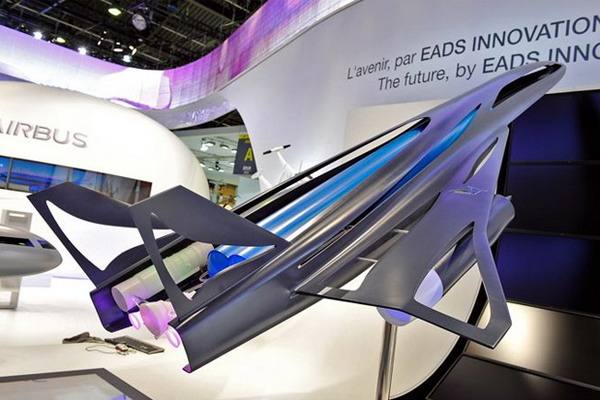 Alongside working on the airport of the future, EADS also has a high-speed concept plane up its sleeve. The aerospace firm recently unveiled plans for its Zero Emmission Hypersonic Transportation (Zehst) plane at Le Bourget airport. The concept plane is designed to cover the Paris to Tokyo route within 2.5 hours. This plane is expected to hit speeds of 3,125 mph, flying at altitudes of up to 32 kilometers. Most passenger jets manage only 10 kilometers.
This eco-friendly plane will be run on a seaweed biofuel during landing and take-offs. Later it will shift to a pollution-free hydrogen and oxygen mix. The first Zehst prototype should be out by 2020. But it will start running only around 2050. Not that flying on this is going to be cheap. A return flight from London to New York should cost about £5,000.