Luxury brands are diversifying again. They have already extended their area of influence from clothes to accessories, perfumes, and even home décor. Now, they are eying the promising area of luxury wear for kids.
Luxury brands are launching kids' lines because of the tremendous growth potential in the area. Moreover, this area is less likely to be affected during times of economic and financial hardship. Analysts found that even during the recession, parents were willing to spend on their children than on themselves. In a way, these were "guilt-free" purchases. This would have been a prime factor influencing luxury brands to enter the world of luxury wear for children despite a weak luxury market.
Whether or not you approve of spending extravagantly on clothes for your children, the trend of luxury clothing brands for kids is here to stay. Here is a list of some of the biggest names in the business.
1. Lanvin
Alber Elbaz of Lanvin was to launch his ultra luxurious children's wear line this June, alongside the luxury brand's resort line. Lanvin executive Thierry Andretta revealed that the company wants to remain in the luxury world. Thus, the fabrics used for their kids' wear line will be ten times more expensive than those used in regular kids' collections.
The first Lanvin Petite collection is for little girls between 4 and 10 years of age, with dresses, tees, coats, sweaters and accessories making their appearance. The line will hit Lanvin boutiques and select outlets this November. Watch out for smaller versions of the tulle and ruffled dresses created in collaboration with H&M last fall.
2. Fendi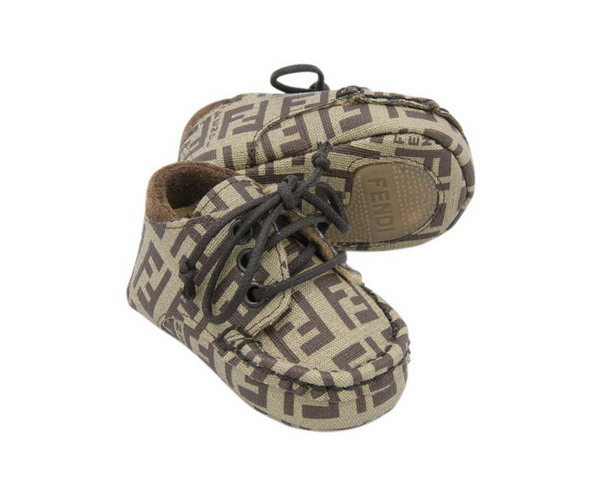 News of becoming a grandparent spurred Sylvia Fendi to launch her own kids line. This came at a time when Fendi had made huge profits ($388 million in overall sales in 2009), so exploring new areas was not necessarily the priority. Fendi's spring line of luxury wear for kids includes outfits in muted taupe shades offset by cute florals and plaids. There are also plenty of yellows and pinks as well. But it is costly too. A single baby romper costs a cool $226.
3. Marni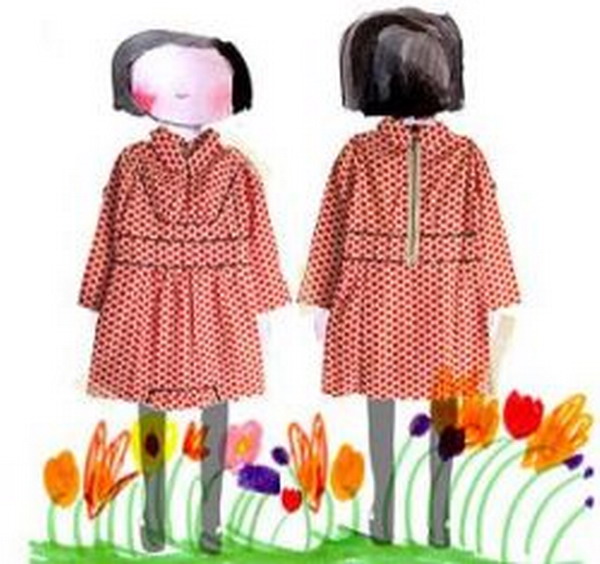 Marni will be relaunching its children's line this fall. If you want to dress your kid in luxury wear, watch out for Marni's parkas, shirts, tees and dresses. The popular doll print makes its appearance, as do bright florals, hearts and dots.
4. Milly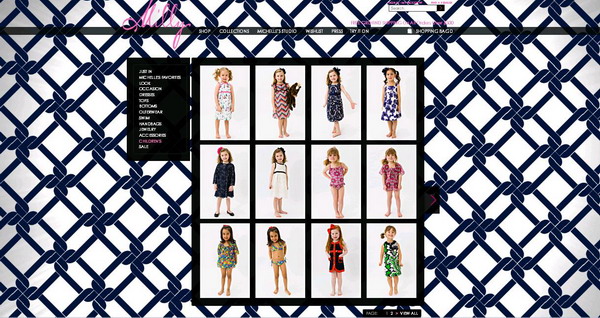 Uptown label Milly has introduced the Milly Minis collection. Milly's vintage shift dresses and prints make their appearance and are offset by zigzags, florals and geographic prints. Making it to the Milly runway show in February was TV personality Elisabeth Hasselbeck and her little daughter Grace.
5. Gucci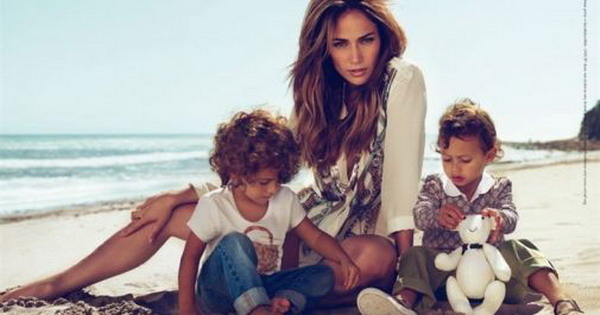 Gucci collaborated with UNICEF to create a special line for infants and children up to 8 years of age. $1 million of the profits from this line will be donated to UNICEF to support youth education. The Gucci Junior collection was launched in September last year. In January this year, Gucci opened its first boutique that is dedicated to kids wear. The 70-square-meter store in Florence's Via Tornabuoni street is done up in shades of white, cream and gold. The golden teddy bear logo should attract the kiddie brigade.
6. Oscar de la Renta
Oscar de la Renta entered the luxury wear world of children in late May last year. The dresses on offer range from $200 to $350.
7. Dolce & Gabbana
This luxury brand was among the earliest to recognize the possibilities of luxury wear for kids. Dolce & Gabbana took the plunge with a kids' line back in 2001. It was the luxury diaper bag trend that was the stand-out in this Italian fashion house's initial collections.
8. John Galliano
British fashion designer John Galliano also entered the fray in 2007 with his own luxury kids' wear line. Of course, the price points are high. A pink gazette print bubble dress at Saks comes with a $438 price tag. A zip jacket for boys is a tad cheaper at $188.
9. Versace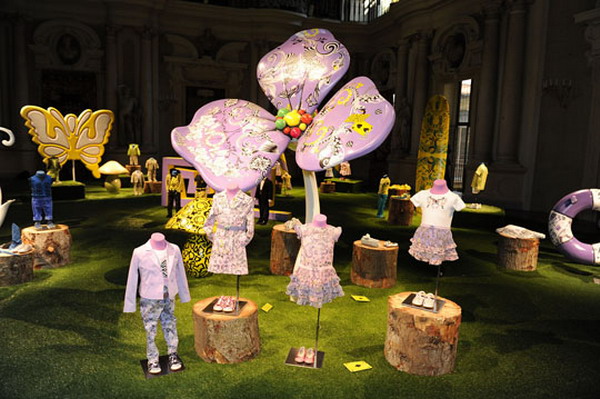 Versace Young was launched at the end of June this year. The venue was Pitti Bimbio, a trade show for baby wear. Pastels dominated the color palette of Versace Young's designs. "Alice in Wonderland" themes showed up in dresses and single-piece outfits. There were a number of tiered skirts as well, with orchid prints in white, yellow and pink. Of course, since this is Versace, the occasional Swarovski encrusted baby bottle also made an appearance. Sadly, there is a long wait ahead before Versace Young hits the stores. The scheduled launch is the spring of 2012.
10. Roberto Cavalli
From the Hollywood red carpet to the happy world of kids, Roberto Cavalli has made the transition with Roberto Cavalli Angels & Devils. However, the prices are as high as ever. A pair of Velcro sandals for kids from the Roberto Cavalli line costs over $100 and a striped sweater for boys costs $192.36.
11. Stella McCartney
Stella McCartney released her kidswear line in November last year. She explained that she got into kidswear with the sole objective of creating a "desirable, fun, wearable kids collection" which was suitable for parents with budgets. It helps, of course, that McCartney has two kids of her own and several working parents on her design team.
12. Paul Smith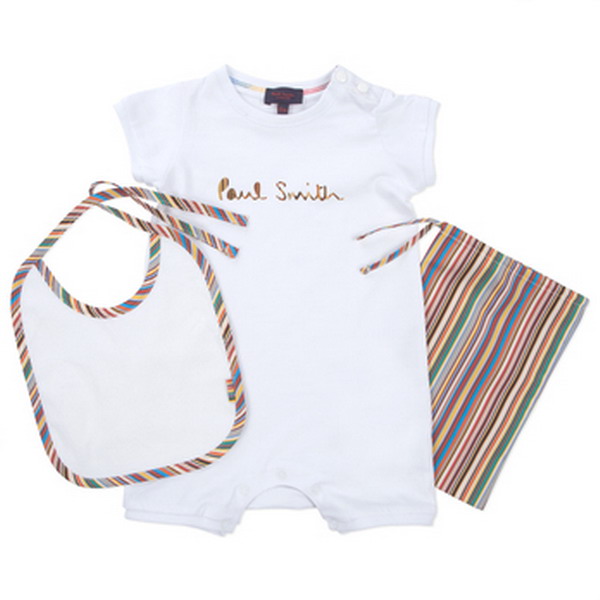 Paul Smith's line of designer wear for kids is a riot of color. There are stripes and florals, plus plenty of fun, cute designs for both boys and girls. The British designer's collection for kids is available from his e-commerce site. But the prices may be a touch too high for most. A onesie and bib set would set you back by $111.
Other Designers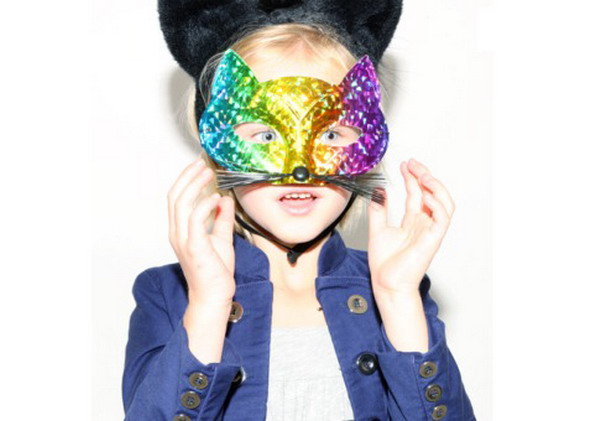 There are also Phillip Lim and Chloe. Both luxury brands launched children's collections in the year 2007. In the coming days, also watch out for a new children's wear line from Diane von Furstenburg for Gap.
If you are out shopping for your little tyke, be prepared for the price points. For instance, a diaper bag from Longchamp sells for $235 at Nordstrom and a Red Wool duffle coat from Burberry costs $450 from Burberry's online store. Marc Jacobs' Little Marc line is a tad cheaper – a casual gray flurry print tank dress sells for $63.