The economic rebound has resulted in a steady increase in passengers for the airlines. The airlines on their part has upped their ante and pulled out all stops to woo the Business and First class passengers as it is they who make an airline profitable. International lounges is one amenity for the First Class passengers that has witnessed dramatic upgrades to make your wait at the airport not just comfortable but stylish. And these lounges don't provide just the physical comfort but offer many VIP privileges that make your stay at the airport hassle free and enjoyable. We have prepared the top ten list of our own. You can check them out when you are traveling next.
 1) FRANKFURT: Lufthansa's First Class Terminal
Location: Frankfurt am Main, by Terminal 1
It is the only dedicated VIP terminals in entire Europe. Apart from the luxurious ambiance and comfort the first-class passengers here are provided with complimentary valet parking or rental-car return. A personal assistant is at hand to speed the passengers through check-in and security. The spacious lounge boasts of pod-like "relax chairs" and daybeds. The first class amenities include a cigar lounge, à la carte dining, and a bar serving 100 single malts. A chauffeured Porsche or Mercedes zips travelers around the airport.
2) SYDNEY: Qantas' First Lounge
Location: International Terminal
After the Australian designer Marc Newson successfully designed the Qantas's sleek A380 airplane fleet, he was commissioned to create a luxurious lounge for their first class passengers.  He has used lots of Poltrona Frau Furniture and Carrara marble to create the right ambiance. The lounge features a Payot Paris day spa, a 48-seat open-kitchen restaurant shepherded by Aussie uber-chef Neil Perry, an entertainment area with Sony PlayStations and movies, free Wi-Fi and conference facilities. 8,400 plants have been set into a 30-metre wall to create a tropical garden. The guests enjoy the 180-degree views of Sydney from the lounge.
3) LONDON: British Airways' Concorde Room
Location: Heathrow, Terminal 5A
The British Airways' Concorde Room is perhaps the most exclusive airport lounge. The access to the lounge used to be through invitation only but now a Concorde Room Card also affords access to Gold Executive Club members with 5,000 Tier Points. Styled in posh velvet and herringbone the lounge features chandeliers and floor-to-ceiling windows. The exclusive lounge boasts of individual shower suites and provides free booze and a free treatment at the Elemis Travel Spa and a sit-down meal before night flights so that the passengers can sleep on the flight without being disturbed by the food and beverages cart.
4) DOHA, QATAR: Qatar Airways' Premium Arrivals Lounge
Location: Doha International, Arrivals Terminal
Doha International has a premium terminal developed at a cost of $90 million. To match that, a new lounge has been created at the Doha Arrivals Terminal which opened last December. The chic decor and splashy amenities are unmatchable as it features five bedrooms, Jacuzzis and gourmet dining. There are showers, all-day dining and an elaborate 24-hour breakfast which is being provided for the passengers of long haul intercontinental flights. The Premium Arrival lounge is where the high end traveler can distress and get rid of the jet lag and fatigue of a long flight.
5) HONG KONG: Cathay Pacific's The Wing
Location: Hong Kong International, South Concourse, Levels 6 and 7
The Wing has the view of the runway but is very quiet and is very vast with 3,994 square meters over two floors, with a 24-metre Long Bar of hot and cold buffet items, Japanese Noodle Bar, four restaurants, with Haven being reserved exclusively for the first class passengers, 24 shower suites with soaking tubs, 26 IT workstations, lots of daybeds and comfy chairs, and a spa. The access to the lounge is restricted to first- and business-class ticket holders, and select status program fliers. A renovation project is on which would be completed by next year and then the lounge might shift towards the top of the list.
6) ABU DHABI: Etihad's Diamond First Class Lounge
Location: Abu Dhabi
Etihad's flagship lounge at its home hub of Abu Dhabi has the richest features in the region. The lounge boasts of an à la carte restaurant with a fancy chef's table in the kitchen, a Six Senses Spa with 15-minute treatments, a champagne bar, a cigar and cognac lounge, a business centre with free Wi-Fi, and a library. It is perhaps the only lounge with a dedicated nursery overflowing with books and toys, and its own children's menu and nannies stationed 24×7 to look after your children.
7) SINGAPORE: Singapore Airlines' SilverKris First Class lounge
Location: Singapore Changi, Terminal 2
Singapore Airlines has always set very high service standards for itself. It's 2,787-square-metre flagship lounge has all that its first- and business-class fliers could want: showers with free toothbrushes and razors, low-lit "slumberettes" for napping, massage chairs, meeting rooms, a hot buffet, free phone service to Singapore from soundproofed booths, and a fully loaded business centre that even has infrared portals for swifter PDA downloading. The fish in the aquarium and tropical plants help the passengers distress from intercontinental travel.
8) SAN FRANCISCO: Virgin Atlantic's Clubhouse
Location: San Francisco International Airport, International Terminal
Virgin has tried to replicate at the San Francisco International Airport their plush Clubhouse at Heathrow's Terminal 3 for passengers flying their Upper Classes. Here they'll find a similar setup. This $3.2-million, 8,000-square-foot lounge is not as rich as the original but it does include locally sourced art and floor-to-ceiling views across the bay. However the lounge is very convenient for international passengers as attendants are stationed there to take care of check-in for flights. We can always hope that more amenities will be added to bring it on par with their Heathrow lounge.
9) MARRAKESH: La Mamounia's VIP Lounge
Location: Menara Airport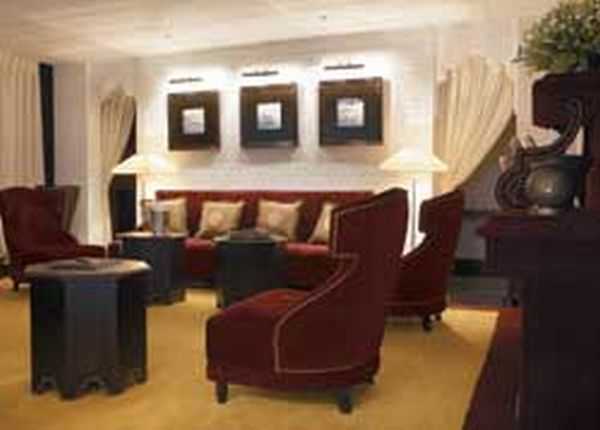 It is a small and exclusive lounge at the airport hotel La Mamounia and was unveiled last fall. The lounge has been styled by French interior designer Jacques Garcia, who also created the hotel's traditional opulence. It is a plush, soothing spot to await arriving or departing flights. It has the advantage of being staffed by hotel employees. Another unique feature of the lounge is that it is continuously freshened by a custom Olivia Giacobetti fragrance of dates wafting over the air vents. Guests have access to free Wi-Fi and concierge service as they wait, are handed cocktails and gourmet nibbles, can be cleared through customs and checked into the hotel as soon their plane touches down.
10) NEW YORK: American Airlines Admirals Club lounge
Location: John F. Kennedy International Airport, Concourse B, Terminal 8
The 650-square-metre lounge, which is pay-to-stay based on American Advantage membership levels, has a staffed business centre, complimentary Wi-Fi, a children's room, showers and free house wines. The airlines in America are at a disadvantage when compared with their Asian and Middle Eastern counterparts as most of them don't have First Class ticketing. So really, North American airline lounges can't compete on a level footing with the first-class behemoths of state-propped Asian and Middle Eastern airlines. Still AA's flagship lounge does a decent job of serving its highest-paying customers on domestic and international flights.