Tree hotel offers a new experience close to nature and brings memories of childhood in sophisticated and joyful environment of Sweden. Three urbanites rediscovering their roots in the rural woods of Swedish Lapland, 40 miles away from the Arctic Circle, were inspired to open a hotel on the hillside. With designs and innovation coming in, the tree hotel was opened behind Britta inn. With the help of some visionary architects especially from Sweden, owners Britta and Kent were able to create childhood fantasy.
The hotel consists of six tree houses of six unique themes that are created by six different architects. They are rooms with a view, the bird's nest, the UFO, the cabin, the mirror cube and the blue cone. They are built mostly on the top of the pine trees of the forest. This structure accommodates two to four people, with a sink and under floor heating. It also offers an eco friendly toilet. You could get your food and showers in a guest house which is very near to your tree. Throughout the year you can enjoy the place and you could go in summer to enjoy midnight sun and in winter you can enjoy northern lights.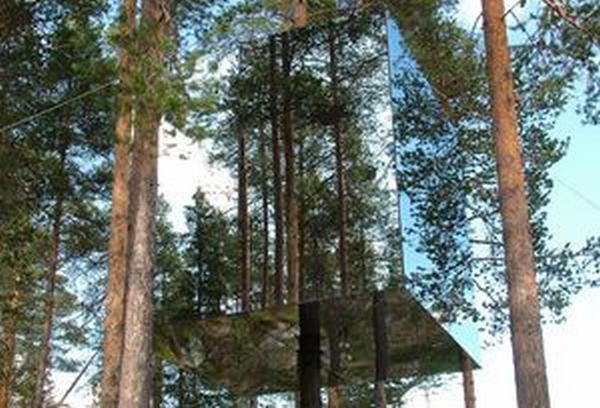 The circular cabin UFO is the latest addition, which appears to be hanging in the tree. Britta and Kent entrusted the design to some international architect, which would be a wooden structure called tree pod. It will be created by Finnish architect Sami Rintala which will be balanced by six pine trees. The laminated glass panes with infrared film which is visible for birds, prevents birds hits to the tree hotel. Tree houses cost from £346 to 415 per night.