The popularity of the Apple iPad has ensured that there is a glut of iPad accessories. Sometime ago, we were flooded with a host of iPhone and iPod accessories. Nowadays, iPad cases seem to be the in-thing. But it is not just the cheaper versions that are flying off the racks. Luxury brands are going all out to create ultra-luxurious, expensive iPad cases to suit the lifestyles of the super-rich. Purchasing luxury iPad cases that cost between $600 and $7,000 may not be possible for everyone. But for people who can afford it, even $6,900 is not too much. Here is a look at some of the most expensive iPad cases in the world.
1. David August Inc iPad Cover
Price: $6,900
David August has created custom wardrobes for the who's-who of Hollywood and several business tycoons. The luxury clothing brand has introduced a line of high-end leather goods, which includes, at $6,900, the costliest iPad case ever. Made of alligator skin, the David August iPad cases have been stitched by an Italian artisan family. Available in 20 colors, this $6,900 case could buy you 14 of the basic 16GB iPad. But when has money been an issue for the spendthrifts of the world?
2. Tod's iPad Cases
Price: $4,900
Tod's hugely expensive iPad case is also crafted out of genuine alligator skin. $4,900 might buy you ten iPads, but if you want to cloak your iPad in luxury, it rarely gets more luxurious. Choose from brown, blue and tan versions available in Tod's boutiques. Do note that these have been handcrafted by artisans in Italy. If you are on a luxury budget, there are also the more reasonable (though still exorbitant) buff calfskin cases available for $495.
3. Domenico Vacca Alligator iPad Case
Price: $3,900
It appears that alligator skin is the material of choice among makers of ultra-luxe iPad cases. Domenica Vacca also chose alligator skin for its $3,900 luxury iPad cases. This range of expensive iPad cases is available in a range of colors as well. You will find all the usual blacks, browns and buffs, along with bright blue, red and orange.
4. CELINE iPad Case Box
Price: $3,080
This one is different from your usual slinky iPad case. The CELINE iPad Case Box, is in fact a box, or rather a little suitcase, in which to carry around your trusty iPad. The French luxury brand launched the iPad case box at its preview show for the CELINE Fall/Winter 2011 collection. High quality leather has been sewn in Italian workshops to create an iPad container that has compartments for business cards and important papers as well. The hardware is all gold. The front of the case sports the CELINE logo in gold lettering.
5. Chanel's Quilted Lambskin iPad Clutch
Price: $1,500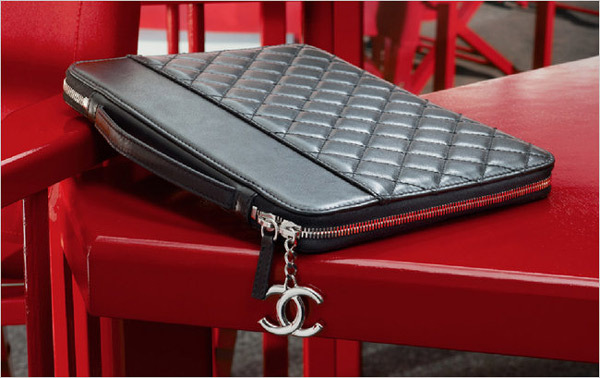 Next, it is over to Chanel's stylish lambskin "clutch" for iPads. The elegant quilted design makes this iPad case the ideal choice for your resident fashionista. Another key attraction of this stylish Chanel case is the metal zipper, which sports the Chanel icon. This quilted lambskin iPad clutch measures in at 8 inches x 11 inches x 1 inch.
6. Hermes Case
Price: $1,400
If classic elegance does not appeal to you, how about trying some contemporary minimalist glamour? Another French luxury brand, this time Hermes, has also released a super-expensive iPad case. Named the Hermes Station, these calfskin leather cases are like book jackets. Slip in the iPad when not in use, and shut the cover. When in use, this high-end iPad case doubles up as a cool stand for the Apple device. The Hermes Station is available in four colors including a bright orange. If the $1,400 price tag seems a bit much, consider settling for the calfskin leather slipcase that retails for $820.
7. Jimmy Choo's Elaphe Snakeskin iPad Case
Price: $1,014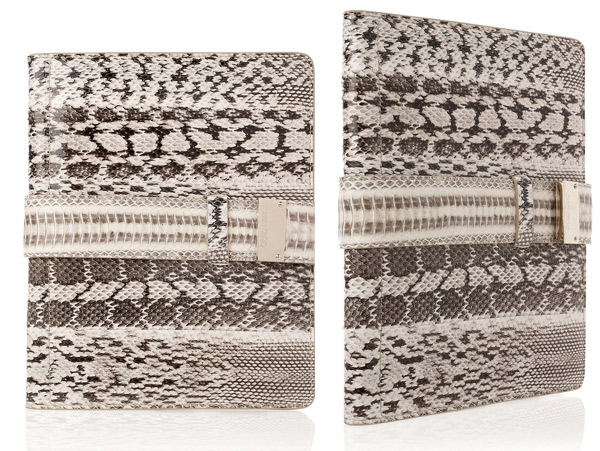 Try Jimmy Choo for a snakeskin jacket for your iPad case. Jimmy Choo offers a chic elaphe snakeskin iPad case in cream and brown versions. This one is largely for the ladies, and is sure to jazz up any outfit, whether at work or elsewhere. The frame is of white leather while the hardware is of light gold. Tan-colored suede lines the insides. The Jimmy Choo logo shows up on the snap-fastening clasp. The case is 8 inches tall and 10 inches wide.
8. Smythson Crocodile-effect Leather iPad Case
Price: $704
For a more subtle masculine look, try the Smythson Crocodile-effect Leather iPad Case. This iPad holder boasts of a smart crocodile-effect finish kin dark brown leather. The insides are lined with blush nubuck. If you are looking for protection for your beloved iPad, this is a great choice. The cover folds over and can be fastened with concealed press-stud button. Apart from the iPad compartment inside, this case also boasts of a leather pouch and groove details to hold your iPad in place. This Smythson case that measures 10 inches x 8 inches is sold in a blue presentation box.
9. Orbino Padova Brown Crocodile Skin iPad Case
Price: $689
Orbino has a special edition flap case for iPads that promises to hold your iPad 3G in the height of luxury. The iPad case is created from genuine Caiman crocodile skin. Artisans in Italy stitch this uber-luxe case by hand. This iPad case has a flap that closes using a concealed magnetic mechanism. Plus, the flap is also a viewing pedestal, allowing you to view the gadget both horizontally and vertically. The form fitting design is effected using high tensile waxed thread. The Orbino case comes with pure leather lining and hand-lavquered 4-coat edging. Slots allow charging and volume control even while the iPad is in the case.
10. Yves Saint Laurent Patent-leather iPad Case
Price: $650
This black patent leather case boasts of beige suede lining and an oversized stitch-detailed, embossed logo of Yves Saint Laurent on the front. Inside, there is a leather compartment that you can slip your iPad into. There are press studs to fasten this iPad holder shut. The case measures in at 8 inches wide and 10 inches high.
So what would you want to buy for your beloved iPad? Relatively cheap $30 cases or very expensive iPad cases that come with a hugely exorbitant price tag? If you can afford it, these expensive iPad cases are just the thing. And clearly, there is plenty to choose from.
P.S: You would surely love to pick one to honor the worlds most expensive ipad, if you are the proud owner.