NASA approved luxury!!! Yes, you heard it right.
Mon Mode, a luxury handbag accessory (French translation, "my style") gives it the authority to sit on this luxury blog and me the courage to convince you buy one for your growing range of luxury handbags. If you claim to be the proud owner of Louis Vuitton, Gucci or Chloe handbag labels then you can't afford missing a deal with Mon Mode hooks. The very appeal of the piece is simple, yet it adds beauty and serves the purpose. To complement the skin of your handbag, Mon Mode collection comes in interesting forms i.e. crocodile, lizard, snakeskin, patent crocodile print and other eye catching tinted gem tops. It opens up like a compact to reveal a double sided mirror.
If you had the pocket to spend some $4k on a pricey clutch then I am sure you will heart to spend $50-$200 to maintain its appeal and gather your satisfaction. By satisfaction I mean its presence right next to you wherever you go without bothering the fellas to reserve an extra chair for it, which itself looks so non-classy. It may look too light virtually to bear the weight of your luxurious handbag but once at work it can crown any purse without it falling off the table. You can install it on any table and it compacts to 3″ x (just under) 2″ bundle (your loved ones may doubt it as antique pill box…oh my my) when not in use.
My favorite is Lavender Grey Snakeskin priced at $75. It features Nickel plated silver compact in fashion forward smoky tones of lavender and grey genuine snakeskin. At just 10 oz., I can shout that am the fortunate owner for this first patented purse hook that marries style with substance and creates value. I am been told each Mon Mode comes with a plush carrying pouch/gift box. By now, if you have lost your heart to it then pick the one that goes the best with your handbag from high-end retailers like Fred Segal, Moondance, and Jenni Kayne or reach the Mon Mode team. They will be happy to help.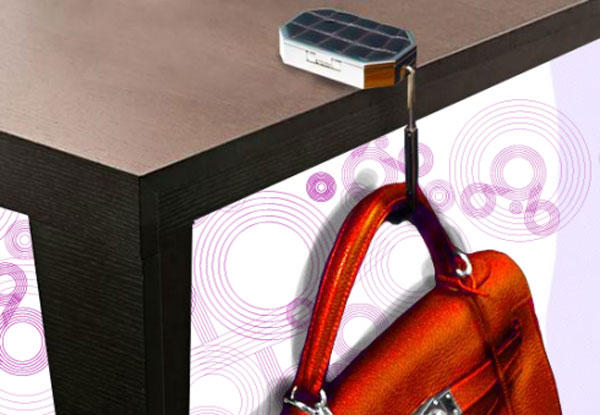 P.S: It surely is an answer to Hook up heart accessory
In Six words: Crown your luxury handbag in Style.