High-end retirement communities have hit upon a novel idea to spur sales of luxury homes. Similar to the "test drive" option available to prospective car buyers, several retirement communities are now encouraging potential buyers to experience their properties and make a purchase. Here are five luxury retirement complexes that let you test drive their homes.
1. The Trilogy at Monarch Dunes
Like most luxury retirement communities, The Trilogy at Monarch Dunes (pictured above) is chockful of high-end amenities. The homes are eco-friendly. There is an indoor pool, two golf courses and a spa. And this 55+ residential community is located close to the ocean. Plus, it is in a fast-growing wine region. Prospective buyers can avail of private wine tours and residents can sip on local wines at the bistro.
But at $400,000 and above for 1,600-square-foot homes, these are expensive properties. A 3,700-square-foot home along the golf course would cost a seven-figure sum.  Prepare to shell out $199 for a two-day, one-night stay and $299 for a three-day, two-night stay at the Trilogy.
2. Casa de Manana
This 190-home retired community facing the Pacific Ocean in San Diego features Spanish-style architecture and was once a luxury hotel. The complex houses a salon, a pool, a fitness centre. It is ideal for the arty types as there is an on-site library and a gallery, both of which display artworks by residents. And now, a store in Carlsbad sells these artworks as well.
Luxury properties in Casa de Manana can cost upwards of $3,235 for a studio apartment, to $10K for a 2-bedroom ocean-facing villa. If you qualify for their guest stay program, you get a three-day stay (including three meals) at $120 per day.
3. Quail Creek
For bird lovers, Quail Creek in Arizona's Santa Rita Mountains is perfect. The luxury property is located near Madera Canyon, one of America's best bird-watching spots. A 40-minute drive away from Tuscon, Quail Creek houses a pool, a fitness centre, an art centre and a 27-hole golf course.
The 11 different luxury home designs cost between $175,000 and $350,000 and the space ranges from 1,376 and 2,686 square feet. At $99 per day per person (only from June to August) you can avail of the "preferred guest getaway" program for a three-night four day stay, inclusive of a round of golf, a complimentary dinner and free access to amenities like the pool and fitness centre. The same deal will cost $209 between October and December and $249 from January to March.
4. Valencia Reserve
This Boynton Beach property in Florida is all about post-retirement fitness. You will find all the usual fitness suspects here – a pool, a fitness centre, a tennis court. But there is also a lap pool, a resistance exercise pool and a yoga studio. The retirement community also employs a "lifestyle director" to arrange activities for the residents.
The homes here all look alike, and you might find the place a little crowded (1,000 homes located in 300 acres maybe a bit much for some tastes). But the lifestyle staff helps get residents acquainted with others in the 4,000-strong community.
Valencia Reserve's $99 two-night, three-day "stay and play" program includes a free lunch at the community café.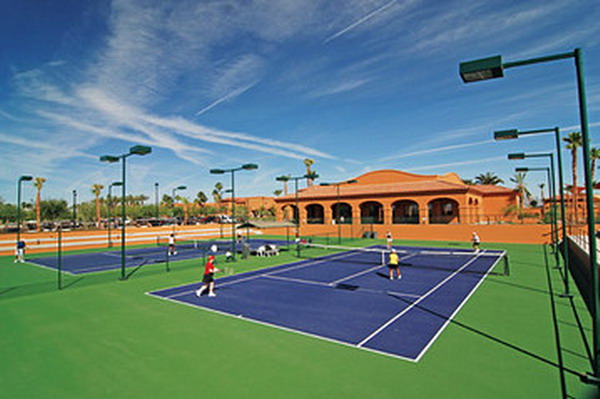 5. PebbleCreek
Located in Goodyear, Arizona, PebbleCreek is home to multiple lap pools, tennis courts, whirlpools and pickleball courts. There is also a 45-hole golf course and a theatre, all within a 2,360-acre community. The homes range from about 1,500 to over 3,100 square feet. The price tags range from $215,000 to over $400K. The con is that the retirement will soon house 6,000 luxury homes, making it a tad crowded.
But if that is not a factor for you, try their $99 test drive program for three days and four nights. You get to stay at one of the luxury homes, use the amenities, play a round of golf and eat a complimentary meal.
Via: The Wall Street Journal