You can trust Louis Vuitton to come up with stunning collections season after season and their Spring/Summer 2011 womenswear collection is no different. Apart from the design, the expertise of the Louis Vuitton atelier is evident in the form of intricate and rich detail. Right from ready to wear to bags, shoes and accessories are all lavishly created.
The shoes this season are high sandals that accentuate the sensual mood of the collection. The sandals with slender straps are basically made from glossy patent leather and have innovative touches of suede, lizard or satin. The heels are lacquered and adorned with fringes or shaped like animal legs and encrusted with crystals.
Marc Jacob is the man behind the collection named Artifice. The stress was on artificial so everything natural was avoided. The aim was to create a stylish collection and so everything was consciously overly stylized. The sandals from the collection will become available at the Louis Vuitton stores some times during the month.
Artifice Strap Sandal in Patent Calf Leather is the simplest in the lot. It has leather sole and padded insock. It is priced at $690.
Artifice Ankle Strap Sandal in Satin features fringed heels meticulously beaded by hand The pair will cost you $1540.
Artifice Sandal in Patent and Suede Calf Leather has heels shaped like a giraffe's leg and encrusted with strass. Price $1470.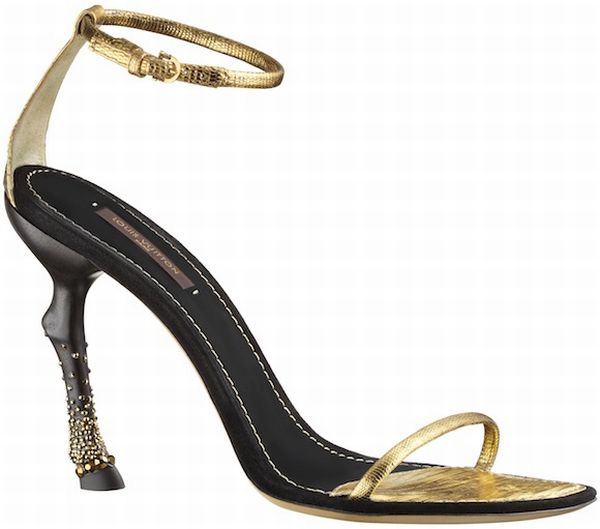 Artifice Sandal in Lizard leather has similar heels but the traps are made from lizard leather. The pricing is also the same $1470.
The Artifice Wedge Sandal in Patent and Suede Calf Leather has heels in the shape of a tiger's paw and priced at $1620.
The Artifice Platform Sandals have a rich patchwork of materials and costs $1540.
Via: ilvoelve