Driving in style just got gilded in 24-karat gold. A wealthy Chinese businessman has had a Fiat 500C custom-made for him by Italian tuning firm Fenice Milano. The Italian firm went all out to create the La Dolce Vita Gold and Diamonds 200hp. And yes, the car is gilded in 24-karat gold and adorned with diamonds. It practically takes you back to the time of the Indian maharajas. On first impression, the Gold and Diamonds Fiat appears to be a white car with gold trimmings. Look closer. The white paint actually has a golden tinge to it. This is because the paint contains 24-karat gold particles. The hood on top has fabric finished with gold thread. Gold makes its appearance on the full-grain leather seats as well.
The interiors of the car have made generous use of teak inserts, diamonds and leather. Teak and leather make up the wheel, with gold embellishments adding to the effect. One of the star attractions of the Gold and Diamonds 200hp is the driving console. Here the instrument panel is gilded and the dashboard boasts of inserts of gold and teak. An additional USP of the car is the Apple iPad Supreme Edition designed by Liverpool-based Stuart Hughes. The iPad is placed on the upper end of the central console and is fitted with GPS, an audio system and Wi-Fi connectivity. And there's more. The Gold and Diamonds Fiat has had its regular engine upgraded. Car engines modification expert Romeo Ferraris tweaked the engine of the gold Fiat. So the €500,000 car that will be heading to China will be armed with a complete exhaust system, an ECU tune and an engine kit fitted with a new turbine.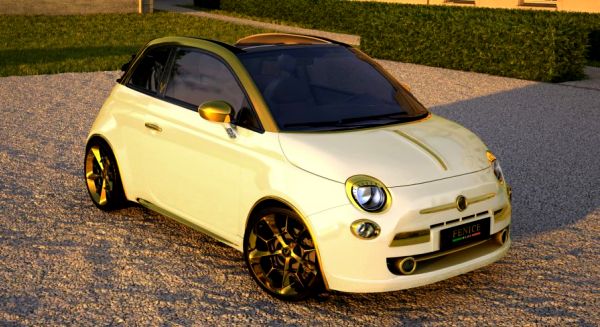 Certainly, this car with the golden exterior and an engine that's worth its weight in gold could find a place in Ralph Lauren's celestial garage.