This concept design is so very cool! Check this out! Designer Daniel Andersson has come up with a concept lake house that will be under water. I mean the lake house will be literally in the lake! In this design, the living area is under water, whereas the large roof deck is over water. Alands Hotell & Restaurangskola approached Andersson to come up with an innovative design that will be able to attract more guests to their resort in the Aland Islands located in the Baltic Sea.
This iceberg shaped building was the outcome. This lake house would have a central day lit atrium that will allow access to both the below water living space that includes the bedroom and the living space above water as well. It is basically a houseboat that is partially submerged, intentionally ofcourse. This is achieved by a series of pontoons attached to the base of this structure.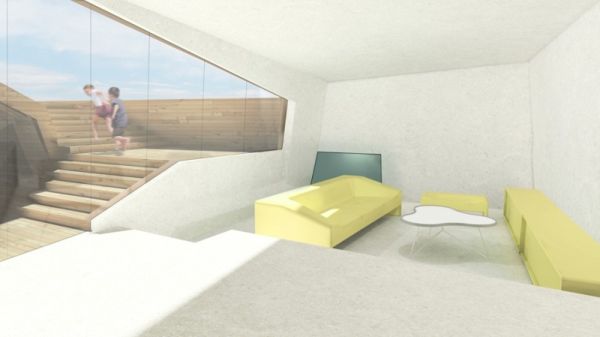 It has 60 metres of living space, which is quite spacious. And since it is underwater, it would do wonders to cool down the temperature during summers. And the sundeck allows you to cool down even more by jumping into the waters. Would love to see this design materialize.
Via: ArchDaily , Shownd , Design-Milk