It is always good to see when people create beautiful and useful things out of the most mundane things lying around the house. Makes you say "Why didn't I think of that?"  Tim Baute of Interror Design has achieved that with his napkin holder made of a twisted fork!
"My designs are approached by concept and form with respect for the material, environment and function", says the designer. His designs truly represent what he believes in and this cool design of his is a fine example. We have seen so many napkin holders made of numerous designs which are usually quite monotonous. However, this design is simple yet eye catching.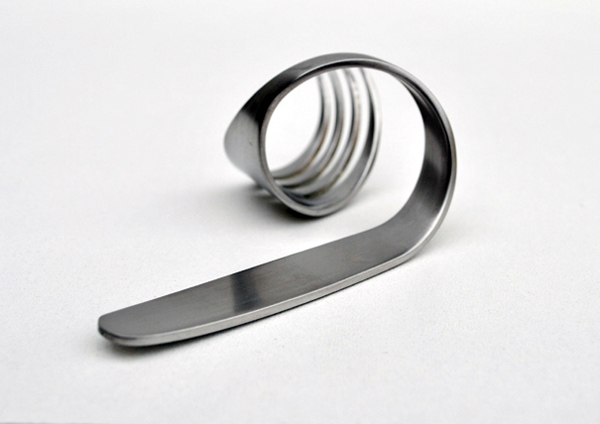 Christened 'CRL', this unique napkin holder is made of stainless steel and its dimensions are 50-30-30 mm. There is nothing added on to this simple design. It is just a piece of fork twisted into the shape of a napkin holder. It is simplicity and style at its best.
Though its design is a bit odd, it performs its function well. Easy to use, one just has to roll the napkin and pass it through the holder and pull it out when using it during a meal. It is another feather in the cap of the designers at Interror design who always come up with unique yet useful designs.
Via: YankoDesign , Interror